Why Use Google+

In a nutshell, Google+ is about sharing subject specific ideas and content. Google+ doesn't really compete with Twitter or Facebook. Think of it like this:

Twitter provides information in all areas.
Facebook provides a social atmosphere where you are more likely to see photos about graduations, familyl reunions, weddings and vacations.
Google+ is a network designed to help people with like interests connect and share.

Another major difference in Google+ is that you can group people in "circles" instead of having them all put into one category like Facebook Friends or Twitter Followers. When you post content, you can send it to different circles or all the circles and the public timeline. It definitely gives you more control.
How To Set Up A Google+ Account

I can not possibly tell you everything about Google+ in one post, so today I'm going to show you how to set up your own account and give you a few pointers.

First, go to http://www.google.com/ and in the far, top left-hand corner, click YOU+.

If you do not have a Google account, click CREATE AN ACCOUNT.
Fill out the form with all pertinent information.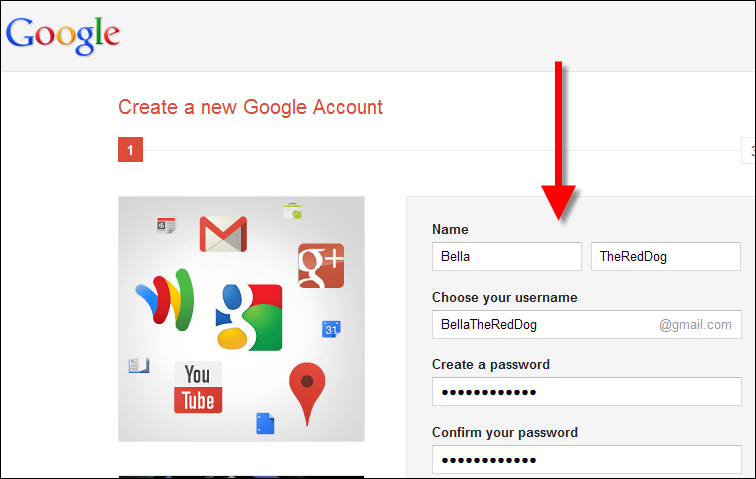 After you have added all the information, make sure you CLICK both boxes, then click NEXT STEP.
You have now created a Gmail account.

Click CONTINUE TO GOOGLE+.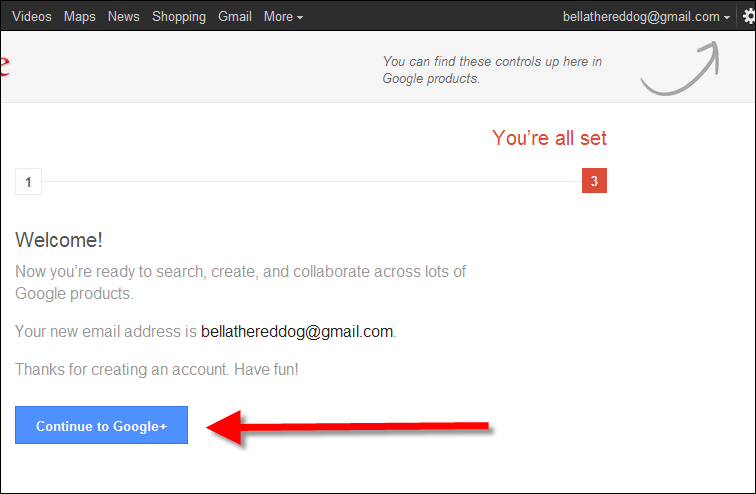 Now it is time to create an avatar, so click ADD YOUR PHOTO.
You have options to choose from where you get your photo, but I chose to upload one from my computer by clicking SELECT A PHOTO FROM YOUR COMPUTER.
After adding your photo, click UPGRADE.
If you want to import people from your email, you may do so now.

I didn't want to, so I clicked SKIP.
Obviously, Google thought I didn't have enough friends, but I clicked CONTINUE ANYWAY without adding more friends right now.
Google+ was determined that I had friends, but I clicked CONTINUE.
There was one person that BellaTheRedDog wanted to connect with on Google+. To find the person, all you have to do is type their name in the search box and hit the magnifying glass.

Well look who popped up!

Next, determine which circle you would like to put that person.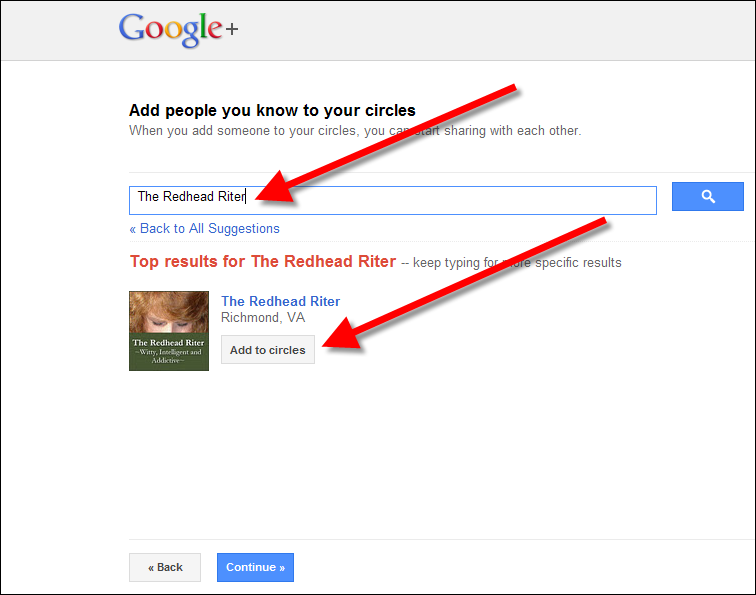 In this case, BellaTheRedDog chose FAMILY
Another box will pop up and you just need to click OKAY, GOT IT!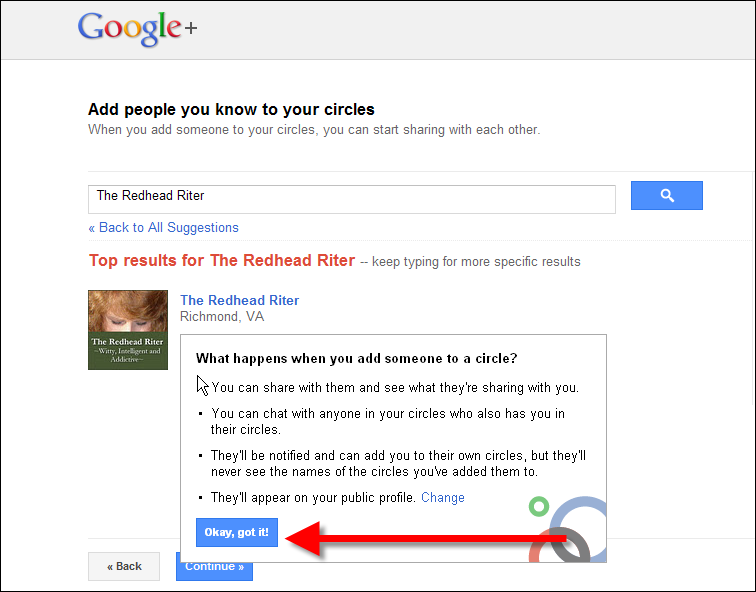 The Redhead Riter now appears in the family circle of BellaTheRedDog.

Click CONTINUE.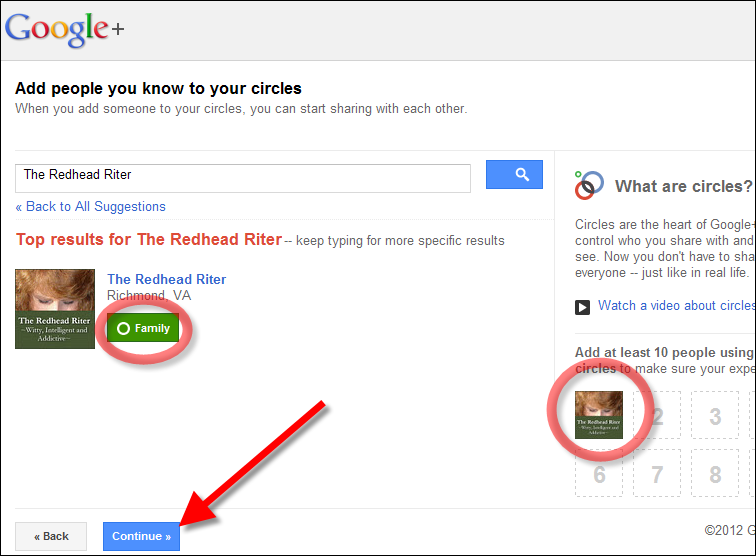 I didn't want to add any famous people, so I clicked CONTINUE
Google+ still thought BellaTheRedDog was too lonely, but I clicked CONTINUE ANYWAY.
Next, you can add more information to your profile and then click FINISH.
You will be taken to your STREAM which is like your "wall" in Facebook.
In the box that says, "Share what's new…" type something. For this test, I typed "I'm here."

I also want to add a photo.

See the green camera icon?

CLICK the green camera icon.
Another box will appear.

Click ADD PHOTOS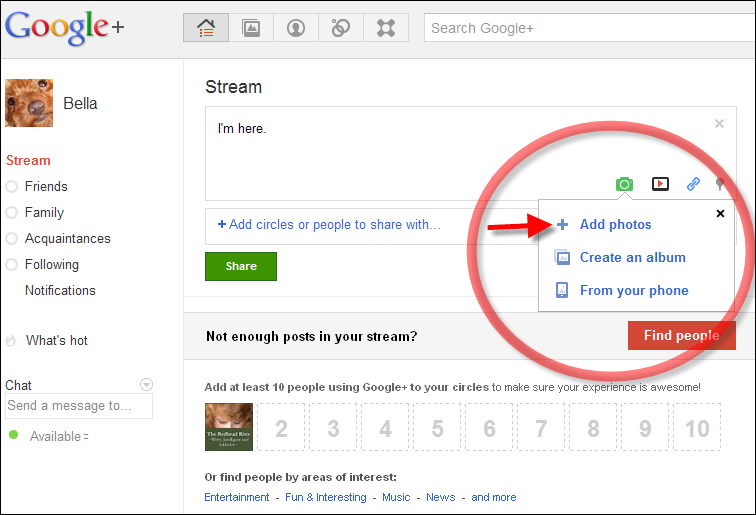 Search through all the photos on your computer. When you find one you want to use, CLICK THE PHOTO and CLICK OPEN.
The photo will now appear in the new post in your stream, but with whom do you want to share it?

Click ADD CIRCLES OR PEOPLE YOU WANT TO SHARE WITH…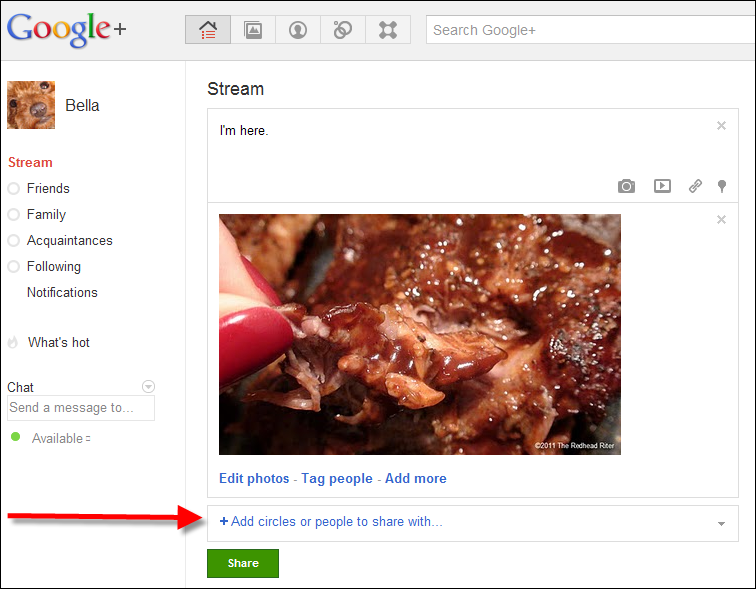 Another box will pop up and you may choose the group with whom to share the photo.
After all the people you desire to add have been added, click SHARE.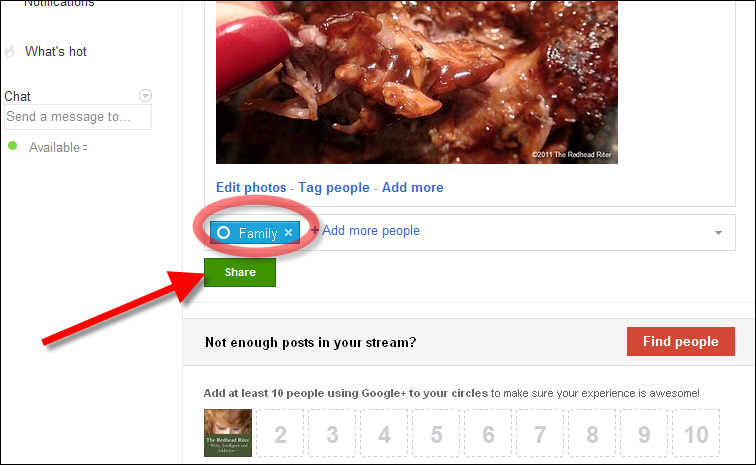 The update to your stream has been completed!!
Your stream is found on the HOME page.
The PHOTOS will show you photos of your friends and your own pages.
Your PROFILE can be edited and updated at any time quite simply.
The CIRCLES page allows you to DRAG people into circles and keep track of them in different categories. For instance, you could have circles such as: Family, Co-workers, Twitter friends, Clients, Patients, Neighbors, etc….
In the left sidebar, a running tally of who you follow and who follows you will appear.
When you are ready to sign out, click the little tiny avatar picture in the far right, top menu bar. Another box will appear and give you the SIGN OUT option.
That wasn't hard was it?

Well guess what?

You need to be on Google+ so you might as well make the plunge and just do it now while the directions are fresh on your mind. I will also be having a more tutorials to help you learn the nuances of Google+.

I have Google+ already.

See it below?

My name in Google+ is The Redhead Riter…Shocking isn't it? (wink)

I also have been working on my profile and added a few things to spice it up a bit.

For example, I have links to all the places you can find me!!!
Go ahead, you know you want to check out my page and add me to your circle!!!