Once upon a time there lived an extremely shy and introverted girl with short red hair who loved learning, but simply did not fit in with other teenagers. Back then, she dreamed of being a petite blonde with golden bronzed skin and big blue eyes who got the attention of boys.

Does that sound familiar? Yes, I wanted to look like my daughter when she graduated from high school. Alyssa looked so glamorous, classy and totally beautiful. Of course, my mother will say, "You were so beautiful!" but we all know how biased mothers can be and even somewhat blind.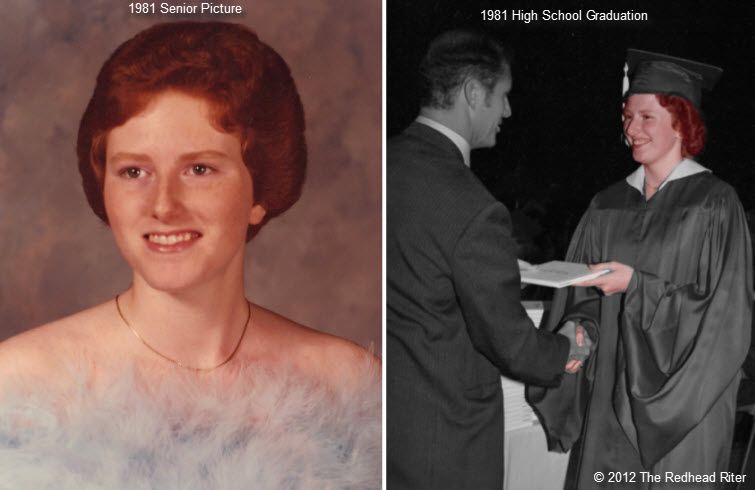 There were not a lot of redheads in my schools as I was growing up. I was picked on mercilessly which only increased the self-loathing of my appearance. The only features I actually liked was my neck, earlobes and hands. Um…yeah…I know that is a weird combination. Let's just keep moving, shall we?.

While in high school, I rarely attended football games and I did not attend any dances or proms. While changing classes, I hugged the wall of the hallways and never made eye contact with anyone. I basically spoke when I was spoken to and only answered questions in class when asked directly by the teacher. Dating was also something that didn't happen for me during high school and I thought that I would surely never marry.
Eventually high school ended and I started college. I also decided that I would grow my hair long and wear makeup. Something about being away from the confinement and peer pressure of the high school environment helped my personality to develop into an outgoing, friendly and confident woman. During this time I also embraced my red hair and green eyes since I realized that just because I was different, it didn't mean it was a bad thing.

By the time I had been married a few years to my first husband, I had blossomed into a totally different person. The days of hugging the hallway and no eye contact were but a distant memory replaced by confidence, firm handshakes and hugs.

What exactly is the point of this post?

Actually, this is really for Alyssa.

Yes, Alyssa. I'm talking specifically to you now.

I know that you graduated from high school less than a year ago, but it really wasn't that long ago that I also did the same thing. The photos above show a ten year span of time and look at the difference in my appearance and personality, but also notice that some things did not change.

I am still a redhead with green eyes who is almost 5 foot 9 inches tall and still loves learning new things and writing. My heart is also the same. I just want to love and be loved back which I thought would be an easy thing, but have since discovered that getting the love back is a bit more difficult than anticipated.

You and your life will also change dramatically over the next ten years, but several things will remain constant…

I will always be here for you and my love will grow stronger each day.

Remember the things you have learned.

Believe in yourself. You are a strong and talented young woman with a huge heart. Don't lose yourself along the way while you love others and help them through their journey in life.

When you think you just can't make it one more minute, remember that I was once in the same place and I pulled myself up. You are the best of me and your father. The future is filled with opportunities for you and I know you will be a success and will also blossom into an even more confident and successful woman than you can now imagine.
I love you Alyssa.