When my cousin was a toddler, he disappeared and was unattended too long one day. He swiftly took my Mam-Maw and Gran-Gran's Big Ben clock apart.
Then there is my sister…Well, my sister was a destroyer. She chopped off my Barbie's hair to the scalp, ripped up their clothes, cut holes in things and I could go on and on and on.
On the more creative and intelligent side, Alyssa and Mom always want to know how and why something works, so they take things apart and put them back together again. Correctly.
Does everyone in the family "fix" mechanical stuff and enjoy it?
Ummm…No.
I do not like trying to fix anything that is broken. For instance, after a huge thunderstorm not too long ago my internet stopped working. I called up customer service and they wanted to walk me through a bazillion troubleshooting steps.
I wouldn't do it.
My patience ended the moment I lost connectivity.
Which leads me to the events of today. When I got home, the pump on Turtle's tank was BARELY trickling water. It usually blasts the water and keeps the tank crystal clear even though Turtle is a pooping machine.
Anyway, I disconnected the pump and all the hoses, carried them into the bathroom tub, disassembled the parts and cleaned everything. Now, what do I do to get everything flowing right?
Well, at that point, not only was I leaning over what had just become a dirty tub, but I was somehow soaked with the watered down poop of Turtle. As much as love this critter named Turtle, I was not enjoying the experience. Instead, I feel like screaming simply because it is so frustrating to have things break and not be able to fix them.
This kind of experience has me so befuddled that I didn't even think about doing the obvious things to help myself. A helpful man named Skip in my Twitter thread suggested that I should call the pump manufacturer's customer service department. How could that thought not even have crossed my mind?!
Without totally beating myself up about the whole thing, I am trying to reassure myself that I'm not an idiot. (rolling my eyes)
The fact that the pump has a bazillion parts should be reason enough to give myself a break.
I haven't had time to look at all the self help videos, but maybe that will help solve the problem.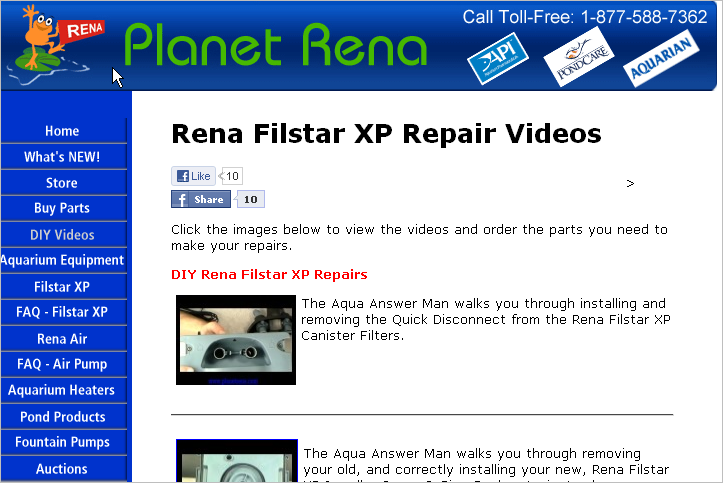 (Feeling a little better now.)
There are many things that I can do extremely well and am quite accomplished at doing.
Let's see….I can:
Tat
Embroider
Needlepoint
Knit
Decorate
Teach
Organize
Give good massages (right Mom?)
That's enough for now.
I feel better.
We all have different talents and abilities. Just because I am not an ace at fixing water pumps for Turtle's tank, it doesn't mean that I'm not intelligent or as "good" as someone who can fix mechanical things that break.
At this point, I do have the ultimate secret-feel-better-real-fast thing to immediately change my attitude and will help me to feel better. If all else fails in the "fixing it" attempt, all I have to do is push the button and add a brand new water pump to the cart!
Pathetic.
I know.
Hush.