Happiness seems to be an elusive dream for many people, but I believe it is much easier to be happy than we seem to make it. After my excursion to Grave's Mountain , I gleaned a few important pointers from cows. Yeah, I said c-o-w…cow. You know, the weirdly shaped animal that just stands and stares straight through you while chewing continuously on what appears to be a huge wad of gum.
Cows have a few traits I think are worth emulating. I'm sure that if you are a city slicker, this post may be "utterly" ridiculous, but by the end of it, I hope that you will be "mo-o-o-oved" into action.
A herd of cattle huddle together under a tree on a hot summer day. They do not fight for the spot closest to the trunk of the tree or the spot that gets the best breeze. No, cows do not fight with each other. Cows do not call the police because they do not beat or hit each other.
These large domesticated ungulates are very peaceful creatures.

While grazing in the same pasture eating the grass here and there, not once have I ever seen one of cows shout out, "This is my dandelion! Go away!" Sounds preposterous because cows share food, water and shelter without a peep of discontent with one another. It would be more reasonable to imagine one cow saying to the other, "Oh honey, I know you are starving. Eat this grass over here. It is so succulent."
When all the cows have eaten and their eyelids start screaming for a nap, the herd stretches out together for a snooze. The cows know that sometimes it is necessary to just stop everything. I think Americans are among the worst at exerting themselves beyond a reasonable physical limit and then ignoring all signs of needed pampering for the body, mind and soul. Maybe I'm wrong. One day the boss will walk into your office, notice that you appear especially tired and suggest that you take a nap for about an hour. Ummm…I highly doubt it.
Last, but surely not least, cows are not jealous because their spots are not as big or small as another cow's spots or their eyes are not as brown as another cow's eyes. Really, they don't care if their utters are not as big as another cow's utters or that the bull "visits" one cow more than another. Cows just don't care because they are quite satisfied with their lives. The physical attributes and circumstances of one cow compared to another are not envied by any of the herd.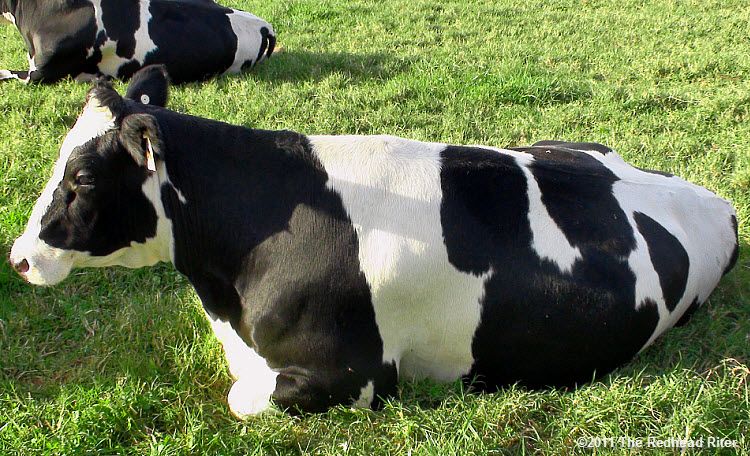 I have found that humans are often extremely jealous and covetous. These emotions have been the downfall of many people, but cows are not plagued with them. Cows are happy with who they are, how they look and the opportunities they enjoy.
Don't be like my mom and dad who told me that "Cows are just dumb animals". Cows can teach us how to be happy if we emulate some of their characteristics:
Be kind to one another.
Don't argue and fight.
Never hit each other.
Rejuvenate your mind, body and soul by paying attention to all their signals.
Love yourself. No apologies or excuses necessary.
Recognize what you have and be satisfied and appreciative.
I don't suggest that you start grazing in your backyard, but a few basic changes in life can make a dramatic difference. Happiness will be the consequence for the right and purposeful change.
One last piece of advice…If your handsome bull starts impregnating all the neighbors, it may be time to give your sweet milk to someone else.