Never in my wildest dreams did I think after announcing the 1,000 Comment Club last week, that this week I would be telling you something mind boggling. I mean totally mind boggling.
1,000 Comment Club
The four member club increased by one this week. I want to introduce and present to you the fifth member of the 1,000 Comment Club, Aleta at Aleta's Arty Facts which she describes as "Antiques in Australia: The Not-for-Snobs-Only Art, Antiques and Collectables". Looking at the photo, you might think she is an antique statue of a woman, but I assure you, she is a wonderful lady with a quirky sense of humor. It just so happens that she doesn't post her photo on her blog, but she loves "Orla – Walther & Sohne (Germany)" woman statue and uses it as her avatar.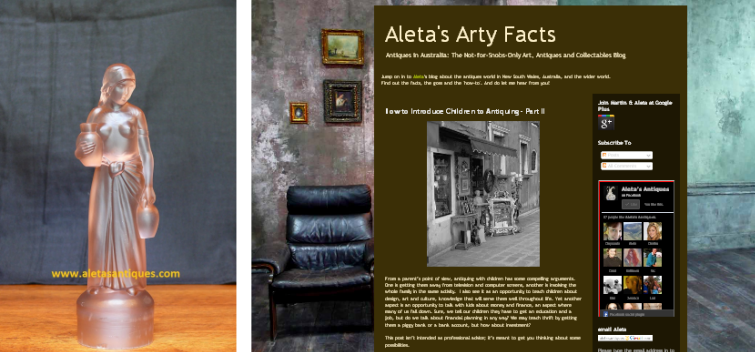 Congratulations Aleta!!!
The Daily Chat
In my community, we have "discussions" like other communities, however, there are two exceptions. The first exception to the rule is called The Daily Chat which is described as a "thread (that) will go on forever and it is a place where we can all check in on a daily basis like we would with our neighbor across the fence or our family at the dinner table." When you click on the thread, you even see that I am sweeping the welcome mat. (wink) Okay, just humor me.
The logic behind The Daily Chat is that we can keep track of each other and share things together like friends and families do face-to-face. It will be the place where we can foster strong relationships to help us find success in our individual goals and have a comforting human bond. There are many people that stay behind the scenes just to read and never comment, but many of us stay connected in that thread. I personally find it very rewarding.
What Can I say? I'm A Post Counter Diva!
The other discussion that is truly like no other thread anywhere on the internet is called, "What Can I say? I'm A Post Counter Diva!". Let me explain the meaning of that title.
The "post counter" can be found in the right side bar of the FORUM tab which is located at the top of the community. Every comment made in the community is tallied automatically in the post counter. There is a slight delay (between five and fifteen minutes) in refreshing the totals. The ten people who appear in the post counter are the most active people in the community. I am usually one of them which is why I honor the top nine people in my Sunday post because they are truly "Rockin' Friends".

A "diva" in the context of this thread is defined as, "usually a glamorous and successful female performer or personality" or "one who behaves as a goddess or queen." Whichever definition you choose, you will be right. If men would join in, the thread could be changed to "Diva or Divus"! The "Diva" chat is almost always a LIVE chat. It is a place that people can talk to each other in real-time. You can't go back and read the thread because it is constantly scrolling. So it is just a free flowing chat without very many rules. For instance, if you are eating Moist Banana Bread at 2:00 a.m. and no one you know is online, but you feel the need to talk….Go to the "Diva" chat and talk to yourself!
Seriously, everyone has learned to talk to themselves in the "Diva" chat. It is a healthy practice and relieves all those built-up words that have no place to go. Just as importantly, each comment is added up and calculated in the post counter. Ahhhhhh yes….There is an ulterior motive to chatting in the "Diva" thread too!
The Record
Two of the women in the 1,000 Comment Club participated in very long conversations all week. Joan, the comedian who can be found at A Bad Marriage Is Fattening or Rich Beyond My Wildest Dreams and Teresa at Teresa's Thoughts and Ideas talked about a whole lot of interesting topics including their almost completed books, family, childhood, food, cooking, men, chocolate, animals, cheating, driving, sleeping, blogging, struggles, accomplishments, etc…
Everything.
Yes, they had time to talk about everything. Joan even stayed up all night long and didn't sleep one night!
Joan and Teresa talked so much in the "Diva" thread and the other threads in the community that they both created a brand new record that will astonish everyone. Each of these lovely ladies have generated over 3,000 comments in a week!!!
I'll give you time to faint.
Can you believe it?!
Joan and Teresa are now the only members of the 3,000 Post Counter Diva Comment Club. It is truly a daunting accomplishment! Let's all congratulate them for being TRUE POST COUNTER DIVA'S in a class all their own!
Now, the time we have all been waiting for…(drum roll) This is the weekly post where I spotlight my Rockin' Friends who are the Top Nine active participants and loyal followers in my community! If you want to be mentioned here next week, then all it takes is to come in and start chatting with everyone in my community.
Below are a few discussions going on in my community :

With a big, heartfelt thank you for their participation and friendship, here are the Rockin' Friends this week in order of most participation.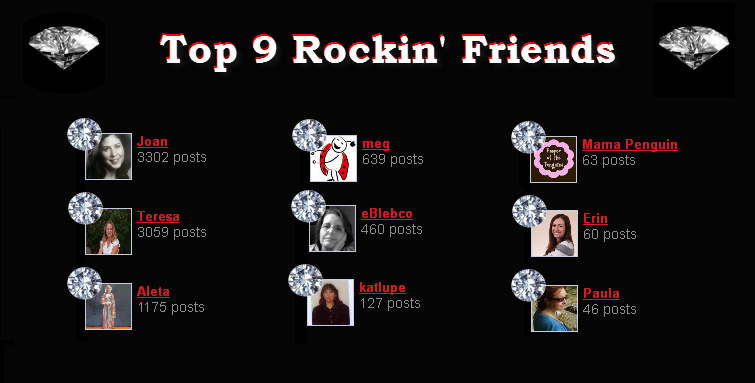 I'm so glad that I've been able to become friends with these wonderful people who are so active in my community. I encourage you to add their blogs to your blogroll, but also come over and chat with us in my community.
For everyone mentioned in the top nine this week, feel free to grab the Rockin' Friend badge below and thank you for your participation!!
Until next week…Kiss your family, hug your friends and don't forget to be the friend you would like to have around.
Woo Us To Your Blog
As always, attached is the weekly Linky to enter either the main URL to your site or add each post you publish throughout the week. You don't have to do anything special, just drop your link in and get a little extra exposure to your site and leave a comment!