Chicken is one of my favorite meats and my Moist Orange Chicken With Sauce is not only flavorful, but it also tastes light and refreshing.
Chicken is actually very good for our health and nutrition. A chicken breast has very white meat and is the leanest part of the chicken. If the skin is peeled off, chicken breasts only have half the fat of an equal amount of beef.

What Can A Chicken Add Nutritionally To Your Diet?
Four ounces of chicken provides over two-thirds of an adult's recommended daily amount of protein which helps to maintain bone density and wards off osteoporosis.
Chicken is high in niacin which helps to protect against age-related deterioration of mental skills and Alzheimer's Disease. This important vitamin also helps to regulate blood sugars which in turn controls our insulin usage.
Free radicals have been discussed a whole lot because they are believed to cause some of the cancers and heart disease. Chicken has selenium which combines with protein to fight free radicals and it also helps to maintain a healthy thyroid.
Phosphorus is a mineral that aids in having great bones and teeth. Like selenium, phosphorus also helps to prevent damage from free radicals and chicken provides us with this mineral too. This great mineral also aids in kidney function, a healthy nervous system, heart health and also aids in the muscle's ability to contract properly.
Last, but not least, chicken is rich in vitamin B6 which I always think of as the energy vitamin. Foods high in B6 help to lower cardiovascular disease and aid in breaking down carbohydrates.
Obviously, chicken is not only delicious and easy to prepare, but is very good for keeping our bodies healthy and in top functioning condition.
So let's get started…
Moist Orange Chicken With Sauce
Dice the onion.
You might as well get the crying over with first!
Zest the orange making sure not to get any of the bitter white part of the skin.
This is a step that I always enjoy.
The fragrance from the orange is so clean,
fresh and smells like happiness at home.
Okay, that might sound strange,
but that is how it smells to me.
Squeeze the oranges and it is okay if the pulp is in the juice.
I actually like the pulp in it because it adds some texture.
Talking about oranges now is making me salivate.
You can keep reading, but I'm going to eat an orange.
I can't wait until you're finished.

You might have been looking at the former photo
5 seconds ago, but it was 10 minutes ago for me
because I really did peel and eat an orange.
I now have the strength to finish the recipe.
Clean all the fat off the chicken.
Have I told you that I've lost 35 lbs?
I'm almost back to the weight I was in high school.
I guess trimming the fat off the chicken was a good idea!

Salt and pepper the chicken evenly.
Add the olive oil to the pan.
Cook the chicken until evenly browned on both sides
and cooked all the way through.
Do not overcook the chicken.
Remove the chicken from the pan and set aside.
Pour the excess oil out of the pan.
Do not wipe the pan because you want to keep
the brown pieces of the cooked chicken that was left behind.
Now add the orange juice
and stir to incorporate the remnants in the pan.
Add the whipping cream.
There is not enough whipping cream in this recipe
to make you fat, but it sure does add
a delicious extra to the sauce.
Add a pinch of salt and pepper.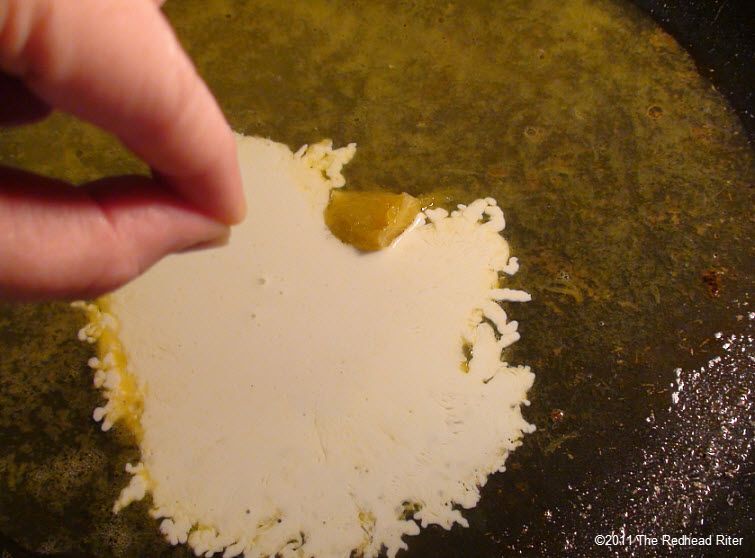 Add the onions and let them wilt
while the orange juice mixture cooks down.
After the juice has cooked down considerably,
take it off the heat and add the butter.
Stir until the butter is completely melted in the mixture.
The sauce will be a little thick and rich.
Put the chicken back into the pan with the sauce
and make sure that each piece is well coated.
Take one piece of chicken and put on the plate.
Add some extra orange zest and some of the sauce
on the piece of chicken.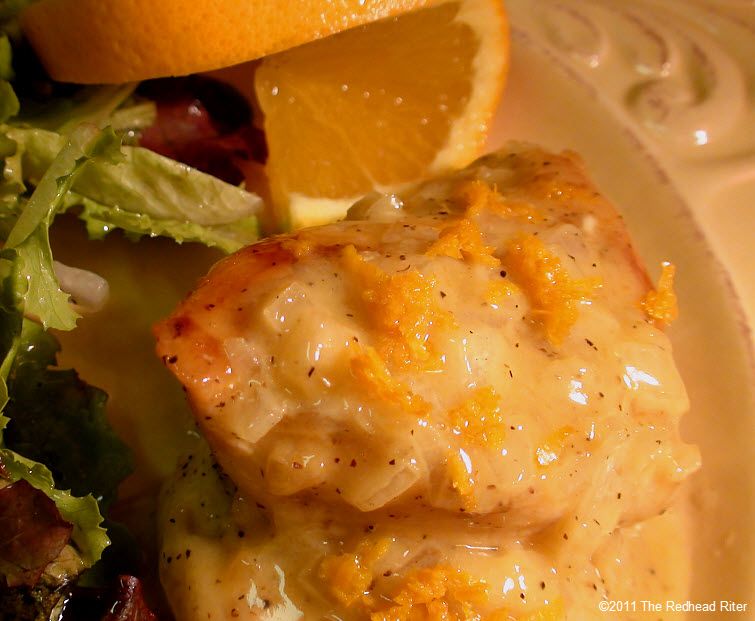 A salad goes very well with this dish.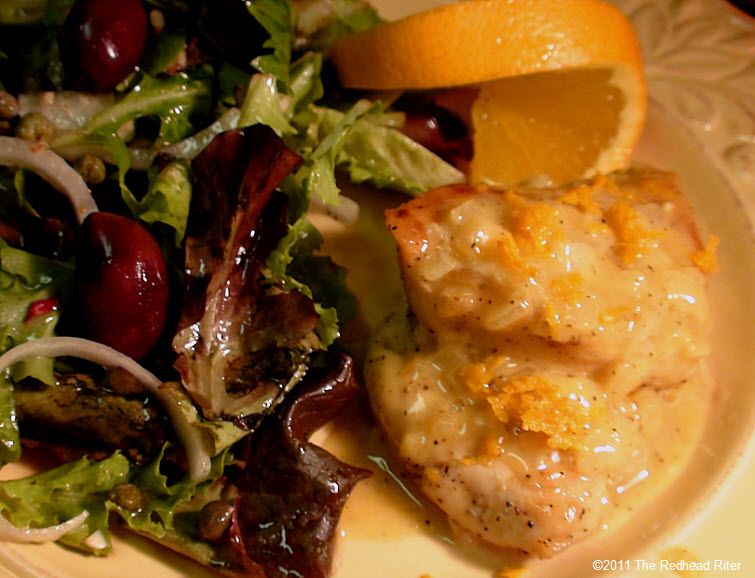 Do you see how the sauce covers each bite?
Not sweet.
Not sour.
Not tangy.
Just orange.
Oh my goodness!
This chicken is so moist and juicy!
I will only share one bite,
but you better take it quickly because
it is so delicious that I can't bear to wait for my bite!
Moist Orange Chicken With Sauce
Ingredients:
Chicken:
4 chicken breasts, skinned, boneless
1/4 teaspoon salt
1/4 teaspoon pepper
3 tablespoons olive oil
Sauce:
1/2 cup orange juice
1/4 cup whipping cream
pinch salt
pinch pepper
1/2 medium onion, diced
4 tablespoons butter
1 tablespoon orange zest
Directions:
Clean chicken breast and remove skin and/or fat. Pat dry. Sprinkle with salt and pepper. Set aside.
Prepare orange zest, orange juice and diced onions. Set each aside, but do not mix them together.
Add olive oil to frying pan and brown both sides of the chicken breasts and cook the meat all the way through, but do not overcook. Remove cooked and browned chicken from pan and set aside. Pour excess oil out of the pan and discard.
Add orange juice, whipping cream, salt, pepper and onion to the pan one at a time. Stir until thoroughly combined scraping any chicken bits from the pan. Cook on low until liquid is reduced in half. Remove from heat and add butter stirring until completely melted.
Add chicken back to the pan and completely coat with sauce. Serve hot with extra sauce and sprinkle with orange zest.
Yield: 4 servings