A long, long time ago…I can still remember how that music used to make me smile…
Wait. This post is not about music, but like the lyrics of the song, I can still remember that a long, long time ago, I was in elementary school. I loved and still do love school. Back then, everything was a thrill – books, fat pencils, fat crayons, green paper with big lines and a place at the top to draw a picture, new math, Dick and Jane, the Pledge of Allegiance, recess and lunch.
Ahhh, yes….lunch.
In the cafeteria where I had lunch, there were lots of tables with little round stool type chairs. Our class always sat at the same table, but we did not have to sit in the same spot every day. My mother always packed my lunch, but a lot of students would buy the school lunch which did not thrill me much. I was glad Mom ensured that my lunch was delicious.
There was one thing that my school did right…oh so right. Whenever Peanut Butter Ball Chews were the dessert, I would start trading things in my lunch with other students so that I could have them. I loved the Peanut Butter ball Chews! One day I traded my milk, chips and cookies and that meant I ate three Peanut Butter Ball Chews! That may not seem like much, but for a very small six year old girl, three was a whole bunch.
Many years later, I became obsessed with replicating the Peanut Butter Ball Chews from my elementary school days. After many recipes and many failed attempts, I simplified my cooking efforts and tried to think of something that would be fast and easy.
Bingo!
I had been trying to make the recipe too hard. With just a few ingredients, I changed the recipe and was able to have the exact texture and flavor of the Peanut Butter Ball Chews in my memories. So today I am going to share my simple and nostalgic recipe filled with many, many wonderful childhood memories of Elementary Peanut Butter Ball Chews.
Elementary Peanut Butter Ball Chews


Put Rice Kripies® in a big bowl.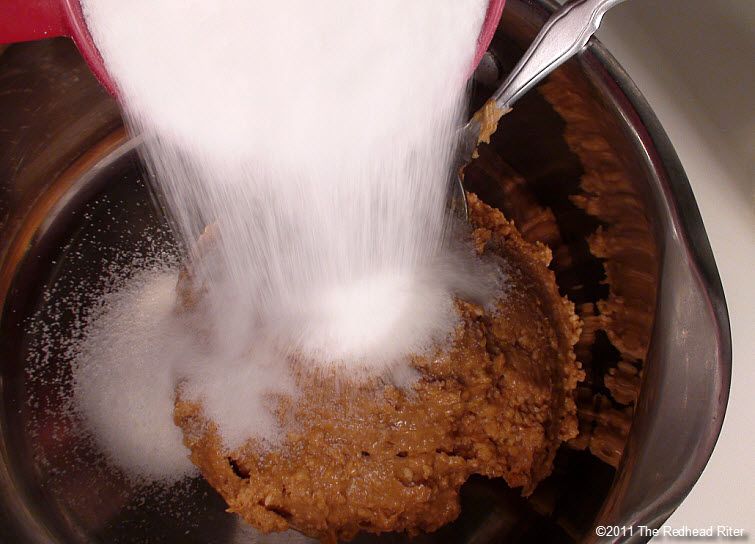 light corn syrup.


On a medium setting,

melt the three ingredients together.


The ingredients will become more liquid,

but do not boil and cook it.

It will still be thick.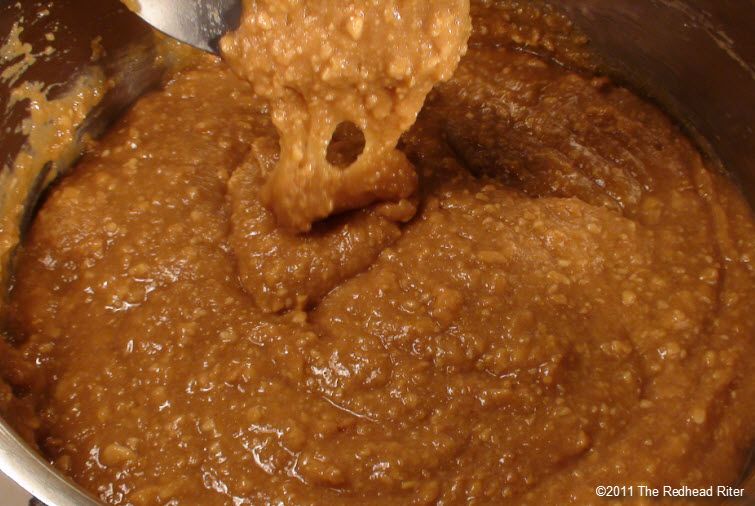 Add the melted ingredients

to the bowl of Rice Krispies®.

While the mixture is still hot,

grab a piece of the mixture,

roll it between your hands

and form a ball

about the size of an egg yolk..

Yes, it is a hot mixture like

pulling taffy, but it has to be

done while hot.

That is why my hands turned red.

Hot! Hot! Hot!

This recipe will make about 30

Peanut Butter Ball Chews.

They harden quite a bit in five minutes.

The first bite was so delicious.

All those childhood lunches

came flooding back.

Sweet peanut butter crunchy smooth goo chews.

It is kind of hard to describe.

Here, just take a bite
.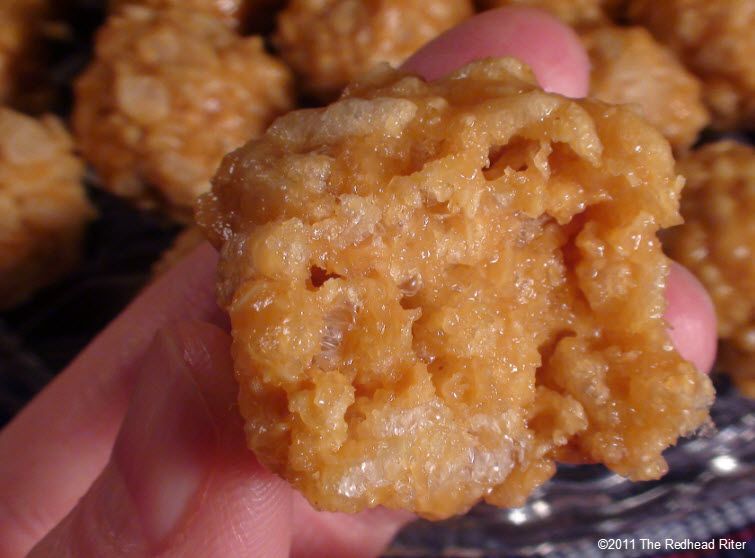 How would you describe it?

Yeah, I know…

D-e-l-i-c-i-o-u-s!
Elementary Peanut Butter Ball Chews
Ingredients:
1/2 cup light corn syrup

1/2 cup sugar

1 cup peanut butter

3 cups Rice Krispies® cereal


Directions:



In a small pan, melt corn syrup, sugar and peanut butter. Do not cook. Remove from heat and add Rice Krispies® cereal. While hot, make into balls about the size of an egg yolk.
Yield: 30 balls


The Elementary Peanut Butter Ball Chews are the perfect size and you will discover that within minutes, you will have eaten far too many!