By now you know that being naked with a mango is not a strange thing to me, so it is time to talk frankly about nakedness.
Naked is an adjective that is pronounced /ne-ked/ unless you are a Southern soul and then it would be pronounce /ne-ked/ or neck-ed. Another adjective that can be used synonymously is nude which is pronounced /nüd/ or /nyüd/.
Other synonyms for naked and nude include:
au naturel

bare

bottomless

disrobed

raw

starkers (mostly British)

stripped

unclad

unclothed

undressed
Naked, nude and the other words mentioned above have definitions that are the same: not wearing any clothes – devoid of covering for the human body.
(GASP!)
People have different attitudes about being naked. Some examples of a more private time of being nude include:
birth

bathing – taking a shower or bath

sleeping

during sex/lovemaking

medical examination

surgery
Did you notice that "nude include" rhymed? Yeah, I did it on purpose to lighten your mood!
Of course, there are also situations involving public nudity:
sunbathing

streaking

pole dancing/stripper

skinny dipping (swimming nude)

nude protests

living nude all the time

artistic modeling
I read somewhere that stated (I paraphrase) when all of the material is removed from the body, everyone becomes the same and the stress will leave your body because everyone is equal. No one is comparing the body shape or specifics, so it doesn't matter how you look or if your have a fit form.
(loud laughter coming from The Redhead Riter)
Obviously, I disagree.
Let's step back for a moment.
People haven't always worn clothes. If you believe in the Bible, then you believe that Adam and Eve ran naked in the Garden of Eden. Did you forget all about that story in the Bible? Regardless of your religious beliefs, there are people who live on this planet who are and have always been naked.
In 1988, the January 3rd issue of The Los Angeles Times had an article that reported that in the remote northern Brazilian territory of Roraima, there is a primitive and naked tribe known as the Yanomamis, the largest known tribe still isolated from the outside world. Unfortunately, gold and diamonds have been discovered on their land and many greedy people are beginning to intrude on their society. "Yanomamis hunt with poisoned arrows, and many use primitive tools. They shun clothes, decorate their bodies with fruit dye and flowers, and live under huge palm huts in communities of 50 people. The population of Roraima is about 100,000. Anthropologists, the Roman Catholic Church, and Indian-rights groups fear that forced acculturation by an onslaught of whites will further reduce the Yanomami population, largely through disease. Because of their isolation, the Indians have no immunity against common viruses and can easily die from flu or a cold."
There are many societies throughout history that believe being naked is natural. In an article by Anthony J. Papalas called "Greek Attitudes Toward Nudity," he reminded us that, "When a Greek wished to dance or work, he simply slipped out of his clothing and proceeded. It was the natural thing to do, and no one was dismayed by…seeing a nude person dancing or working. Archaeologists have found many vases depicting completely naked performers at festivals and laborers in the fields." Obviously, naked people can be found throughout the history of the world.
There are several kinds of attitudes on being naked:
Nude is nasty or dirty.

The naked body is beautiful.

Nudity can be artful.

Nude bodies are ugly.

Naked is comfortable.

Being naked keeps the body cooler.

Nude bodies are embarrassing.
Before I continue with the naked and nude theme, I will tell you what happened to me. A couple weeks ago, I was surfing the internet for the name of a flower that I took a picture of a few days earlier. Page after page of flower pictures consumed all my attention. Then I saw a huge dried dandelion ready to blow in the wind or to pick and make a wish. The white ball of fuzz was intriguing enough to visit.
I clicked the button on the mouse.
Something about the dandelion was different and I couldn't figure it out. I increased the page size. Suddenly, it hit me! This was not an ordinary dandelion, but a bunch of heads, naked backs, arms and legs! It was simply amazing and I was awestruck.
This picture was the work of Cecelia Webber. So I immediately Googled for Cecelia's website and then I read all about her. While growing up, she wondered,"Why are we made to feel so ashamed of the human body in Western culture and so much of the rest of the world? Isn't the body a beautiful, wonderful thing, deserving nothing less than to be celebrated?" Cecilia's website states that, "As her thoughts continued to evolve, Cecelia alighted upon a petal in her mind, a new-found platform from which she could quietly challenge the status quo: she created a digital image of a flower constructed entirely from photographs of the naked human body."
I think you will be surprised to find that these photos are pretty and that you really have to concentrate to actually see that they are constructed of the nude human form, artistically arranged to look like flowers, butterflies and other things in nature.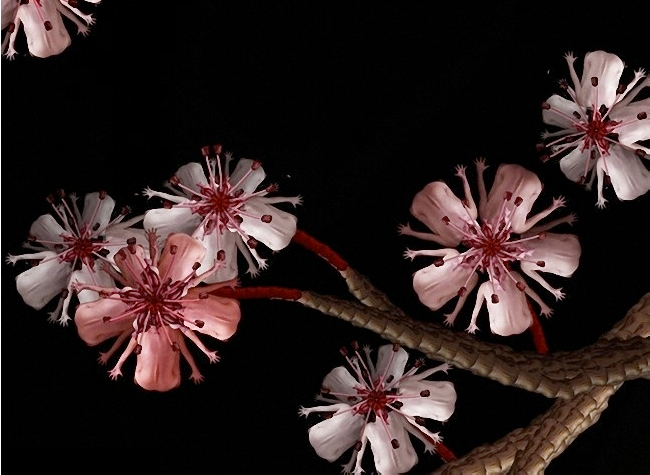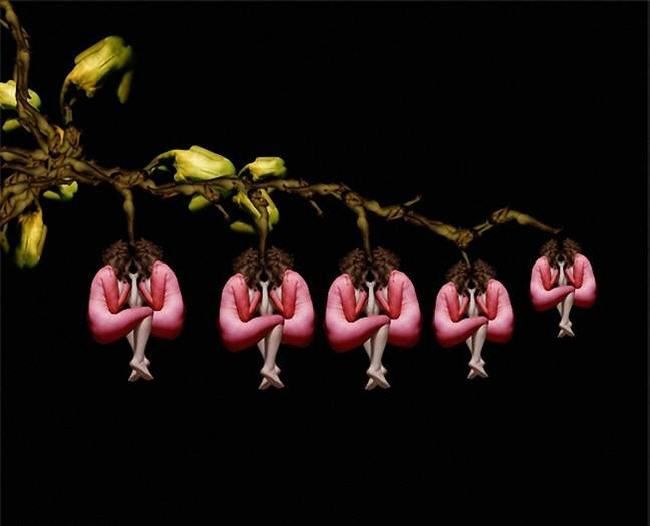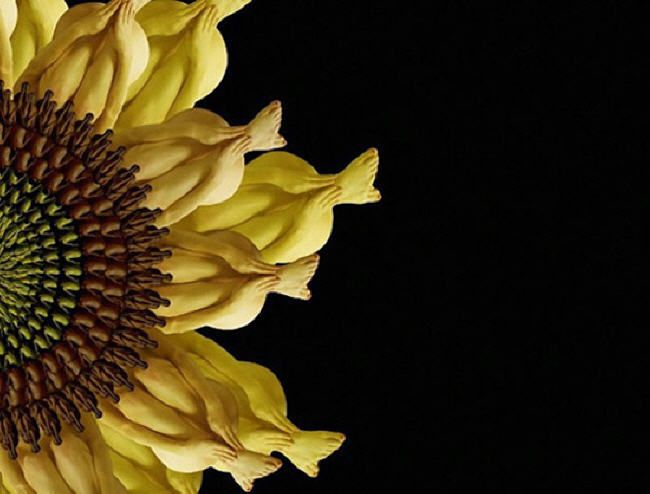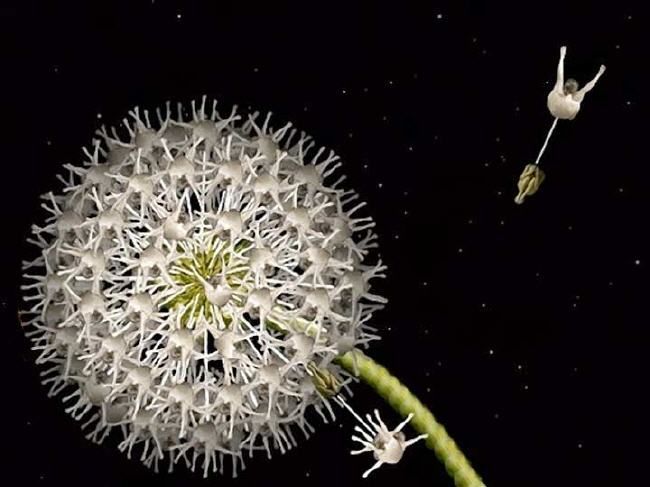 Surprised?
What do you think about the photos?
What are your vies on being naked in private? in public?