They shut off the electricity!
I forgot to pay the internet service!
They are about to shut down the telephone!
Is paying bills almost a monumental task that you seem to always be messing up?
I know that keeping track of your financial commitments is actually a boring and stressful time for most people, but I can help you reduce the anxiety a bit.
Manilla.
No! I didn't say vanilla! We are not talking about ice cream, although if you use Manilla, you will have more time for just about everything else you want to do.
Manilla at manilla.com is a free web based service that helps consumers better manage all of their household accounts. The operative word here is ALL which includes utilities, subscriptions, financial and travel rewards programs. In one secure place online and with a single password, Manilla provides an automated, organized view of all of your account information.
Check out this page…crisp, clean and organized while telling you everything about your financial obligations.
That's a miracle and it is one you can enjoy!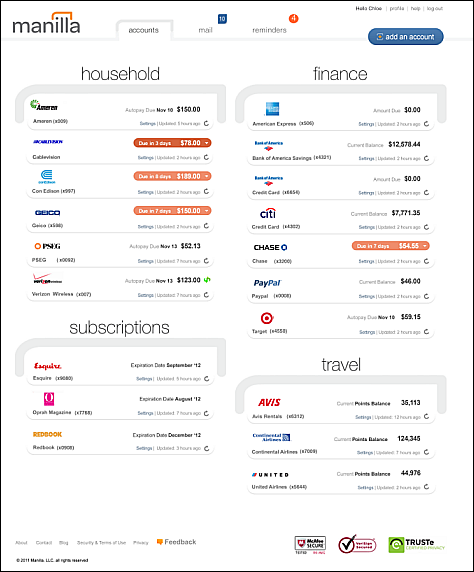 Most people have more than 20 different household accounts, including three to four credit cards, several travel and hotel rewards accounts, multiple magazine and newspaper subscriptions, plus cable, phone, and other assorted utility bills. In order to stay on top of all this, people have to manage daily incoming paper mail, an array of online usernames and passwords, and websites in order to access important account information and take action. Manilla seamlessly retrieves all your account information – current balances, previous payments, upcoming bills due – and stores it for you in one secure place. Most importantly, you need only one password to view, manage and organize it all.
Take for instance this Comcast bill. Just with a quick glance, it is quite apparent that in six days a payment needs to be made in order to remain timely.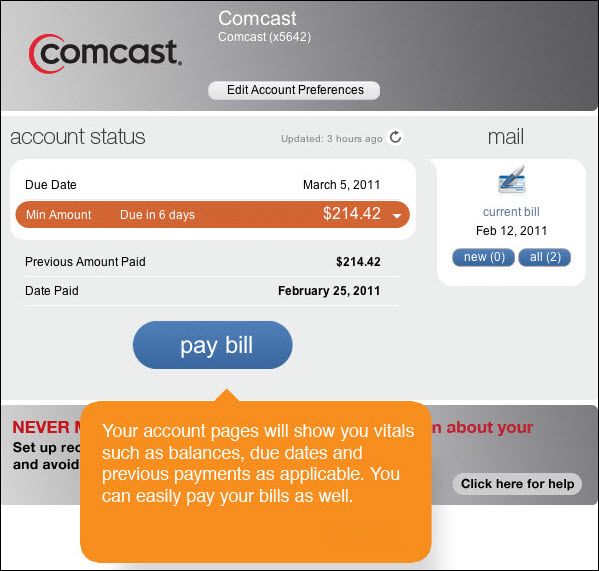 After paying the Comcast bill, you can easily look at all your other accounts and view the reminders of upcoming payments that are due. There isn't any last minute statements made like, "Oh my gosh, I have to pay the bill

TODAY

or our service will be disconnected!" Of course, you would also be flailing your arms in panic at the same time.
Not a pretty picture of you…tsk tsk.
Manilla uses your online account login to retrieve current balances and bill due dates for you, as well as stores many of your available account statements, notices, offers and bills, in one organized and easy-to-navigate account on Manilla.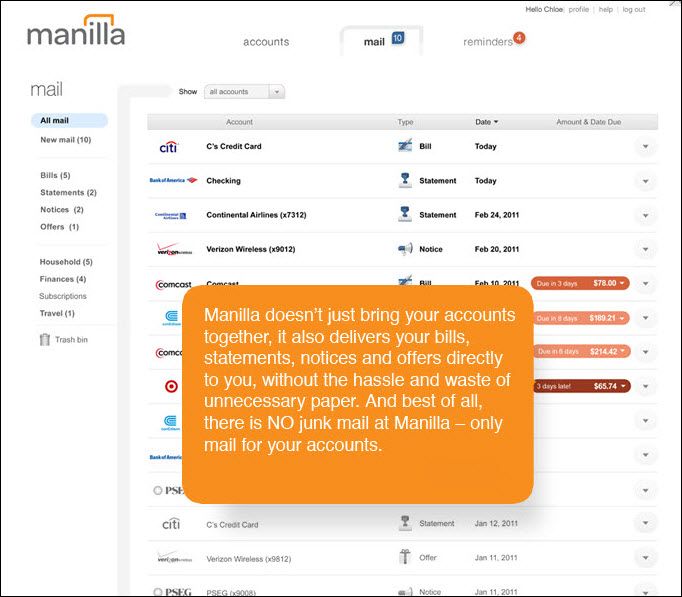 You might be asking, "What are the other benefits of using Manilla?" and I happy to say, there are many…
It's free
Saves time
Removes mail clutter
Creates an unlimited archive of many of your statements and bills
Consolidates all travel and rewards points in one place to help you make smarter travel choices
Includes reminders when payments are due — and you can choose whether you want reminders via text message, email, etc.
Manilla takes security very seriously. A comprehensive security and privacy policy has been baked into the product from day one and is regularly tested to make sure it is always safe, secure and private for every user.
Manilla uses bank-level security practices like those used by major US financial institutions. Obviously, THAT is secure!
Each company that is added to the database agrees that the system is safe enough to house their company information. Although Manilla is a new company, they have already gained the trust of global institutions backed by the Hearst Corporation, one of the most diversified private media companies in the world.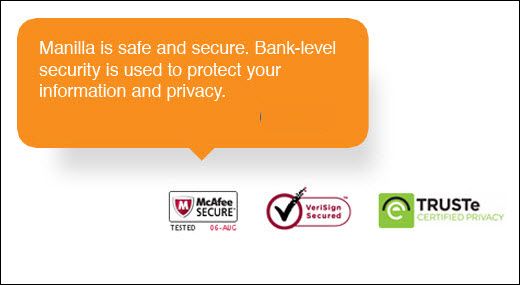 It's simple to get started on Manilla:
Set up your Manilla username and secure password
On the Accounts page select "Add Accounts" and search for your household accounts including banking, credit cards, loans, investments, cell phones, cable, Internet, magazine subscriptions and travel and hotel rewards programs.
Enter your online usernames and passwords for your accounts (if you don't yet have an online username & password for some of your accounts, Manilla will take you where to go to set them up)
That is all you have to do! Three easy steps!
You heard me right?
Simple and easy set up with just three steps.

This is going to be the next big thing in organizing your financial life. Never again be caught up in the pile of paper or miss a bill that was eaten by the dog.
Sounds great doesn't it?
Just click the picture above and experience it for yourself.
Click it.
Go ahead, make my day. (wink)
As an added bonus, in June they are doing an amazing GIVEAWAY!!!!One lucky new user will win $1,000 cash to pay their bills!
Get organized and be entered to win $1,000 cash to pay your bills!
How to Enter:
1. Sign up with Manilla
2. Link one or more household, financial, subscription or rewards account within Manilla
3. Come back and leave a comment telling me you signed up and how Manilla can save you time!
This is a sponsored conversation written by me on behalf of Manilla. The opinions and text are all mine. Contest runs June 7-30, 2011. Winner must be signed up with Manilla with at least one account linked to win. A random winner will be selected by July 1, 2011. Official Contest Rules