When it gets cold outside, bears hibernate. What exactly is "hibernation" anyway? According to Webster's Dictionary, hibernate means to "pass the winter in a torpid or resting state" and "to be or become inactive or dormant."
With this metabolic depression in animals such as bears, their bodies slow down and they are said to "sleep through the winter" living on the fat they stored in the months preceding the hibernation. This is how the species survive since deep snow would impede their success at obtaining enough food to thrive.
Ahhh, snow.
Yesterday afternoon when we started on our journey to my sister's house for Christmas dinner, it had started to snow tiny little flurries that eventually turned into large flakes…that continued to fall through the rest of the evening…and all night long…and all day today. Obviously, being the girl who could live in flannel forever, I have been quite happy. I look out the window and I see…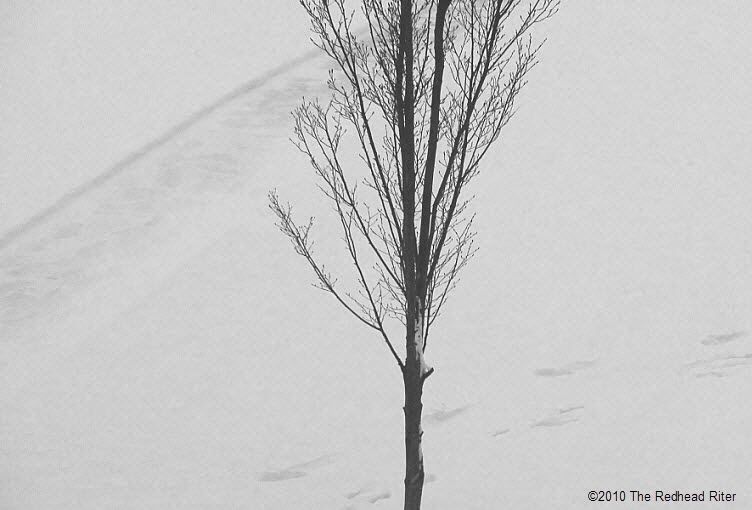 snow falling, blowing and stacking up a little at a time.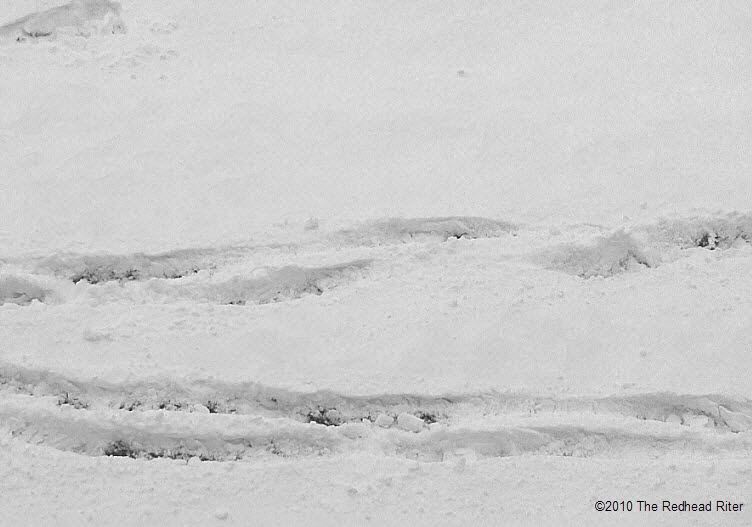 I see enough snow to make footprints.
Those steps in the snow make me think about life.
Often, life is a struggle. Depending on our attitude and personality, we either breeze through it with flying colors, trudge through it with great success or cry and complain through it with eventual success or failure. So many events are completely out of our control. That one fact could be the lesson we are meant to learn – we can only control our actions and attitudes through the changes.
Change is inevitable.
Attitude is adjustable.
Growth is intentional.
"All changes,
even the most longed for,
have their melancholy;
for what we leave behind us
is a part of ourselves;
we must die to one life
before we can enter another."
~Anatole France~

Lately, I have been dying in one life.
Stuck in the dying.
Actually, it has been beyond my control and I have been desperately fighting to get through it with a semblance of success.
I'm not the only one.
I actually found a little comfort yesterday after my family gathering. When we arrived home it was snowing up a storm and I was feeling such a relief that the whole Christmas experience was over. Never have I felt this way about a holiday – most especially Christmas. Of course, that brought about a bit of guilt for feeling that way.
Anyway, shortly after arriving home, the phone rang and it was my mother. Christmas is and always has been Mom's favorite day of the year. She talked in her light and happy way about the snow, delicious food and her love for her family. Then she said, "I'm so glad Christmas is over."
I almost gasped, but I didn't want her to hear me so I didn't make a sound. I couldn't believe that Mrs. Christmas herself was glad that the holiday experience was over for 2010. Suddenly, I felt better and less like Mr. Grinch. I almost felt that I had permission not to feel guilty any more. If Santa's main Mrs. was relieved at the end of the day, I could be too!
Today I focused on relaxing.
My daughter cleaned her room SPOTLESSLY. I know she is seventeen years old but she cleaned. Seriously! She removed every poster on the wall, folded and hung every piece of clothing, changed her sheets, added a new bed skirt, moved the furniture, vacuumed, scrubbed her carpet, threw out trash, and the list just goes on and on. All the while, I sat watching the snow, surfing the internet, kissing on Bella, eating yummy food, talking to Turtle and thinking.
I thought a lot about how I must focus on healing my heart, mind and soul. It has been a rough year for me and many others I'm sure. We owe it to ourselves to find the peace and healing we need.
"The footprints you leave behind
will influence others.
There is no person who at
some time,
somewhere,
somehow,
does not lead another."
Have you thought about the new year looming ahead? What are you going to do for yourself?
This is the weekly post where I spotlight my Rockin' Friends who are the Top Nine active participants and loyal followers in my community! If you want to be mentioned here next week, then all it takes is to come in and start chatting with everyone in my community.
With a big thank you for their participation and friendship, here are the top three Rockin' Friends by category of achievement: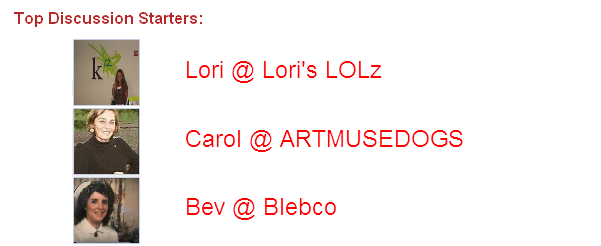 I'm so glad that I've been able to get to know and build friendships with all these lovely ladies as they have become active in my community and by reading their blogs. Be sure to add each of their blogs to your blogroll, but also come over and chat with them in my community.
For everyone mentioned in the top nine this week, feel free to grab the Rockin' Friend badge below and thank you for your participation!!
Until the spotlight next week…Happy Chatting Rockin' Friends!
Don't forget to add your blog URL to the comments at Woo Us To Your Blog and learn blogging tips that will help you have a polished blog and to increase your traffic! This week it is all about owning your own domain! Did you know the going rate for 2010 is only $10 per year?
Until next week…Kiss your family, hug your friends and don't forget to be the friend you would like to have around.