The Alexa toolbar helps with browsing and is used by Google to measure website statistics. If that didn't sink in, it will by the time you finish reading this post.
First I will teach you how to install it and then I will tell you why you really should use the Alexa Internet toolbar especially if you have your own blog.
Go to the website for Alexa. The following link will take you directly to the toolbar download page.
Click the big green button labeled Install Alexa Toolbar
Click Run
Click Run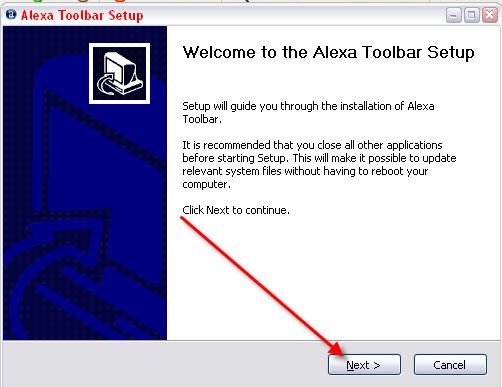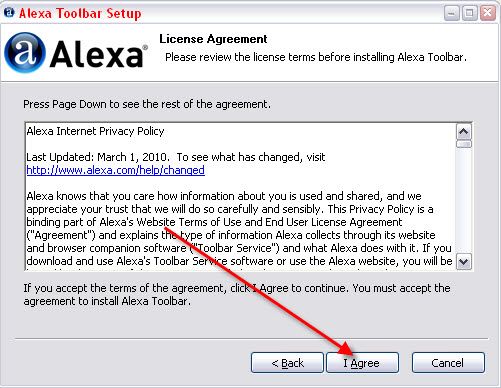 Click

Next

and do not change the folder that the system is automatically creating.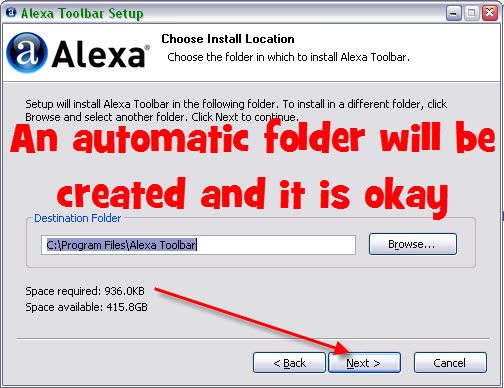 TaaDaa! You now have an

Alexa Toolbar.
Your toolbar will probably be a different color because my theme is a gray wooden fence. Remember when I told you all about

Firefox Bookmark Link Syncing

and how great it worked in comparison to Internet Explorer? One of the features of Firefox is having a choice for the theme. They are called

personas

.

and there are over 180,000…No, I have not looked at all of them! Anyway, that is why my bar appears gray.
I know you can't read the bar, but I wanted to tell you several things about it…
The toolbar does not contain any advertising

Easy to read information about the site such as traffic rank

If you're thinking about using your credit card on any site, it might bring you comfort knowing you can find out information about how long the site has been in existence and contact information. So this is

a great tool for non-website owners too.



Beside the information button (3 bars of a bar graph), you will see a number. That is the site's traffic rank which is the measurement for the number of visitors to the site.


Next to the ranking are two blue and green links which will identify related links to the site you are currently visiting by simply clicking the drop down arrow next to the links.
Now you might be thinking, "If it sends information to Alexa every time I visit a website, it must be spying on me!!!!" Well, relax because all the information collected is sent anonymously and only helps with calculating popularity of the site. So it does not profile you or analyze you personally in any way.
Let me show you a few things that I think are marvelous about the analysis of the sites. Of course, you already knew I was going to love this part. So let's proceed…If you click the first icon in the toolbar, it is the Alexa logo and will take you to their site. On this site you will find a tab bar at the top.
On the "Home" tab you can search for keywords, hot topics, find the top sites and explore the hot products.
The "Site Information" tab will tell you a wealth of information about the site you are visiting or your own site. Besides the traffic rank which is shown boldly after an explanation of of the site, there is also another set of tabs which also has specific information about the site.
Traffic Stats
Traffic Rank

Reach

Pageviews

Pageviews/User

Bounce %

Time on Site

Search %
Search Analytics
Search Traffic

Top Queries from Search Traffic

Search Traffic on the Rise and Decline

Search Advertising metrics

High Impact Search Queries

Search Engine Marketing
Audience Demographics
Age

Education

Gender

Has Children

Browsing Location

Income

Ethnicity
Contact Info
Reviews
Related Links
Click Stream
Upstream Sites – Which sites did users visit immediately preceding the site?

Downstream Sites – Where do visitors go after leaving the site?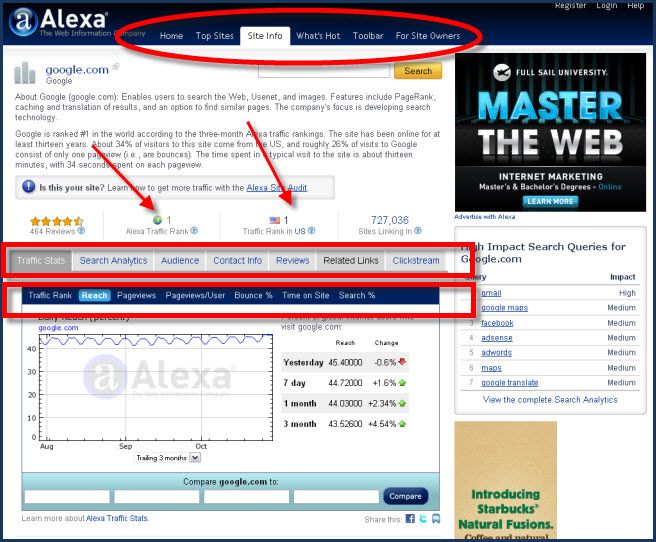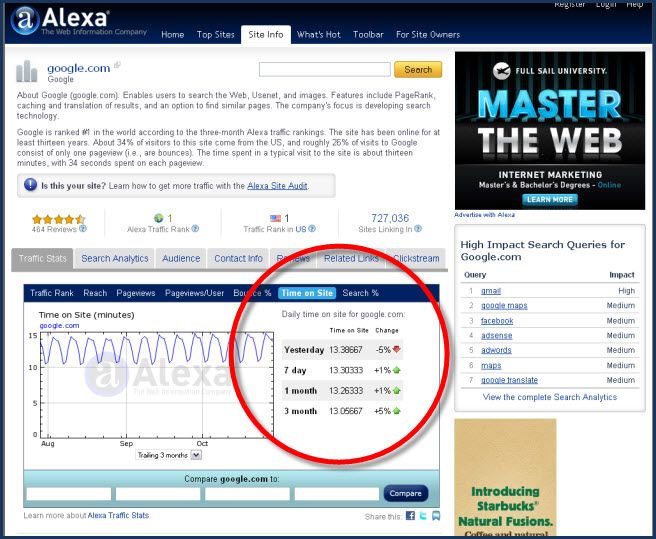 Up to this point, it is all in all a great tool to use and a valuable toolbar. But if this hasn't been enough to convince you to download the toolbar since you know that you are in essence casting votes for all the sites you visit and enjoy, then think of this…Every time you visit your own blog you are casting one of those votes which is sent to Alexa. No big deal? Did you forget that Google gets Alexa information and uses it to rank websites?
I just said Google uses the information from Alexa's toolbar information for ranking and indexing sites including your own!
The more you visit a site and flip through the pages, the more you are telling Alexa, Google and the world that the site is important. Don't you want your website to be important?
Of course you do! Duh!
Now I've told you all about something that many people just don't know to do. It is really fun to watch your own site as it moves on up the ranks. If you get stuck with downloading the toolbar, please send me an email and I will be happy to assist you.
The last "Woo Us To Your Blog" post explored the hidden value of theGoogle Friend Connect widget on your blog. Do you remember the hidden value and options?
As always, attached is the weekly Linky to enter either the main URL to your site or add each post you publish throughout the week. You don't have to do anything special, just drop your link(s) in and get a little extra exposure to your site – as many of your blogs as you would like to link and as many individual posts as you desire to link.
Until next week's wooing post, have fun analyzing your site using the Alexa link and the toolbar.
Keeping an eye on my Alexa toolbar as I surf,