"Patience serves as a protection against wrongs as clothes do against cold. For if you put on more clothes as the cold increases, it will have no power to hurt you. So in like manner you must grow in patience when you meet with great wrongs, and they will then be powerless to vex your mind."

~Leonardo da Vinci (1452 – 1519)~
One characteristic that I find appealing in someone is if they have an abundance of patience. According to Webster's dictionary, patience is "the capacity, habit, or fact of being patient." So I looked up patient…
bearing pains or trials calmly or without complaint
manifesting forbearance under provocation or strain
not hasty or impetuous
steadfast despite opposition, difficulty, or adversity
able or willing to bear
There are so many things in life that are completely out of our control. Our reactions during those situations can be patient if we so choose. Here are a few instances that people can lose patience:
standing in line
having someone cut you off in traffic
your children fighting for the 100th time in one day
waiting in the doctor's office
sitting in a long meeting when you are already behind on a deadline
having to watch someone die of a terrible disease
Tips for improving patience during a "situation":
identify the object of your impatience
physically relax your body and breathe deeply
put the situation in perspective with the present and the future
move into your head while you wait and contemplate other responsibilities you want to complete or remember blocks of time that you were happy
Helpful ways to increase patience:
participate in slow activities such as chess or painting
practice being patient in your mind by visualizing impatience moments
avoid your triggers as much as possible
keep a clear perspective of the important things in life
allow empty time on the calendar (see Carefree Timelessness)

start and end the day peacefully
get a slow pet like a fish or
make a conscious decision to react with patience
laugh often and love deeply
An important factor in learning to be patient is that you remember you will not go to sleep one night as an impatient person and wake up the next morning filled with patience forever. Obtaining patience will require constant practice, commitment, and perseverance to develop this character trait. It is a worthy goal because after all, patience is a virtue.

This is the weekly post where I spotlight my Rockin' Friends who are the Top Nine active participants and loyal followers in my community! If you want to be mentioned here next week, then all it takes is to come in and start chatting with everyone in my community.
With a big thank you for their participation and friendship, here are the Rockin' Friends this week in order of most participation:
This week the special spotlight is shining on Kris of In the Kitchen with Audrey. Kris' BlogFrog "About Me" is as follows:
"Audrey is an active toddler who is learning to cook."
I have to say she is the cutest Rockin' Friend yet!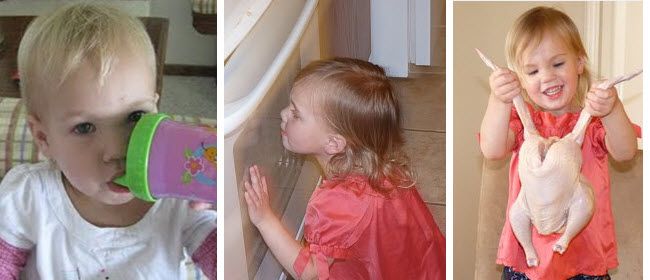 Audrey started out without much luck with keeping the ingredients where they were supposed to be as shown in Finished Product. It looks like she is saying, "What have I done now?"
The picture in Sugar Cookies makes me want to just give her a big hug because she is so adorable!
There is more than just pictures in this lovely blog and the recipe for Crunchy Oven-Baked Chicken Toes caught my attention.
Reading through one post after the next, I finally clicked to Blueberry Muffins and then I cried. Yes, I cried. You see, Audrey is a blond little girl who cooks in the kitchen just like my sweet Alyssa. I can not count the number of times Alyssa and I cooked together just like Audrey and her mother, Kris. Time flies by so fast and Kris is not only teaching her daughter a valuable skill, but they are making wonderful and beautiful memories together.
That is why I cried.
I'm sure you'll want to read about Salad Sunday and you'll probably want to eat the salad like I wanted to do! Apple Butter post gives us a wonderful recipe as does Spaghetti Bolognese . These lovely recipes can inspire even the inexperienced cook to give it a try because Audrey shows you how to create yummy food with very simple steps.
I'm so glad that I've been able to get to know Kris better since she has become active in my community and by reading her blog. Be sure to add In the Kitchen with Audrey to your blogroll, but also come over and chat with Kris in my community.
The community challenge this week rolled along with fun participating as well as a live chat that took place. Thank you to all the participants for working so hard at making the community a success and challenging yourself this week. Not only the community benefits, but we all have been able to support and encourage each other which is invaluable.
The winner of the challenge is:
Congratulations Jamie! A warm thank you for being our Rockin' Friend! We all appreciate the effort you have made to get to know us better and the support you have shown in our individual blogging efforts.
For everyone mentioned in the top nine this week, feel free to grab the Rockin' Friend badge below and thank you for your participation!!
Until the spotlight next week…Happy Chatting Rockin' Friends!
Don't forget to add your blog URL to the Linky at Woo Us To Your Blog and learn blogging tips that will help you have a polished blog and to increase your traffic! This week it is all about Photo and Image Storage!! Where do you keep your images online?
Until next week…Kiss your family, hug your friends and don't forget to be the friend you would like to have around.