People change.
I know the statistics say that a leopard doesn't change it's spots, but every day life events occur that cause people to change inside and age also has a lot to do with it.
This isn't a brand new discovery, but right now it has a direct correlation with how I am coping with things that have been happening in my life.
I've changed.
Things don't look or feel the same to me any more.
I used to want so many "possessions" that now just seem…
pointless,
unimportant
and totally irrelevant
to the life I want to live and
the legacy I want to leave behind.
I have a lot of "stuff" which means that I own beautiful possessions that can fill a house plus a little bit more. I no longer want or need them which is why I am in the process of going through all of it…a painstaking task. There are many things that I will sell in a my own little shop online at Bonanzle (Thank you Katlupe for the information). You can find my profile here, but my store doesn't show up yet because the shelves are empty. It will take me a little while before I get pictures of my "stuff" uploaded, but you can be sure that I will clue you in when it is all ready.
I'm sure THAT'S a huge surprise.
Not.
One of the "things" that I used to want was a really, really, really huge house. I am so far from that desire now! The thought of vacuuming, dusting and cleaning all the things that would inevitably fill that really, really, really huge house is as unappealing as a cow patty in a cereal bowl covered with chocolate syrup.
That was a sick visual wasn't it!
The housing possibilities, however, are endless and I find one choice intriguing. The company is called Tumbleweed. Maybe you've heard of them?
They create homes that range from 65 to 837 square feet. No, that wasn't a typo! These homes are built on wheels and are fully functional homes, but obviously, tiny. Tumbleweed homes can be built by or for you and come in many styles. I've chosen a few of my favorite pictures, but I suggest you also visit their website to experience all of the awesomeness.
I think these homes bring out the minimalist in me.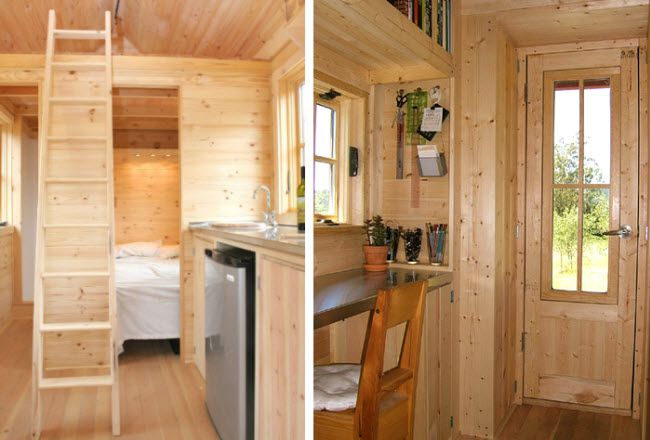 Just in case you want to see how they look nestled in a landscape, there is also an entire blog dedicated to
tiny houses
.
There is no right or wrong answer, so feel free to be honest…Do you have any set goals and dreams? What would you like your reality to be in the future?
Dreaming about having a little house with a few cows, chickens and goats,
Gotta have the goats.