The Men's meme question answered by Tom is below and
his comments will be in BLUE:
How often do you argue? In what manner and for how long do you carry on an argument with your spouse, companion or partner?

This is fodder for a dissertation. It really does have the substance and potential for observation, tests, and measures among an unlimited population. This would reveal the ingredients of a happy or unhappy relationship. That said, my answer is several times a week our points of view, interests, needs, wants and desires collide. The word tumultuous comes to mind. I have never seriously entertained a breakup even though I become defensive, prideful, stubborn, insulting, ferocious, and loud.

I try unsuccessfully to take breaks from these battles, nonetheless they can last for hours and we can revisit the same issues for years. Is gold the precious metal of a 50th anniversary?!

At the risk of being political incorrect (well, chauvinist), I'm married to a redhead.


Obviously, his last statement basically says it all. He is definitely a chauvinist and extremely set in his ways. But let me start at the beginning…

He hated and refused to answer the two questions for the usual men's meme. I should have taken that as an omen to his grumpiness because they were great questions. So then it came time to ask a question he did want to answer. I chose a question about sex and he just wouldn't hear of answering it. He wasn't in the mood. Isn't that just a priceless answer?

Next, we finally agree on the question above after a somewhat heated discussion about my sex question. It really was a good question.

I will also answer the above question with brutal honesty which seems to be my "redheaded" trait that so often chafes Tom's ego.

We don't just disagree, we argue. There are several reasons it isn't a discussion with the top two being:
I am not a subservient "yes" wife that caters to my husband. Tom comes from the generation where that was the accepted norm and in his previous relationships, his word was the law. That is the chauvinist, selfish part of his character. I refuse to conform so you can imagine the sparks that do fly.
Tom is overly defensive.
Do you remember the posting I did on the spoon method of talking to one another? It just about kills Tom. He does fine while he is talking…on and on and on and on, but when it is my turn to speak, he wants me to hurry up and interrupts. That usually ruins my train of thought and just makes me more frustrated!
Tom tries to say I am "stubborn" to justify his own stubbornness. I am only stubborn when I am 100% correct and not being unreasonable. For instance, if I say that my feelings are hurt, that is not being stubborn! That issue isn't even debatable. I am the only one that knows how I feel. If I disagree with him, Tom immediately goes for the stubborn attack. If that doesn't work to get his way, he goes to the three things that totally incite me to boiling anger…redheads can boil. Those three things are:
Are you menstruating?
Maybe you should take a water pill.
You're obviously a redhead.
I find all three to be disgustingly insulting which is why he says them. Tom only goes for the woman digs because he wants his way! (Being politically incorrect – Isn't that just like a man!) Then I get my feelings hurt and cry.(Also politically incorrect – Isn't that just like a woman!) Don't you hate crying? If Tom hurts my feelings and makes me cry, the next thing that happens is I get angrier. As you can see, it becomes a vicious cycle.
We have been married for a little over four years and I dare say, that we have to continually work towards peace and compromise. Do I believe in a right way to disagree? Oh yes! I think that if both partners are willing to put aside their own selfish desires and think of their partner FIRST (walk in another's shoes concept), a peaceful solution can always be attained without insults, hurt feelings or anger.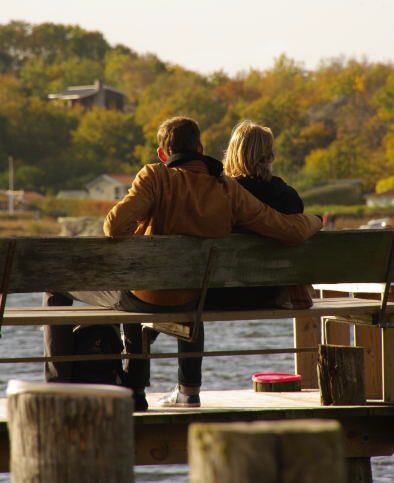 How do you handle disagreements and arguments?
BLOGNTWEET

…
The forum for savvy women and men!
Join here

.