I'm sure it won't be a shock if I tell you that I subscribe to the Merriam-Webster's Word of the Day. I think it reminds me of having a Spelling test every Friday in elementary school. I loved and still do love to spell. Maybe that is part of the reason why I love to write.
Anyway, I get a new word delivered automatically every day to my email. It gives the definition, pronunciation, and much more. I opened my email the other day and the word was "gloze"…no, I didn't misspell it. Not "glaze" which only makes me think of doughnuts…"gloze". Love this picture—>here.
Gloze is such a strange word! This is the information I received on this word…
Meaning




1 : to mask the true nature of : give a deceptively attractive appearance to — often used with "over"




2 : to deal with (a subject or problem) too lightly or not at all — often used with "over"




3 : to make glosses or comments (on); explain: the original meaning




4 : to fawn or flatter (someone)
Example Sentence

"His modesty and shyness were at any rate proverbial, and it does seem that he went out of his way to conceal or gloze over certain aspects of his career, his military exploits in particular." (Eleanor Perenyi, Green Thoughts)

I further learned that this word is deemed rare to obsolete! I love this word! I can think of times that I would gloze. Such as…
If I were in a wreck, I would gloze over the fact that the car was a big pile of mashed metal.
If I wanted my husband to take out the trash…NOW instead of later…I would gloze him and bat my eyelashes or in other words flatter him.
I gloze on your blogs! That simply means that I make comments!
Don't you love this word?!!!
So please feel free to gloze on this post —definition #3.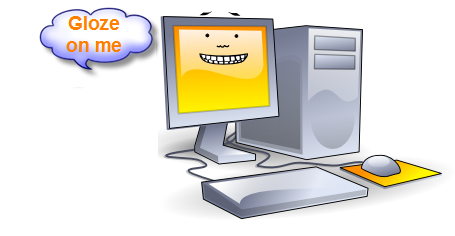 BLOGNTWEET

…
The forum for savvy women and men!
Join here

.