You will laugh your head off and thank the heavens above that you are not like me after reading this post. Before I tell you about my deep dark secret, I have to tell you that this posting caused a bit of creativity in me.
I'm going to start a series to post every Thursday called "Tell The Truth Thursday"…(Did you notice that Tell, The, Truth and Thursday all start with "T"? Lovely isn't it?) Anyway, if you would like to take part in this fun little addition, grab the button and post the new question and your answer on your blog every Thursday. I will put the question in my sidebar earlier in the week so that you can be prepared when Thursday rolls around. Before next Thursday, I will try to figure out how to use the McLinky thing so we can hop, hop, hop to all the blogs and read the fun answers.
Badge also found on my side bar
Now, onward to me telling the truth…I visit other Blog Frog communities (you should really visit mine!) and enjoy posting comments to their questions. So tonight in Mommy's Time I answered this question…
What do you wear to bed?
This is a funny question to me. First of all, I hate having to waste time sleeping. I close my eyes and when I wake up there are a ton of wasted hours! Granted, I can't live without sleep, although I have tried, but I still do not like sleeping.
Being the nerd with the funny hair do in the second grade, led me to being a teenage nerd who didn't want her hair to get messed up while she slept. Back in "those" days, I washed my hair at night instead of the morning. The logic was that I didn't want to bother with a billion curls in the morning and I didn't want to make the blow dryer noise to wake up everyone. I was still vain in my own nerdy way, so I wanted my hair to be a perfect blend of curly chaos.
My first solution to this dilemma was to sleep with the top-back of my head resting against the headboard where it remained all night. Thinking back, I wonder why I didn't ever get a kink in my neck! That solution was pretty good, except that it left a tiny circular flat spot in my hair where my head had rested against the headboard. That aggravated me.
The second solution was to wear a sleeping cap. Oh yeah, I was a sight. I had a white, lace, elasticized sleeping cap that kept my hair enclosed and enabled me to keep my head on a pillow in the horizontal position instead of propping up. This was a so-so solution because it smooshed all my curls flatter against my head and I had already been brainwashed (thank you Mom) that super fluffy was the way to go.
Eventually, meaning many years later, I resorted to washing my hair in the morning and saying the heck with all the dumb solutions at night. Shortly thereafter I started growing my hair long and that created a Medusa morning appearance.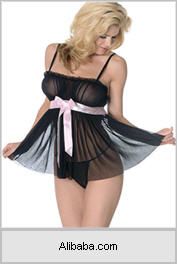 Anyway, back to my original question. What I wear to bed (no longer a hair cap) depends on the situation…
if I'm cold, thermal underwear type pjs
if I'm hot, thin knit pjs
if I'm feeling sexy, little sexy lingerie
if I'm feeling glamorous, long lace lingerie
if I'm feeling free and sexy, nothing. Please do not use your imagination on that one!
Now it is time to "Tell The Truth" to The Redhead Riter and the rest of the internet world!
What do you wear to bed? Please confess in the comments today. We are all listening.