We use matchsticks to light candles, the fire to cook while camping (which I totally know nothing about), and endless other uses. But David Mach uses colored matchsticks in a totally different way. It all started with his first match head sculpture in 1982 which accidentally went up in flames, but that didn't stop him from producing many more. Here are a few of his very original and creative matchstick heads: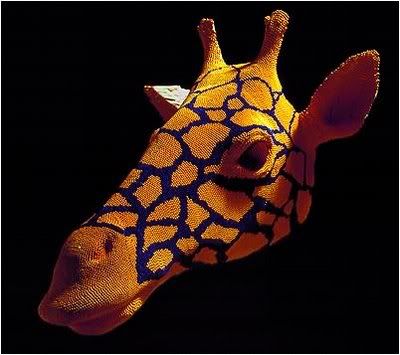 According to David Mach, "Being a sculptor leads everything I do. Every project I take on starts from that point. I believe that an artist must be an ideas monger responding to all kinds of physical location, social and political environments, to materials, to processes, to timescales and budgets. I also believe that sculpture just about encompasses everything – a painting can be a sculpture, a TV ad can be a sculpture, a dance, a performance, a film, a video – all of these kinds of art and many more can be sculpture.
When I have ideas I want to make them, and not just some of them, but all of them. As a result of that my sculpture covers a multitude of sins. I like to work in as many different materials as possible. It's no understatement to say I am a materials junkie – jumping from highly-painted realistic cast fiberglass pieces to sculpture with coat hangers, to a thatched barn roof laced with fiber-optics to designs for camera obscures (or at least the buildings to house them) and layouts for parks.
Recently, collage has had a huge influence on my sculpture. I spend so much time on collage, looking at, sorting out, re-arranging, and sticking thousands of images a week that ideas for sculpture will pop into my head whole, complete with a list of materials to make them with and a take on the different environments, museums and galleries they will inhabit."
One of the chores of motherhood is laundry and that involves a washing machine, dryer, laundry detergent, hamper, laundry basket, and clothes hangers. David is very familiar with clothes hangers…lots of clothes hangers…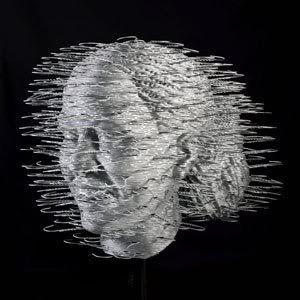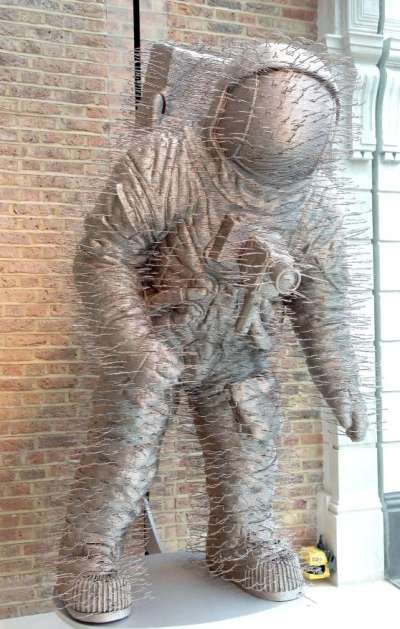 I have to admit that when I've been heavy into doing laundry, I've never had such creative thoughts of creating figures as previously shown.
I saved my favorite for last…the scrabble tile woman named Myslexic. Such detail!!! You can zoom to look at any part of her body at David's web site by clicking on the pictures of her below.
Matchsticks, coat hangers and scrabble tiles…simple items which David Mach has used to produce amazing art. If he can do it, so can you. We all have hidden talents that are untapped and just waiting…
Waiting for you to have the courage to try something different.
About the artist:
David Mach was born in Methil, Fife, in 1956.
He studied at:
Duncan Jordanstone College of Art, Dundee (1974-79)
The Royal College of Art, London (1979-82)
Made a Royal Acadamian in 1998
First Visiting Professor of Inspiration and Discovery at the University of Dundee