Images: Anagram Bookshop (Prague)
Have you ever thought about how crazy it is that we look at a bunch of lines and curves on paper and call it reading? The subject matter varies, but the end result is the same – we get lost in another world where we either learn or are entertained.
Why read? Sir Richard Steele said, "Reading is to the mind what exercise is to the body." My body hates exercise, but my mind loves reading! If we do not exercise, our muscles atrophy and if we do not read, our brain cells will basically do the same – the cells forget what roads to travel and lay dormant. By reading, we challenge the brain to function more efficiently and it becomes stronger just as our body would if we lifted weights. These brain exercises, if you will, have been shown to assist in keeping a sharp mind as we age and retain the ability to remember. Thus crossword puzzles, learning a foreign language, and reading great literary works can actually keep us healthier. To obtain the full impact of improving brain function, we should read various types of literature such as poetry, non-fiction, fiction, study guides, autobiography, biography, and plays.
Reading also allows a "time out' of our normal life, responsibilities and worries. When we read a "story book," often we become the main character and we fall in love, slay the dragon, have babies, become famous, travel to other worlds, destroy the bad guy, etc. The moments away from our own life are like mini vacations and allow not only better brain function, but an improved attitude to handle actual events and disappointments. The intellectual aspect of improved vocabulary and grammar seems to happen without much of an effort – read more, understand more, know and use more words.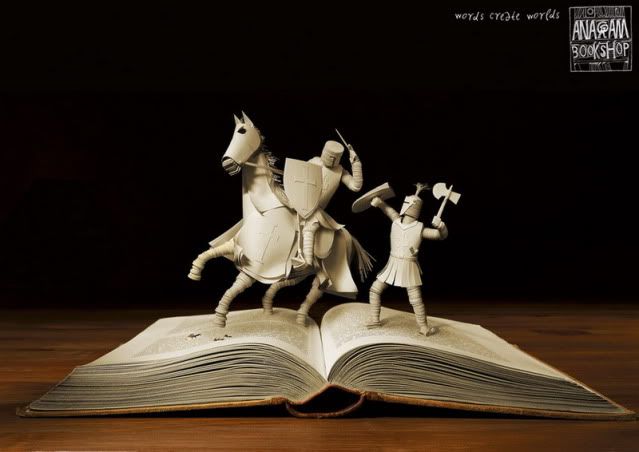 Images: Anagram Bookshop (Prague)
While being lost in a book, the mind creates images we see in our mind. Even more of a phenomenon is that we also hear the voices of the characters. The more involved we become in the book, the easier it is to completely tune everything out around us. The intellectual and emotional stimulation is heightened to such a level that everything feels real and we cry, sweat, or grip the pages in anticipation or anger. When it gets to that level of reading, it is impossible to put the book down…we want to remain lost in the pages.
When Alyssa and Brittany (my niece) were young, we would visit the library once or twice a week and check out the maximum number of books on each card.
Sixteen plus sixteen plus sixteen equals forty-eight. Forty-eight books.
Often the books were read two, three, or four times before we returned them four days later. They loved to hear stories and as we sat together reading, their faces would be filled with an innocence that can only be found in a child's eyes. It was easy for them to be involved and lost in the stories. I remember checking out a book called CADILLAC by Charles Temple for ages 4 to 8. It is about a Granny who guns her old seven-cylinder Caddy and heads for town making the sound: boom shacka-lacka-lacka boom shacka-lack. They could not get enough of this book. I think I've read it a hundred times!
Help your mind, your attitude and improve your interactions in the relationships around you by taking the time to read. Find a quiet corner for yourself, open a book and become lost it's pages.

Images: Anagram Bookshop (Prague)