I'm basically a city girl with a country girl heart. I was born in the country, raised in the city, and visited relatives in the country all the time. So I like cows, new high rise buildings, goats, parks, corn fields, sidewalks, dirt roads, cowboy hats, horses, sushi…you get the idea? I'm just a combination of it all and I think I passed the same gene down to Alyssa. Lucky girl!
On the country side, we LOVE actually picking fresh vegetables. One of Alyssa's favorite things to do is "shuck" corn. To shuck means to remove the husk or shell from (in this case) the corn.
It goes from this

to this

without too much effort.

We went to buy some corn on the cob and Alyssa wanted to shuck the corn. This particular store provides large trashcans so you can shuck your corn before you take it home. It is so convenient!
Of course, she is still a child in many ways and we just "had to take the baby corn home." She marveled at the tiny kernels of corn!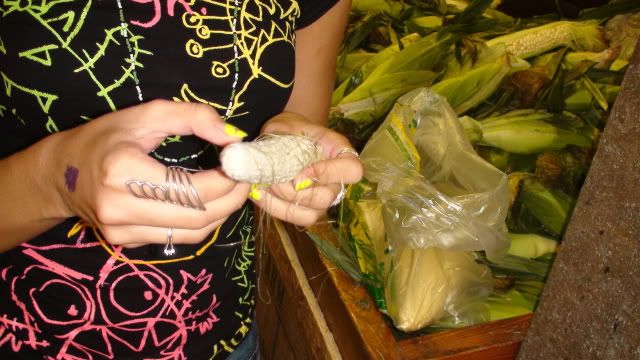 The sales lady thought the tiny cob was a "mistake" and was ready to throw it out until we let her know that we purposefully shucked a tiny cob of corn and wanted to pay for it.
She laughed.
I was thankful that Alyssa was still able to enjoy the little things in life that so often we take for granted.
Life holds so many simple blessings,
each day bringing its own individual wonder."
~~John McLeod~~
So I encourage you today to mentally step back and look at your surroundings as if you were seeing them for the first time. Do you see the tiny flowers…the cute way your spouse/companion smiles…the tiny toes on your children…the bird's nest in the tree…the fluffy white clouds…the bright green grass…feel the wind as it blows on your face???
Don't be so self-conscious that you miss out on the full experience. If you feel like spinning around in circles while looking up at the blue sky, do it!
Today is a new day.
Enjoy everything in it.
Including the tiny corn cob with the itty bitty kernels.