After obtaining the "cute" stamps on our hands and with baskets in tow, we began our strawberry adventure today.
The sweet fragrance of the strawberry fields engulfed us as we rounded the bend. Nestled amongst the trees are beautiful, rich green leafed plants covered with bright red, juicy berries.
Row after straight, clean row there were strawberries. The production method used for this strawberry field is the plasticulture system. The rows are long beds that have been fumigated and covered with plastic to prevent weeds from growing and the ground from eroding. Under the rows there is irrigation tubing and between the rows there is a whole bunch of hay.
The little white flowers with yellow centers are all over the plants.
The plants are full of fruit that is hanging and drooping. Some berries are totally ripe and red all the way through while others are still green. There isn't much time left before "strawberry season" is over.
It is easy to see the scarlet fruit peeking from behind the green leaves.
I guess we are not cut out to be real farm girls because by the time we had picked about a box and a half of strawberries, we were both exhausted.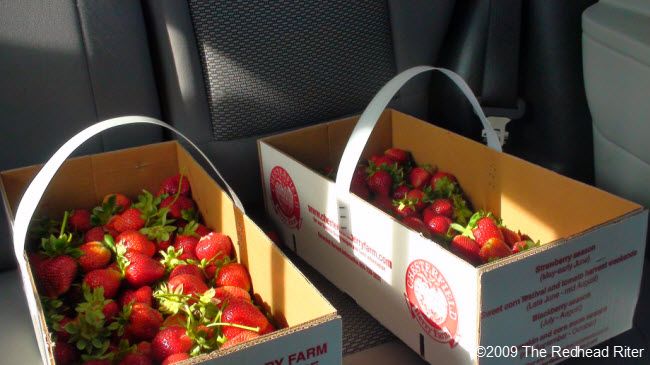 We are just a couple of city girls with country girl hearts!