Alyssa is wanting to change her room around "again" and paint. I found this nifty program that will let you paint the walls in any color on the computer to assist us in deciding on a color.
If you haven't used the site before, it is user friendly with many other tools to help in decorating your entire home or just a room. There are great ideas and how-to's that are specific to your needs. I wish she would want it to look like this soft and pretty pink bedroom.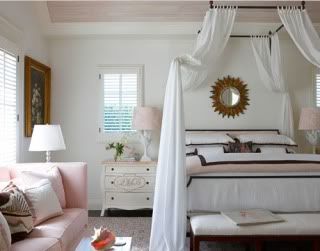 I also love looking at the fabric!
So if you are looking for a little boost to your imagination, check out HouseBeautiful.com and enjoy all the various tools to help you spruce up your home!