Have you ever craved a cookie, pulled all the ingredients out of the cupboard to make them, but discovered you were missing brown sugar. Yeah, it's happened to me before too, but the solution wasn't to make a mad dash to the store. It was much easier to just make some brown sugar myself.
Yes, make the brown sugar myself. It's super easy!
How to Make Light And Dark Brown Sugar
Like I said earlier, making brown sugar, both light and dark, is extremely easy. There are only two ingredients. One. Two. That's all! It does, however, take a little muscle for the mixing which is why I use the electric mixer. If you want to strengthen your arm muscles, by all means use a spoon instead of the mixer. It will be a whole lot of stirring and my arms are wimpy and fail me before I'm done, so the mixer is definitely my friend.
I start by adding the regular white granulated sugar to the mixing bowl.
Then I simply pour the molasses on top of the white granulated sugar already in the mixing bowl.
Turn the mixer on the semi-low speed. If you turn the mixer up too high, you will have a sugar dust cloud.
The sugar molasses mixture is going to be globby at this point. You may even think that I'm just pulling your leg about making your own brown sugar, but I promise this will work out fine. Just keep that mixer on and have a little patience.
You'll see that the globs of molasses become smaller and smaller as the mixer keeps rotating around and around the bowl.
As the globs of molasses get smaller, the color of the sugar begins to look more brown.
The next thing you know, all the globs have disappeared and you're left with brown sugar.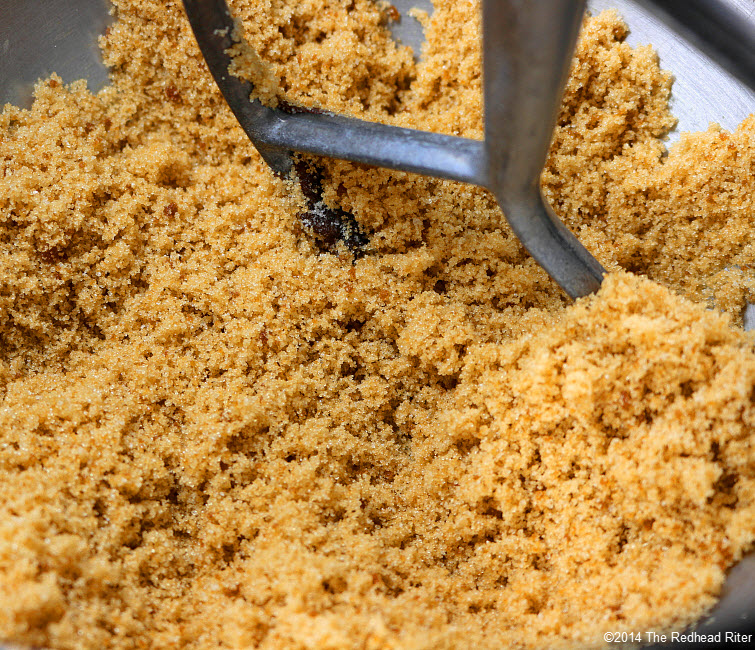 Light, fluffy, uniform colored brown sugar.
Now you either use it or store it in an airtight container like a canning jar…Mason jar. When brown sugar is exposed to air, it will get really hard because of the loss of moisture. To restore the moisture, you can either temporarily add a piece of fruit to the container or drape the open container with a damp paper towel and then plastic wrap. When the sugar becomes soft again, fluff it with a fork and then seal it in the airtight container.
Light And Dark Brown Sugar
Ingredients:
Light Brown Sugar
1 cup granulated cane sugar
1 tablespoon unsulfured molasses
Dark Brown Sugar
1 cup granulated cane sugar
2 tablespoons unsulfured molasses
Directions:
In a medium sized bowl, mix together sugar and molasses. Keep mixing until the molasses is no longer globby. This may take you a couple minutes.
Store in an airtight container like a glass canning jar. You know how much I love canning jars.
Uses For Light And Dark Brown Sugar
Because of the more exotic flavor similar to caramel or toffee, there are many recipes and uses for light or dark brown sugar which includes:
cookies
coffee cake
breads
pies
muffins
pastries
sweet potatoes
barbecue baked beans
glazed ham
oatmeal
syrup
yogurt
fruit cobbler
doughnuts
scones
pop tarts
cereal
pancakes
french toast
bacon
grilled or broiled fruit
meatballs
sweet and sour chicken
candied carrots
chicken
body scrub for exfoliating skin
Quite a list isn't it?
The best part is now that you know how to make it, you won't have to buy the bags of hard brown sugar or make mad last minute runs to the grocery store. To be honest, the flavor is also better because it is fresh and you can control the amount of molasses in the sugar. Now that you see how easy brown sugar is to make yourself, go ahead and do it!
Do you think you will try it or do you already make your own brown sugar?