It will be a trip to Colorado that I won't ever forget.

Waiting and hoping to get pregnant is not easy, so when I finally got pregnant with Alyssa after nearly ten years, "ecstatic" doesn't even begin to describe my emotions. It was a bumpy pregnancy and birth, followed by eighteen months of nursing and then gall bladder surgery. There was so many new opportunities, challenges and changes, that I desperately needed a vacation.

Destination: Colorado

Alyssa's father's sister lived in Colorado and I knew it would be fun to enjoy snow. So after much planning and loading everything into the van that I could imagine we might possibly need, the long trip from Texas to Colorado with Alyssa (under 2 years old) and Brittany (7 years old) started.

The whole trip up there was fun, but eventually we reached our destination.

In Colorado Springs, Colorado, we enjoyed the Garden of The Gods rock formations.
We also saw some amazing scrap metal art structures that decorated someone's home.
I remember Brittany kept saying, "This is so cool!" while she ran around in the snow. I thought the sculptures were rather cool too, but I wouldn't want them in my yard. I mean really, imagine a big chicken head and neck greeting you at the curb each day.
Okay….no.

I wanted to stay in a hotel so that I wouldn't have to worry about cleaning up after everyone since it was supposed to be my vacation too. Of course, everyone didn't understand my thinking, but in the end, we stayed in a hotel.
It is hard to believe that the tiny little girls in the photos are now 18 and 24 years old.

Brittany loved the snow and ate it throughout the whole trip. I kept having to warn her to make sure she didn't eat anything dirty because every time I turned around, her face was covered with snow.
Not only did Brittany eat the snow, she played with it and…
rolled around in it.
Maybe it is a redhead thing in our family, but she just couldn't get enough of the snow.

Alyssa, however, didn't really like it that much. The first time she stood in the snow, she lifted her arms for us to take her out of it. Thank goodness the good snow genes eventually matured in her and she does love snow now.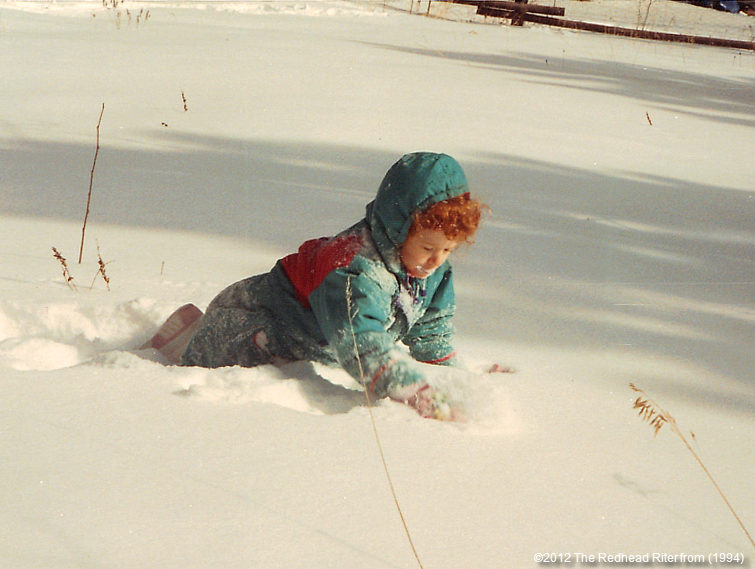 Every untouched spot covered with snow was the perfect place for yet another snow angel.
Of course, you can't take small children to snow country without providing an opportunity for slipping and sliding down a large hill.
Brittany loved tubing!

"One more time," must have been said a hundred times.
Breaks and resting between turns down the hill always included snow angels.
I was less adventurous and used the fact that I needed to hold Alyssa as an excuse.
Alyssa, however, was game and loved riding down the hill with her father.
With her big green eyes looking up at me, I couldn't resist Brittany's plea to ride with her and so the double redheads flew down the snowy hill on a little red sled.
I really preferred being pulled around. With my accident prone nature, it just seemed safer.
When snow covers everything and the sun shines, the reflecting light is blinding. I spent a whole lot of time squinting during our Colorado trip.
What was with those hideous boots?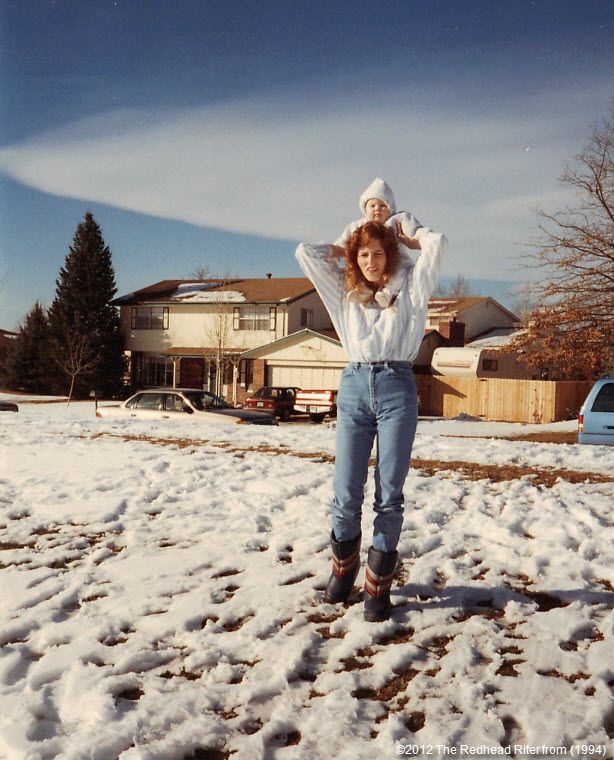 No matter how careful I try to be, accidents find their way in my life.
My ex-in-laws home was a split level house which means that it had stairs and in this case, they were carpet covered.
One evening while happily speeding up the stairs, my foot slipped…
I was leaning forward…
I couldn't get my hands in front of me to catch my fall…
I landed nose first on the edge of the step…
The skin on my nose split…
Blood flew every direction…
My nose broke…
I felt pain beyond description…
And I passed out…
Laying face down on the stairs.


I ended up with two very black-blue-purple eyes and bright blue stitches on my nose. I was truly a beautiful sight to behold. (rolling eyes) Of course, I have never been able to live down the fact that I broke my nose going "up" a flight of stairs.
I learned a valuable lesson that day: Don't run up stairs and always use the handrail.
I love snow and since there has been no sign of it here in Virginia this year, (looking out the window at the rain falling) I can at least enjoy it through this journey back in time. Yeah, I remember that it feels so peaceful to be surrounded by the lovely whiteness and hear the crunch of snow underfoot.