I consider myself a very patient person and others see me that way too. When I set a goal, working towards it methodically is actually quite satisfying. Each year I have a reoccurring goal. It is simple. My goal is snow. I want to see it, touch it, taste it, run through it and hear it under my boots. Many times I have traveled great distances to accomplish my goal.

While so many people walk around with barely clad bronzed bodies during the long summer months, I remain in the air condition hiding from the sun's rays and dreaming of snow. I comfort myself that "It won't be long before the cold breezes arrive," but actually it seems to take forever.

I wait…patiently.

Over the past year, day after scorching day passed by and I still dreamed of snow. Well, now that it is actually winter, my hope for snow is ever present in my mind. Could it snow today?

Last week I caught a virus from Alyssa the 18-year-old-germ-factory. I fought it with mega vitamins and even went to bed earlier than usual, but it was to no avail. The virus kept running the usual course of viruses. Unfortunately, I also ended up with a sinus infection and bronchitis which landed me in the doctor's office.

I didn't tweet on Twitter.

I didn't post on Facebook.

I didn't blog.

I didn't chat in my community.

I didn't do any chores at home.

On Sunday night it started snowing and when I woke up on Monday, it was a wonderland of beautiful whiteness.
I was so sick that I didn't even want to walk to the window to look at the scenery.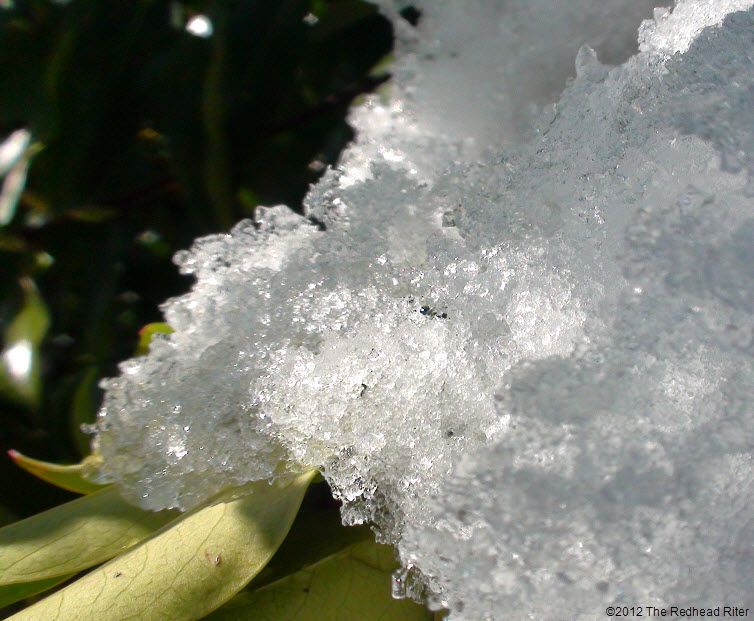 Most of the day was spent sleeping on the couch or laying there staring at the big blue sky while my body fought germs.
This could easily be the only snow we get this year.

I've waited ALL year for snow that I was now not going to be able to enjoy fully.

Drat it all!

I pulled my big coat over my pajamas, put on my big sunglasses to hide the puffy black circles under my eyes, slipped on my sneakers and grabbed my camera. With my scarf wrapped completely around my face, I walked outside and stepped in the snow.

It crunched.

Ahhhhh….

The crunching snow was music to my ears.
I reached down and grabbed a hand full of the wet snow and scrunched it together.

A snowball! A real snowball!

It wasn't a Twitter snowball! —–===O

I was holding a real snowball!
With a big smile under my scarf, I walked back inside, took off all the "gear" and plopped back down on the couch with my best friend…
Tuesday brought another day of solid sleeping and catering to my body. Thankfully, as Wednesday is rolling around, I'm happy to report that the virus seems to have run out of steam. The sinus infection is disappearing and the bronchitis still has me sounding like a man, but it is slowly getting better.
The big news, however, is that I patiently have waited a year and it finally happened – the goal was mostly reached. I didn't run through it or taste it, but I saw snow, touched it, felt it, heard it crunch under my shoe and made a snowball!
Don't laugh or I will throw a Twitter snowball at you!
You're laughing! Here comes a snowball! —–===O