"Sweet is the memory of past labor."
~ Greek Proverb
Monetary value is not the important factor when I receive a gift. Actually, the thing that makes a gift stand out with me is the sentimental value of the item. That means the gift either was personally selected for me with care or it was lovingly created with me in mind.
This decorated box is actually a jewelry box that is lined with velvet.
Not only is it sprayed with gold, but it is decorated with items such as buttons, acorns, ribbons, pearls, fabric bows and pasta.
Yes, I said pasta.
Pasta is the medium children often use when decorating things they create for their mother's for such occasions as Mother's Day or other holidays.
This homemade jewelry box is one of my most valuable possessions.
"God gave us memory so that
we might have roses in December."
~ James Matthew Barrie (1860-1937)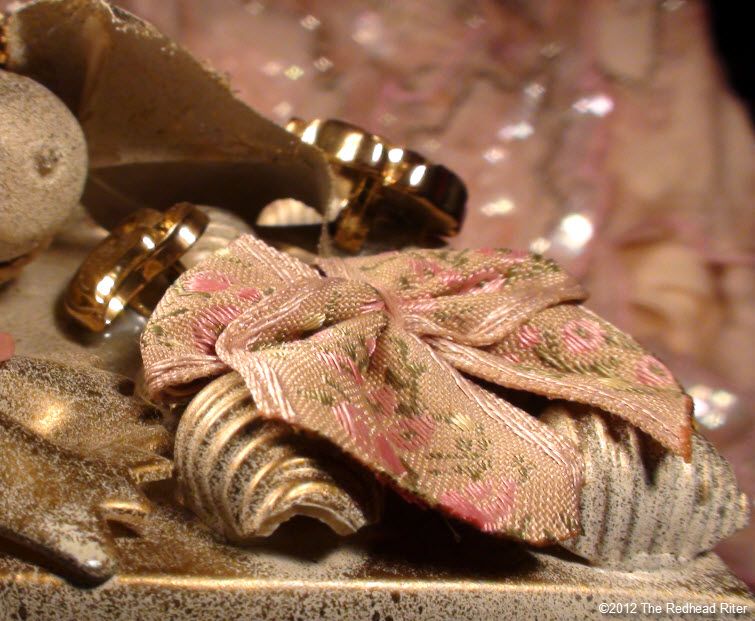 Every time I see this little box, I think about the loving hands that took the time to create it for me. It brings to mind not just one memory, but many memories.
Why are memories important especially if they are little, non-consequential memories?
Being alone with our memories can inspire and comfort us. They can also bring happiness to others when we take the time to share them. The reason that I started blogging was to have a way to share my thoughts with my daughter, so that I could record our separate and joined memories.
With each year that passes, Alyssa is slowly becoming her own person which means that it won't be long before she is completely leading her own life. The memories that we have made together will mean even more to us when our lives are not as entwined.
That is why this jewelry box means so much to me. After the jewelry box had been completely finished and before it was given to me, Alyssa signed her name on the under side of the lid. However, Alyssa wasn't the only person that was involved in creating this gift for me many years ago.
My sweet niece, Brittany, also helped in the creative task.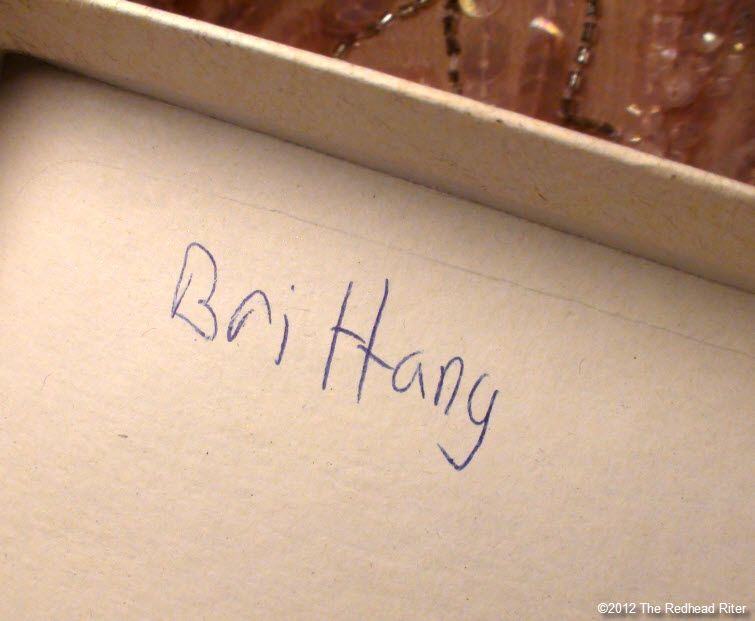 Both of the girls were assisted by my mother in making this gift for me.
So I have a gift that was created just for me by three of the people I love the most in this world. I know that their loving hands fretted over the details of the gift and thought about me through the process.
They took the time to create a gift for me because they love me and that warms my heart day after day.
Memories should also be written down somewhere like a diary, journal or even a blog. That will ensure that the precious moment in time is remembered forever especially as the details in our minds begin to slip into fuzziness.
Take the time to make and record your memories. Some day, they may inspire and comfort the people who love you.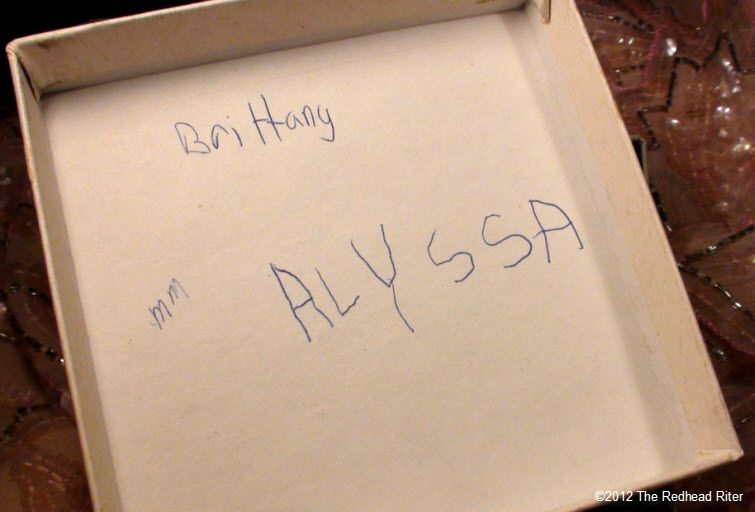 "The best memory is
not so firm as faded ink."
~ Chinese Proverb
Now, the time we have all been anxiously awaiting…This is the weekly post where I spotlight my Rockin' Friends who are the Top Nine active participants and loyal followers in my community where you will find THE BEST people in the world! If you want to be mentioned here next week, then all it takes is to come in and start chatting with everyone in my community.
With a big,

heartfelt thank you

for their participation and friendship, here are the
Rockin' Friends
this week in order of most participation.
I'm so glad that I've been able to become friends with these wonderful people who are so active in my community. I encourage you to add their blogs to your blogroll, but also come over and chat with us in my community.
For everyone mentioned in the top nine this week, feel free to grab the Rockin' Friend badge below and thank you for your participation!!
Until next week…

Kiss

your family,

hug

your friends and don't forget to be the friend you would like to have around.
Woo Us To Your Blog
As always, attached is the weekly Linky to enter either the main URL to your site or add each post you publish throughout the week. You don't have to do anything special, just drop your link in and get a little extra exposure to your site.