Although Bella is "officially" my daughter's dog, I spend the most time with her. Actually, every night you can find Bella in the same place, doing the same thing with me.

When I get home from work, the last thing I want to do is remain "properly dressed," so I immediately transform and start my pajama party with Bella. By the time I begin to blog, she is a little worn out from our fun partying – dancing with Turtle and exercising my abs. After I sit down at the computer, Bella jumps on my lap and rests her head on my left arm, wrist or hand.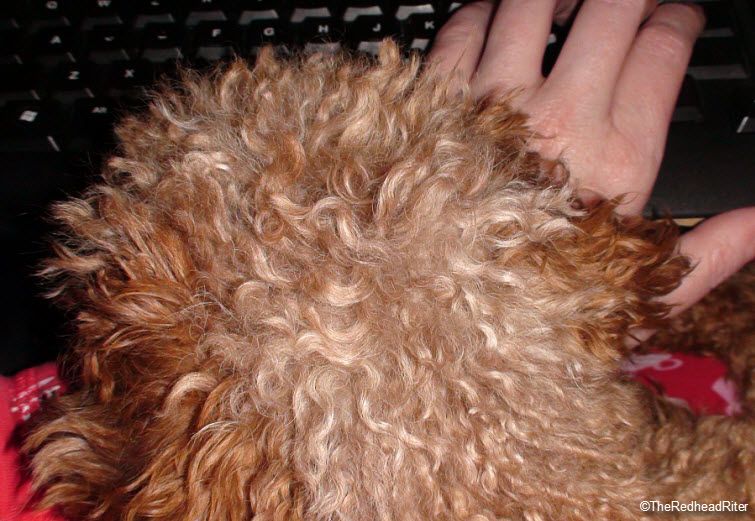 It is actually quite hilarious because as I type, her head bobs up and down. With each keystroke, her head wiggles which in turn makes the fur on the top of her head shake. It is almost like she gets a thrill out of me bobbing her head!
As you can tell, Bella's red head has started to turn white. She is still so young, but apparently it is a common occurrence in redheaded poodles. I wonder what Alyssa would do if she came home to find that I dyed Bella's fur.
That is SUCH a funny thought!.
Anyway, I actually enjoy Bella sitting on my lap – she's warm, comforting and quite hilarious. Seriously, why in the world would she want to rest her head on my wrist as I type?

Sometimes when I try to move her head off my arm, she will press her chin down harder. Bella is such a silly dog.



For the record, when I said I had red Winnie-the-Pooh pajamas, I was serious!

One final thing…Isn't Bella's nose cute?
Go ahead. You can tell me because I know Bella has an adorable nose!! However, you can not say anything about the freckles you see on my hands or arm!
Hush! Not one word!
What?!
Put your pen away! You can not play connect the dots!