As the years pass, it is amazing how priorities, attitudes and desires shift. With my impending birthday this month, I've been thinking a lot about my life.
What do I want to accomplish in the next two, ten, twenty, thirty years or as long as I live on this planet?
Where do I want to live?
What places do I still want to visit and explore?
Is there anything else I want to learn how to do?
What do I really want out of the rest of my life?
I don't want lots of jewelery, a mansion, my own airplane, extravagant clothes, hundreds of pairs of shoes, or a myriad of other material possessions. I become more minimalistic as each day passes.
It doesn't really take a lot to make me happy.
For about the past month all I have wanted was Krispy Kreme Doughnuts. Of course, I want Krispy Kreme Doughnuts every day. I don't eat them every day, but I fantasize about them. Basically, if you give me a doughnut, I'm all yours, but you already knew that about me.
To my great surprise, Alyssa walked in with a box of piping hot Krispy Kreme Doughnuts today. I almost couldn't speak or move and my mouth began to immediately salivate. I became breathless and unable to speak. I am so silly over Krispy Kreme Doughnuts.
Since I don't eat chocolate iced, I saw five gorgeous glazed Krispy Kreme Doughnuts waiting and ready for immediate consumption.
This is perfection.
I took my first bite.
The thin glaze of sugar on top of the soft doughnut cracked and crumbled a bit.
Some of the sugar stuck to my fingers.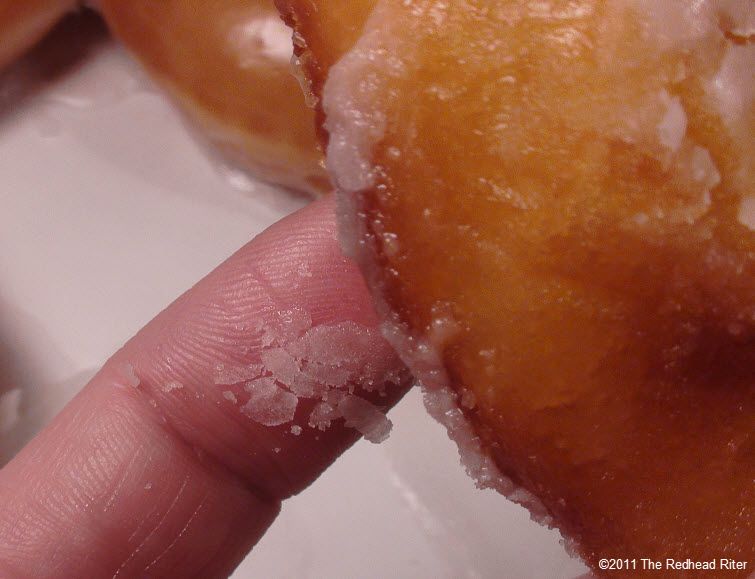 Little, if any of the sugar fell back into the box.
Each bite of the doughnut made me feel more euphoric than the last bite.
Krispy Kreme Doughnuts are my obsession.
I love the way they look, feel and taste.
There isn't anything negative about them.
Even the fact that they are extremely fattening isn't negative. Some foods have to be fattening and it might as well be doughnuts.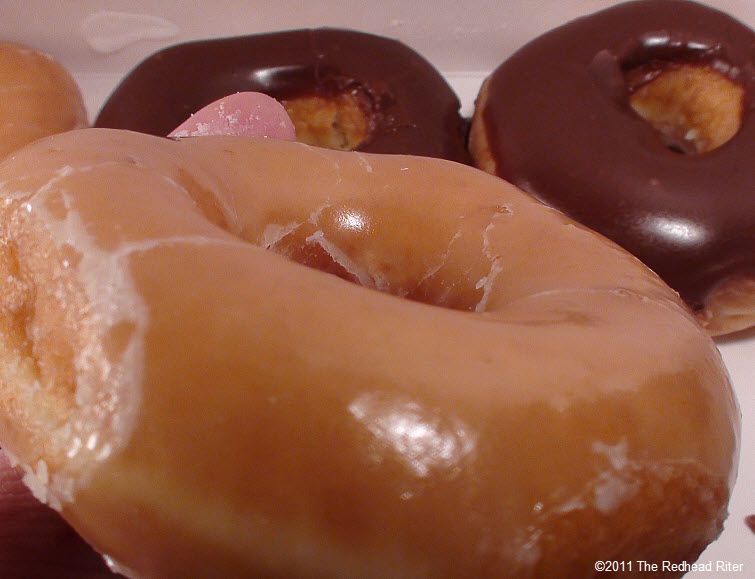 While eating my fourth doughnut, I noticed that I had dropped a bit of sugar on top of Alyssa's remaining chocolate glazed doughnuts. Even the broken piece of sugar looked beautiful don't ya' think? It kind of looks like the shape of an upside down house.
The last doughnut was so delicious and I couldn't believe that I had eaten so many, so quickly.
By this time, I was already on a sugar high. Once that sugar touches my tongue…it's sugar ecstasy and I even feel like playing with my food.
Oops, my finger is in the way, but look at sugar on my finger.
Well, I moved my finger. Is that a better photograph through the hole of the doughnut?
How about this photograph of the doughnut itself with all the crumbly sugar glaze and a view of a blurry chocolate doughnut through the hole?
Then the doughnuts were gone and all that was left was the sugar on my fingers. As messy as it appears, I think it is a beautiful sight. Tiny flecks of thin sugar scattered and stuck to fingertips.
Not to have any go to waste, I licked it all off.
It was such a delightful experience that I wasn't even sad looking into the box that was now void of the regular glazed Krispy Kreme Doughnuts.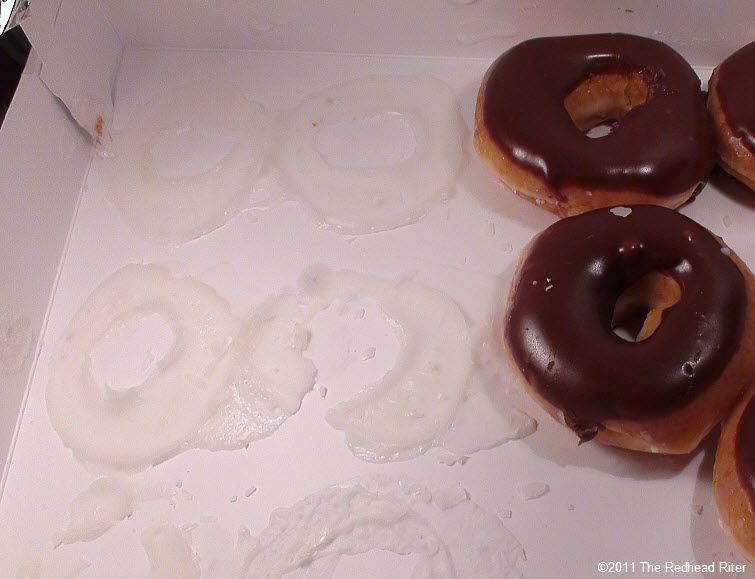 Thank you Alyssa, my dear child, for the sweet treat today. I will still think fondly of eating all those Krispy Kreme Doughnuts when I have to do double the exercises tomorrow.
It really doesn't take a lot to make me happy.