"The musicians played old tunes, very excellently even though it was now over a hundred years since they had touched their instruments. When supper was over they were married in the chapel of the castle, and though the bride was one hundred years older than the groom nobody would ever have guessed it.

A few days later the Prince took his bride to live with him in his own palace, and the enchanted castle and wood vanished, never to be seen again."

Ahhhhhhh….

(shaking head slightly to return to reality)

Safely standing on the bottom shelf of Mam-Maw's very polished book case stood the prized, bright red book filled with stories that captivated my wildest imaginations. Each weekend during our visit to my grandparent's home, one of my aunts would take the time to read to me for hours from The Worlds Best Fairy Tales.

I thought this book was one of the best books ever written and always treated it special.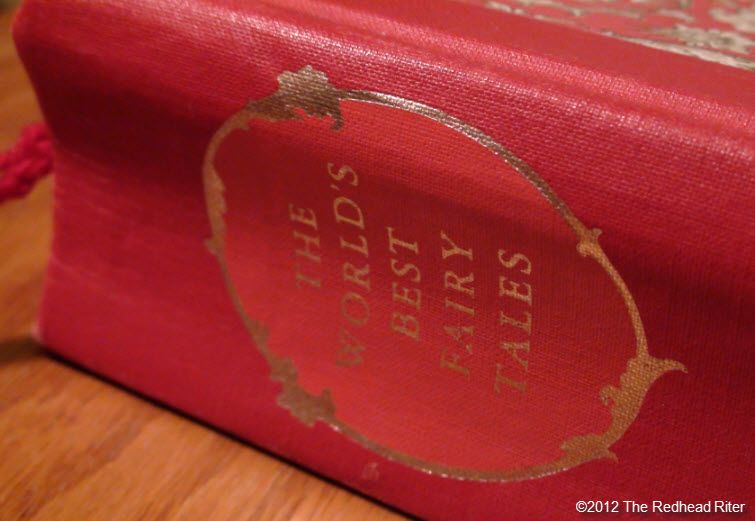 Opening the pages now, I realize that none of them are crumpled, bent or stained. Obviously, I was a neat, clean and dainty little girl.
It wasn't hard for me to become completely engrossed in the stories and I especially loved the romantic ones. You know the type – boy meets girl, solves a problem, falls in love and lives happily ever after.
"I cannot remember the books I've read
any more than the meals I have eaten;
even so, they have made me."
? Ralph Waldo Emerson
Why isn't life as easy as the fairy tales found in the bright red book? Have I been completely disillusioned by the characters and stories?

Hmmm….

No, I do not believe I have been disillusioned.

I still believe that if a man really loves a woman, he is willing to slay the dragon, climb the thorn covered tower and kiss her sleeping lips to awaken her from a deep sleep.

Romantic?

Yes.

Realistic?

Definitely!

My grandfather was a prince and treated my grandmother like a princess all the time. I remember all the flowers he picked for her, the sweet kisses and the gentle hugs. I even realize now that those funny raised eyebrow looks he flashed in her direction that melted her into a giggling girl were actually quite sexy!

The fairy tales had a hand in molding me into the romantic person I am today and that's a good thing. So I'm hanging onto the book and the dreams too.
Excuse me, but I have to go unlock the front door.

Why?

Well, the princes around my age usually are running out of steam by the time they get half way up the tower. So if they get past the dragon, I will just let them run through the front door.

What can I say?! I'm a realistic princess!

Well, I need to go read about a Big Bad Wolf and some chick named Little Red Riding Hood, so I must bid you adieu for now. I wonder what food there is in the basket. Do you think the story will have the recipes?

(wink)