I have the irresistible urge to lick all the topping off this dessert every time it graces my table. The white, fluffiness is light and very addictive, so I need to forewarn you that your will power will diminish as you eat bite after bite. While it sits on the shelf in your refrigerator, you will hear it hollering for you through the door…"I'm so yummy and delicious. Don't you want another piece? I mi-i-i-i-i-iss you!!!!! Don't leave me in here all alone!!!! Come eat more bites!"
Like I said, it is very hard to resist the temptation of this scrumptious dessert.
After I posted photos of the Blueberry Salad With Cream Cheese Topping being served at my mother's home, it quickly became one of the most requested recipes on my blog. I've also been craving more of it too, so today I am sharing the recipe for your food lusting enjoyment.
Sounds sinful doesn't it? Well, let the lusting begin!!!!
Blueberry Salad With Cream Cheese Topping
Everyone can make this dessert!
Ev-er-y-one!
This is a fun recipe with a great presentation
and it is super easy.
So let's get started…
Add the cherry Jell-O gelatin to the dish.
It's pink in color, but not for long!
Boil the water and pour it into the dish with the Jell-O gelatin.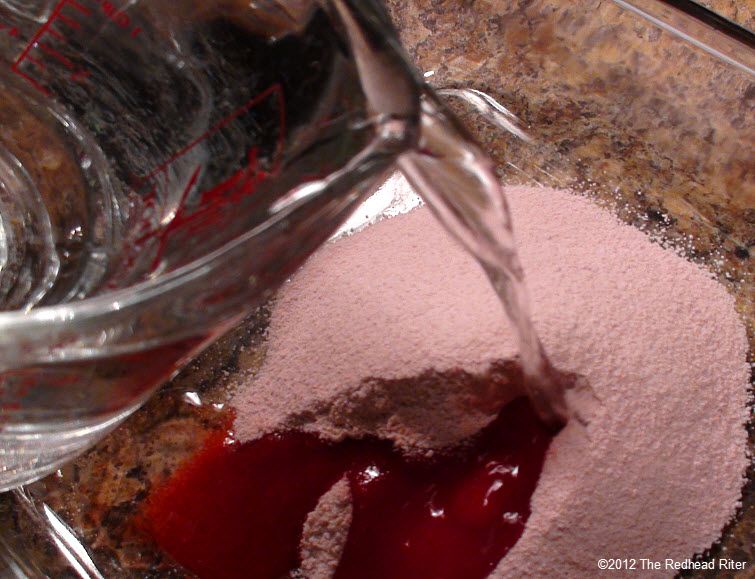 I love how it immediately turns bright red
and all the steam billows around.
Make sure you pour the water slowly or it may splash
and if the red gets on your clothes,
it will probably stain.
Before you ask,
no, I didn't splash nor did I make a mess.
I know, it's a miracle isn't it?
The hot water will immediately start dissolving the cherry Jell-O
and the lovely, sweet fragrance will waft around the kitchen.
Stir until everything is completely dissolved
because you don't want to have gritty chunks in your dessert.
After the Jell-O has completely dissolved,
add the cold water and stir well.
Drain the crushed pineapple.
You can reserve the liquid to add to another recipe
or make a salad dressing with it.
After pineapple is completely drained,
add it to the liquid Jell-O mixture.

Crush the pecans and pour them into the party that is happening in the dish.
Now add the ooey gooey blueberry pie filling.
I love ooey gooey ingredients because they are lickable like batter.
Stir it all together slo-o-o-o-o-owly.
The pecan pieces will float like divas in a swimming pool.
Mmmmmmm….

Cover the dish with plastic wrap and chill until completely firm –
overnight will do the trick.
Now it is time to make the very addictive and lickable topping.
Place the cream cheese and Cool Whip Topping in a bowl.
With an electric mixer,
whip it together until well combined.
Next, spread it on top of the congealed Jell-o, fruit and nut mixture.
I like making the topping double thick
because I'm obsessed with it.
There's worse things to be obsessed with,
so it is an acceptable obsession.
Besides, Jell-O has gelatin in it,
so it is great for your hair and nails
and cream cheese has calcium which is good for your bones!
How did you like that rationalization?
If you need one of your own,
just let me know because I'm pretty good at thinking them up.
(wink)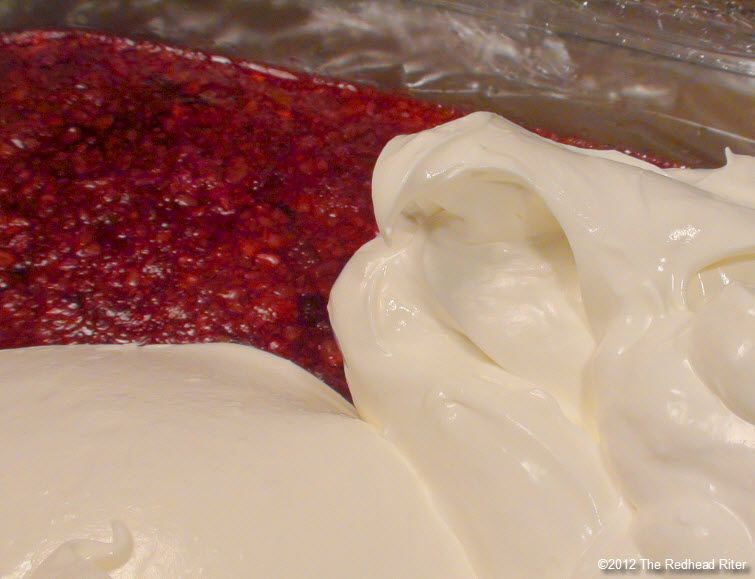 After the topping is completely spread on top,
cover the dish with plastic wrap and chill again in the refrigerator.
After the topping has gotten cold,
it is time to eat!!!!
Obviously, the color is gorgeous
and the texture is magnificent!
I'm telling you now,
you can't go wrong with this recipe.
It travels well,
presents elegantly,
tastes great,
appeals to the masses,
and is super easy to put together.
Let me just tell you that this dessert is
absolutely,
exquisitely,
delectably
delicious!
After the first piece,
you are allowed to eat directly from the dish.
It tastes better that way too.
(wink)
Did I tell you that Alyssa doesn't like this dessert?
Bingo!
I get to eat it all by myself!!!
Yep, I even eat it for breakfast!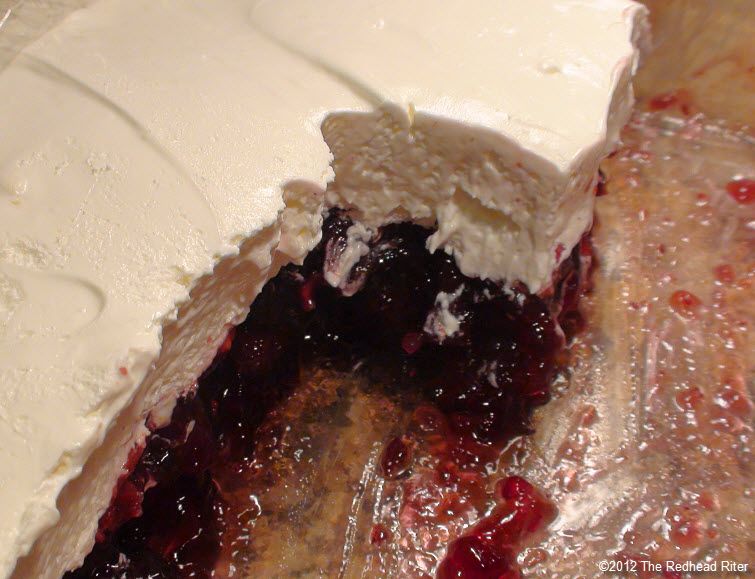 Make no mistake about it…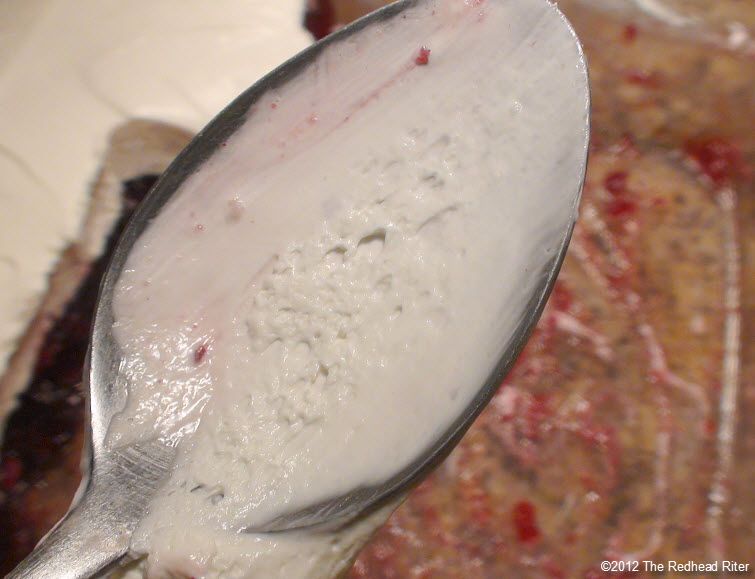 I lick the spoon.
.
Mmmmmmmm…..

I think it is a law that you have to lick the spoon.
Blueberry Salad With Cream Cheese Topping
Ingredients:
1 (6) ounce cherry Jell-o gelatin
2 cups boiling water
1 cup cold water
8 1/2 ounces crushed pineapple, drained
1 can blueberry pie filling
1 cup chopped nuts

Topping:
1 large 16 ounce Cool Whip Topping
16 ounces cream cheese, room temperature

Directions:
In a 9×13 pan, dissolve Jell-O in boiling water. Add cold water and other ingredients. Stir well.
Chill completely.
Combine Cool Whip Topping and cream cheese until smooth. Spread on top of chilled mixture.
Chill.
Serve cold and keep refrigerated.