I am a big advocate for always looking for other ways to spice up a relationship in order to keep it fresh and to help create a wonderful sex life. One of the big complaints with couples is that their marriage becomes the same old thing day after day. There are no real surprises. Equally, there is no real effort either. That is when the big "B" sets in…boredom.
Many people just accept a boring marriage and sex life as the status quo for long term relationships. The other day I told you a whole bunch about kissing to help take the boring factor out of your relationship, but there is even more you can learn that will keep the fires of passion burning.
Lingerie.
Not just any lingerie, but sexy lingerie.
I found a fancy lingerie shop one day while I was tweeting on Twitter. I love lingerie and have always found it very exciting. I'm sure it had something to do with all the lingerie my mother owned while married to my dad. Sorry to tell your secret Mom.
Anyway, while happily flipping through the fancy lingerie store online, I found many beautiful and sexy pieces. They even asked me to write a post on their blog. I guess it was quite apparent that I think lingerie is hot.
There are many kinds of lingerie. I've already inquired about whether it was possible to trade bodies with the models and that is not possible, so only the lingerie can be purchased. (wink) You really don't need a different body, because they sell every size imaginable. You have every reason to believe that no matter what size you may be now, there is still lingerie that will enhance your sexiness.
So the kids are asleep or maybe they are grown and living on their own. Either way, you both have some time on your hands and lots of love beating in your hearts. Now is the perfect time to pull out the fancy lingerie.
Types Of Lingerie
Isn't the saying, "So much lingerie, but so little time?"
There are many types of lingerie. There is a type for every mood or place that you are located:
Bodystocking
We all know that if you get really dressed up, you don a pair of stockings on your legs. A bodystocking is a lacy, see-through material that is a stocking for the whole body. Yes, it is very sexy.
A teddy allows your legs to remain uncovered. To further break it down, a babydoll teddy can hide your imperfections because of the flowing material around the mid-section. If you're interested in accentuating the breast while concealing a few flaws, then a babydoll teddy is a sure fire winner.
Corset and Bustier
A corset adds support to the breast and does a wonderful job highlighting the cleavage. Even better, it flattens out that stomach! Corsets come in a wide variety of materials from soft and silky to leather and shiny.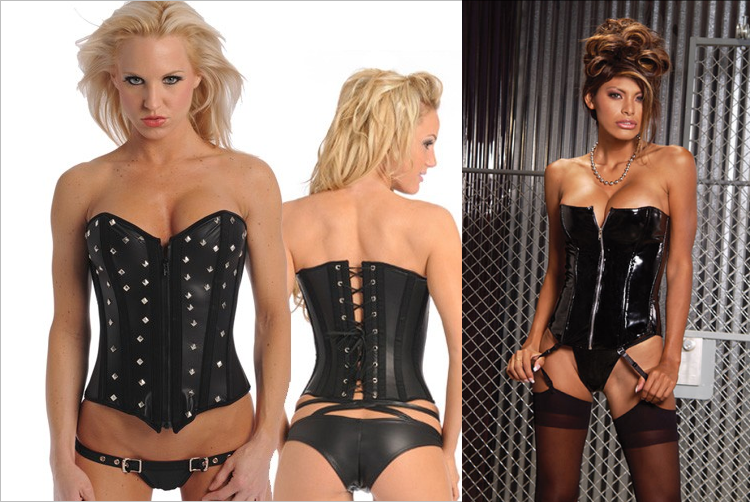 Sexy Lounging Gowns
This isn't your grandma's flannel nightgown! A lingerie gown comes in ever color and style imaginable. They bring an elegance to your party for two as they swish around your legs with each step.
A Little More Coverage
Does showing too much skin just make you feel uncomfortable in the bright light of day? There's lingerie for that too. Actually, there are sexy dresses that will enhance the pre-moment quite nicely.
Lingerie Costumes
For those with a spark of adventure, lingerie costumes might be just the outfit you'll find appealing. From school girl to kitty, it's all there just waiting to slide onto your sexy body.
Special Occasions
Having a new love, new marriage and new life ahead is reason enough to celebrate with beautiful lingerie in white. Feminine white lingerie is the perfect choice for the bride on her special wedding night.
Sexy Shoes, Shoes and Shoes
The right shoe that will enhance your naked leg is definitely what you want to wear when you are striving for a sexy moment in your relationship. I know you might look at these shoes and think that they are too high for you to wear. My answer to your dilemma would be to remind you that you only have to take a few steps before you are on the bed and off your feet. (wink)
Men Should Buy Their Lovers Fancy Lingerie
Yes, women love lingerie as a gift. Women also know that not only is it a gift that we will enjoy receiving, but many men are just like Santa Clause – they can't get enough bows, elves and candy canes.
Maybe you are thinking, "Oh, The Redhead Riter got paid to do this post." I assure you that I did not get paid nor did I receive free lingerie. I know that lingerie can create fun times in a relationship and that a good sex life is very important to your happiness and health. A little bit of cloth strategically placed can generate renewed excitement which kicks boredom out the door. Do yourself the pleasure of feeling sexy…wear some fancy lingerie and love your sexy body.
Don't forget to read:
9 Reasons To Wear Lingerie Even If You Don't Feel Sexy