"Take me by the tongue and I'll know you.
Kiss me 'til you're drunk and I'll show you."
Os-cu-laaaaa-tion.
Mmmmmm….
Lately I've been addicted to a song by Maroon 5 called Moves Like Jagger. Believe me, I do not think about Mick Jagger while listening to this song. The visual image that "take me by the tongue" creates in my mind is very sexy. Of course, that's just me in my mind, but surely it does the same thing to other people too.
Today, I'm going to follow up my opinion with a little research. There's nothing like discussing science and kissing at the same time, right? Hey, don't roll your eyes. I might be able to teach you a thing or two about kissing. (wink)
Come closer.
No, no, no. Sit back in your chair and read! I just wanted to make sure you could see the monitor! What did you think I meant?!
(sly little smile)
According to a British survey:
"Almost one in five (18 percent) married people don't pucker-up with their partner for an entire week, while two in five married people (40 percent) kiss for just five seconds or less when they do get it on."
OH MY GOODNESS! I have to say, I was really shocked at such a terrible statistic!
So I decided to see if there was some hope for mankind in another study by Susan M. Hughes, Marissa A. Harrison and Gordon G. Gallup, Jr. about Sex Differences in Romantic Kissing.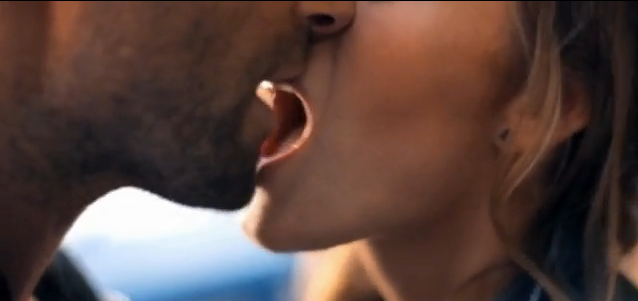 The Inside Story On Kissing
Men and women see osculation differently because, as you know, Women Are From Venus And Men Are From Mars. Here is a list of some of the interesting points in the study by Hughes, Harrison and Gallup.
Men like wetter kisses with more tongue contact and open mouth kissing.
Females place a greater emphasis on kissing for making mate assessments.
Males consider a "good kiss" as one where their partner lets them initiate tongue contact.
Females are more likely to base evaluations of their partners' kissing ability on chemical cues such as the breath, the taste of their mouth and the appearance of their teeth.
Males are less discriminating when it comes to deciding who to kiss or who to have sex with. They are more willing to have sex with someone without kissing, to have sex with someone they are not attracted to, and agree to have sex with someone they consider to be a "bad kisser."
Both males and females use kissing as a bonding mechanism which creates greater emotional closeness.
Females appear to place a greater emphasis on kissing to induce bonding.
Males place more emphasis on their partner's face, body, and weight as focal characteristics they use to decide whether to kiss someone.
Females think kissing is important throughout a relationship whereas males place less importance on kissing as the relationship progresses.
Men use kissing as an attempt to "seduce" romantic partners as a strategy to gain sexual access to females more than as a bonding function.
Kissing seems to be viewed by both sexes as an activity that can increase sexual arousal and receptivity.
More males than females used kissing in an attempt to end a fight.
Men and women report that the ability to kiss well contributes to making someone "a good lover".
Overall, the research showed that males feel kissing should lead to sex more often than do females.
Males also categorize a "good kiss" as one that leads to sex and one where "my partner makes moaning noises," which may signal arousal and receptivity.
Women who are in a committed relationship feel that kissing is used (wittingly or not) to update, monitor, and assess the status of their partner's continuing commitment (or lack thereof) to the relationship.
Men rate kissing as more "erotic" than do women.
Kissing on the lips was rated by both men and women as being more intimate than "cuddling," "holding hands," "hugging," "caressing," "stroking," "massages," "backrubs," and "kissing on the face."
The amount of reported kissing between partners is directly proportional to relationship satisfaction.
Did the last point make sense? Couples that are happy and satisfied with each other and the relationship share more kisses.
I always think it is sad when someone says that the "thrill" in their marriage is gone or women say that they "have" to have sex with their husbands at least once a week. You can create the thrill in your marriage any time you want to and "getting" to have sex with your husband is a wonderful experience and opportunity!
Kisses Add Passionate Sparks To A Relationship
One way to add the spark of passion in your relationship is to kiss each other often and for a lo-o-o-ong time! A less than five second kiss is too short!
Think about the song Moves Like Jagger…
"Take me by the tongue and I'll know you.
Kiss me 'til you're drunk and I'll show you."
You do not feel drunk from kissing in less than five seconds.
A relationship is divided into novelty and intimacy. After the novelty of a new love lessens, a couple has the opportunity for a deeper level of intimacy. Couples don't have to work at "thrilling" moments when love is new because everything is new! Thrills and excitement just happen. As the newness wears off, a more intimate union can occur, but only after a conscious effort is made to keep the fires of passion alive. Part of that effort includes kissing each other often.
Of course, I know it takes a whole lot more than kissing to make a marriage successful, but don't devalue the importance of kissing and sex in a relationship.
The British survey also reported that young lovers ranging from 18 to 24 years old are making out an average eleven times each week and five percent of people over 45 are making time for over thirty-one kisses each week.
I still think that is terrible statistics.
If you kiss "hello" and "goodbye" then that only leaves a little over two more kisses during the day. That's really not a whole bunch in my opinion. We simply need to kiss each other more often because it feels good and it will strengthen our relationships.
Kissing is a universal practice among sexual or romantic partners. Obviously, just about everyone is doing it, but they are not kissing enough.
So go get your lip balm and make those lips soft. Then gently brush your soft lips against the mouth of the one you love. If the kiss is sloppy or rough, then you need more practice and there's no time like the present. But if you feel a little romantic magic, don't stop kissing because you're on the right track!