Let me start by saying that Brittany, my niece, got a new iPhone and I used it to take all the pictures in this post. I also took about fifty others that aren't in this post. I fell in love with her phone.
Okay, nobody faint! I know that I usually keep a cell phone until it is ready to be donated to the Smithsonian, but this phone really impressed me and it was fun to use. I seriously didn't want to give the phone back to Brittany!
What was the occasion that had me snapping so many photos?
My family did something a little bit different this year…

On Christmas Eve we all met at my mother's house to eat, open gifts and enjoy each other's company.

My mother is a very elegant woman and her home reflects her personality. Everything was decked out to the nines when we arrived. Of course, I was late which seems to be the norm. I feel bad for Alyssa because she is always ready an hour ahead of time and I'm the one that makes her late. The other redhead in the family, my niece, is also late all the time. Maybe it is just a redhead thing or we both have the same mutated late gene. I was just glad that she got there after we did. (smile)

Anyway, I love the feeling of Mom's home. It is clean, uncluttered, smells nice, looks elegant and very welcoming.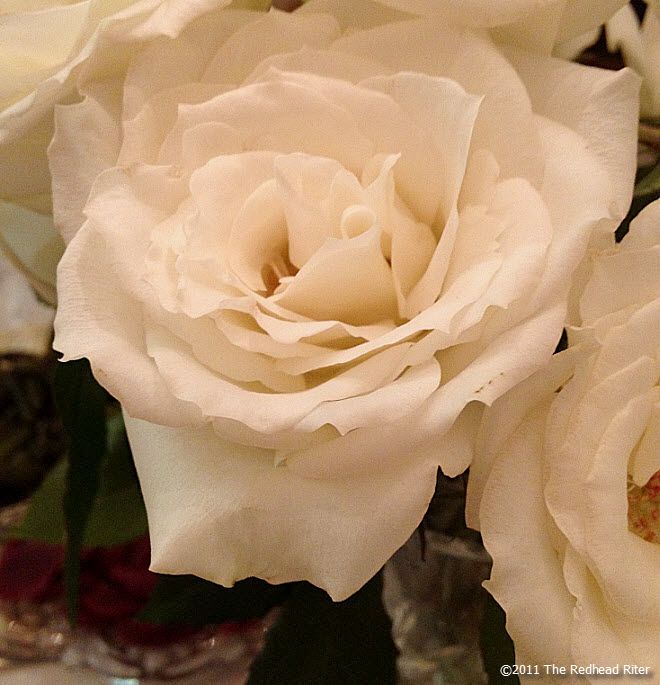 Mom was so excited to have us all come over and had spent many hours cooking in preparation for our visit. It was quite evident that she wanted everything perfect. I love her so much for loving us all so much.
Really, who wouldn't feel special dining with gold flatware, china and crystal? I should add…especially since Mom knows that I break everything I touch.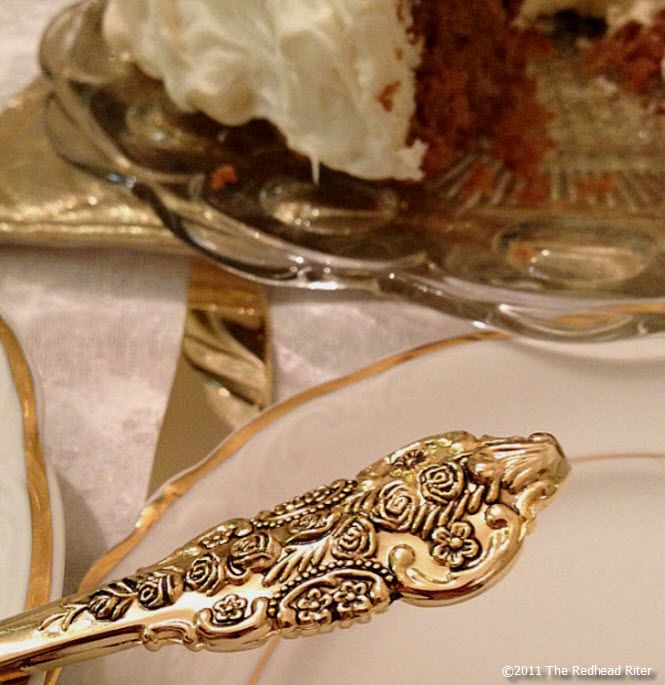 There was so much food on the table and every little foodie gene in my body leaped with excitement.
Sitting right next to me was the Apple Cake. It tastes as deliciously rich as it looks and was so moist. I was so tempted to start my meal with the cake, but I resisted. My sister, however, did begin with the cake and felt no shame. It was quite comical.
Before you ask, let me answer the question on the tip of your tongue…
No, I have not shared this recipe with you yet, but I will definitely have this one in my cookbook.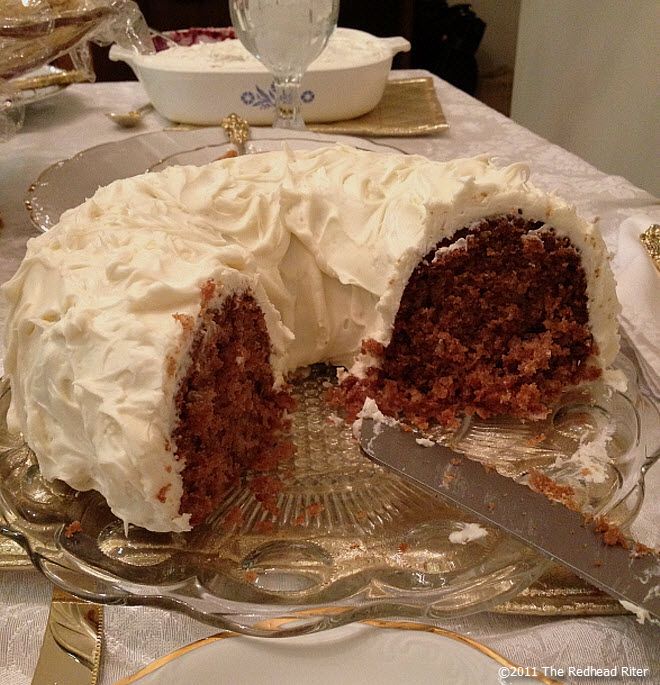 The newest addition to Mom's repertoire of recipes is a Waldorf Salad inspired by her husband. I loved it the first time she made it and I think that Mom has definitely perfected the dish now. It is very addictive and hard to stop eating.

My most favorite dish on the whole table was the Blueberry Salad. I daydream about Blueberry Salad. It is so tantalizing to my taste buds. I can assure you that I brought some home with me and ate it for a midnight snack and at breakfast on Christmas morning. Yes, it is that yummy.

The naked ladies and cherubs that hold flower arrangements in Mom's home were also decorated with lights. Personally, I think she should leave the lights on them all year long.
Everything was so beautiful and I felt so much love from my family. It was so nice to sit together again.
As you can tell in the reflection of the mirror, Mom's tree is elegantly gorgeous just like her. I won't confess that I was actually trying to take a picture of myself because as you can tell, the iPhone was covering most of my face and I was looking down. I have this thing with looking down in photos, but you probably haven't noticed that about me (wink).
Since I don't have any pictures proving that I'm more than just a head with a mop of red hair, this photo proves that my body extends at least to the top of my knees. I promise that I do have feet too.

You can laugh now.
I tried really hard to have a great shot of me with Alyssa, but I am very slow with mastering the art of any telephone. I do so much better with a camera that isn't pointed in my direction. However, my petite child pushed the button to take the picture so that I could at least hold her close and have a photo to remember this wonderful evening. Isn't Alyssa so lovely?

Thank you Mom for all your efforts during the evening and thank you everyone else for making it so wonderful. I love you all very much and feel so grateful that I was able to share in the festivities with you.