The tiny drops of water flowing from the shower head wake me up each morning and in the evening they wash away the struggles of the day. I prefer the shower, but it hasn't always been that way.
I don't know why, but for the past couple of days, my childhood memories have tugged at my heart. One of the wonderful memories are of me taking baths in the tub and singing, "500 Miles" at the top of my lungs over and over again.
My parents eardrums suffered because I used to and still sing like a dying cow.
I know I spent many hours singing the same song too many times, but it was my favorite song. Since I only knew the chorus, it really must have been close to Chinese water torture.
There was a window above the tub and since we didn't have air conditioning back then, it remained open a lot of the time. My parents would go in the backyard and could hear me singing through the open window. It wasn't until recently that Mom told me that they both got a chuckle from listening to me.
The past couple days of memories have been tough, so after getting home from work, I decided to take a bubble bath to help me relax.
I lit the candles…
used a pretty bar of soap…
and played with the bubbles…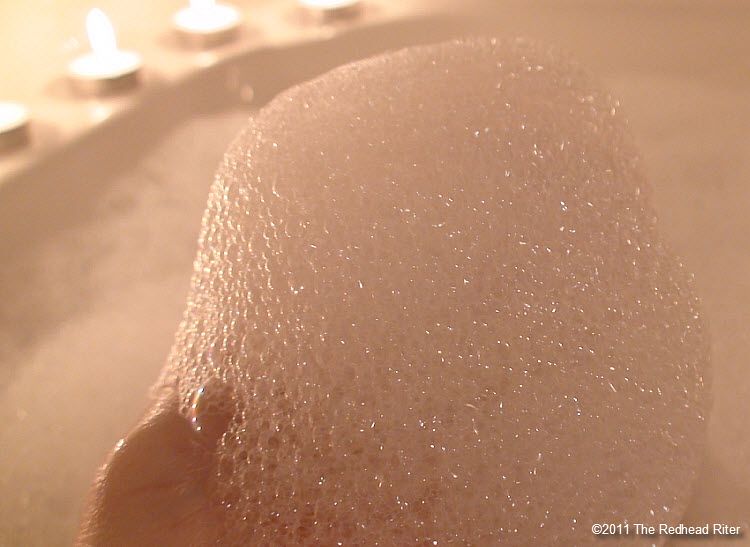 just like when I was a little girl.
I didn't sing or figure out why I missed the "good old days," but I did relax and I guess that really was the point of the whole adventure tonight.
Dad, I still miss you and can't believe you've been gone over a year. It is still very sad.
Mom, I miss you too even though you live just ten minutes down the road because tonight it feels like I'm 500 miles away from home.