It took eighteen years before it was possible for this big event to take place. Alyssa's high school graduation was the end of one life and the beginning of another. With a heart full of gratitude, we all celebrated one of the most exciting events in Alyssa's life thus far.

The day started with me giving Alyssa directions to the place where the ceremony would be held and unfortunately, I took her the long way. As a side note – never ask me for directions.

We-e-e-e-e-ell! I was really excited and not thinking clearly! I mean, she is my baby!

Anyway, we got in a traffic jam right in front of the place while waiting to be able to park. Because she feared being late, Alyssa grabbed her cap and gown, jumped out of the car, ran across the road and went into the building. That left me to jump out of the car, get into the driver's seat and w-a-i-t for the traffic to move.

Eventually, I was able to park and everyone had saved me a seat inside.

My focus was on Alyssa. As I watched the reason for my motherhood excitedly await her diploma, I thought of all the years that preceded this wonderful event. So many priceless moments flashed before my eyes and tears constantly threatened to overflow like a river.
Because of the traumatic events during the preceding year and a half, this day was even more memorable. I kept vacillating between the thoughts that all those years had passed and that Alyssa was alive and graduating. The day actually started to feel surreal.
After several speakers had talked, they announced how the students would be called by name and the process they should take to receive their diploma. I felt a huge surge of pride and relief. I decided I would take a picture to forever remember how I was feeling. Precisely at that moment, Alyssa turned around and looked at me. I knew that she was feeling the same way.
It was like a dream as she took one step after another across the stage.
My baby girl was graduating from high school and I was there to watch it.
The moment was almost too wonderful.
This beautiful young woman has received the best part of me and I'm so proud to be able to call her my daughter.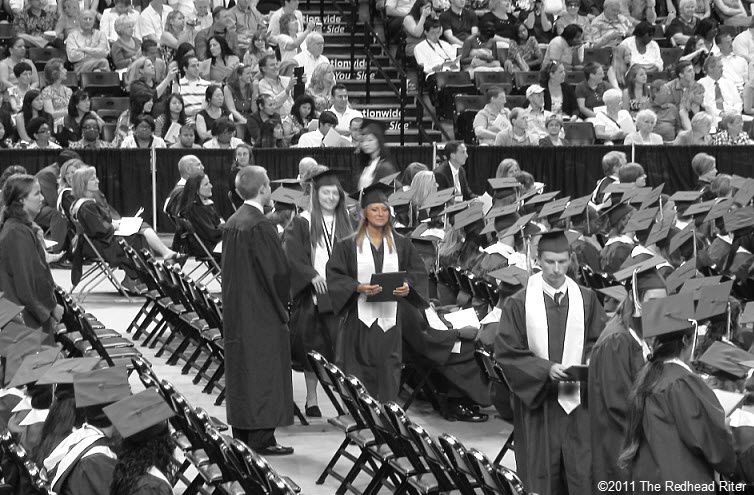 Proud?

No. My feelings go way past pride.

I love Alyssa beyond words – spoken or written.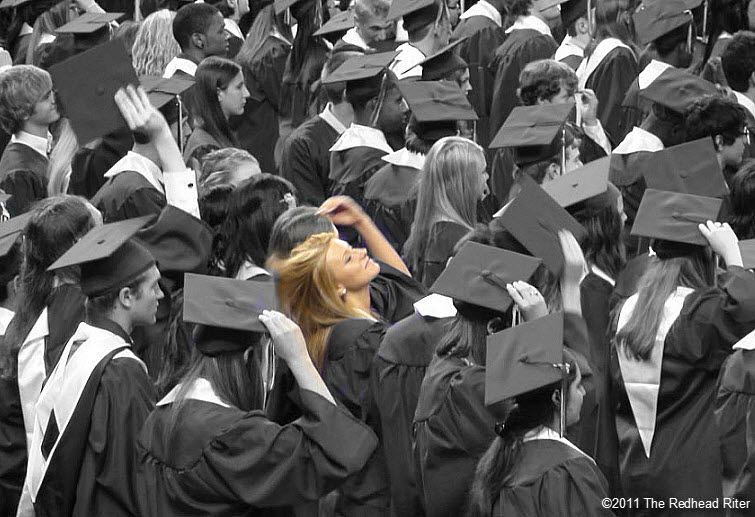 After the graduation, we all met outside in the heat and bright sunshine for a photo opportunity. It was really hard not to squint or melt, but you couldn't tell it by looking at Alyssa. She looked like a movie star in her white dress, six inch heels and golden tan.
It had only been a few years earlier that we all gathered to see my lovely niece, Brittany, graduate from high school. This beautiful girl with flaming curls and the silky haired blond were both smiling in the view of my camera. I'm sure there couldn't be a more beautiful site on all the planet.

These photographs make me want to sing like
Stevie Wonder
, "Isn't she lovely? Isn't she beautiful?"

Here we are…trying not to squint too badly, but totally melting in the heat.
After the graduation ceremony, we had a small family celebration at Alyssa's favorite restaurant. Of course, there had to be cake with pink flowers.
Yes, gratitude filled my heart to overflowing that lovely June day. My beautiful daughter graduated.

Of course, I feel even more grateful that my child and mother love each other. The two of them look and act so much alike and I love them both so much.


So now I'm the mother of a high school graduate. In many ways, I too graduated that day. It is not only time for Alyssa to start a new life filled with adventure, but I'm also excited at the possibilities and opportunities for happiness that await me.

I wonder what the future has in store for both of us?