I like food that teases all the senses. In order to create new recipes, I must play with my food. That's something my mother always said to me as I tried to spread the foods I didn't like all over my plate. I can hear her now…
"Don't play with your food. Just clean your plate and you can go play."
I think that I'm patient now because I spent too much time not "cleaning" my plate. I used to sit at the table forever hoping that the food would magically disappear. It never did disappear, but I discovered a few creative ways to help it get off my plate without any of it going in my mouth.
Well, I don't have a problem eating my food any more and I think it's because I get to play with it!
So I have spent time playing with cranberries and discovered you can do so much more than just see them in a funny jellied shape. The little berry is quite tart, but if you add other sweet or spicy ingredients to them, you'll always have a delightful recipe bursting with mouthwatering flavor.
The pink color makes my No Bake Cranberry Walnut Fruit Spread look dainty, but it is delicious and very cleansing to the palate. I think you will be pleasantly surprised.
No Bake Cranberry Walnut Fruit Spread
This is an easy, bright, festive and delicious spread
that is great for any meal,
used with crackers as an appetizer
or as cute jar gift for the hostess of a party.
Place fresh cranberries in a colander and rinse under cold water.
Shake dry or pat dry with a paper towel.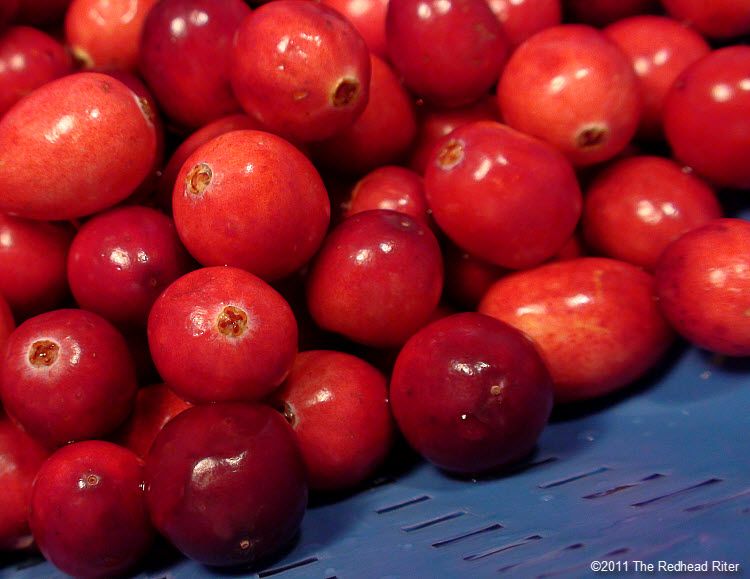 Finely chop cranberries using a food processor or manually with a sharp knife.
The key is that they are FINELY chopped.
No, I wasn't yelling, just stressing that the cranberries should be chopped quite fine.
(hee hee)
Add the cranberries to a pan.

Add sugar to the cranberries.


WAIT!
Look at the sugar flowing down the mound of FINELY chopped cranberries.
Doesn't it look like snow?
No, really!
It looks like icy snow.
Alright, I will get back to the recipe.
I just love snow.
(twinkle in eyes while thinking about snow)

Add butter and turn the heat on low.
At first there will be lots of liquid,
but it doesn't take much time before it cooks off.
Make sure that you stir often and don't leave it unattended for long
because it is drying out and will burn quickly.
Nope.
I've never burned it.
You will have just enough time to prepare the other ingredients
between all the stirrings of the cranberry mixture in the pan.
Rinse the black grapes under running, cold water.
Go ahead and eat a few.
I know you want to do it.
I did too.

Coarsely chop the grapes and add to a bowl.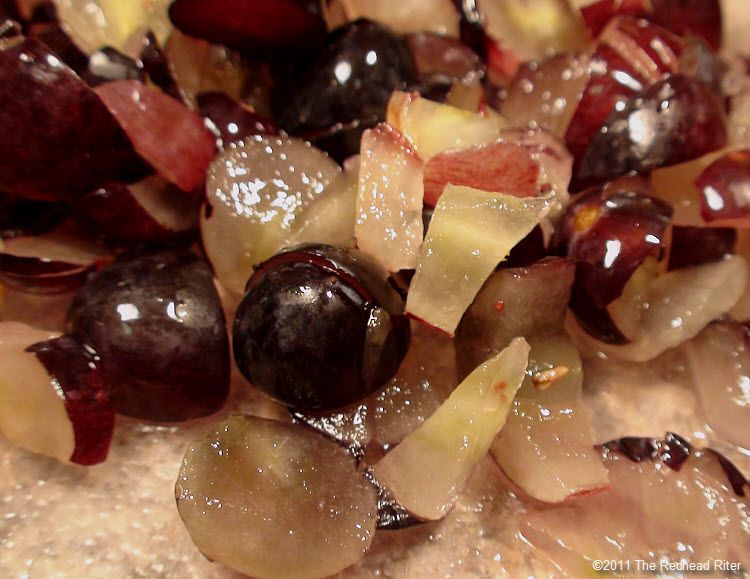 Chop the walnuts –
FINELY.
Chop the pineapple
and orange peel
FINELY
and add to the bowl.
I think you are getting the hint.
Are you still checking and stirring the cranberries?
Add the coconut.
No moisture is left in the cranberries.
Sure is a pretty shade of red!
After the cranberry mixture has been cooked until
it is dried out and cooled,
add it to the ingredients in the other bowl.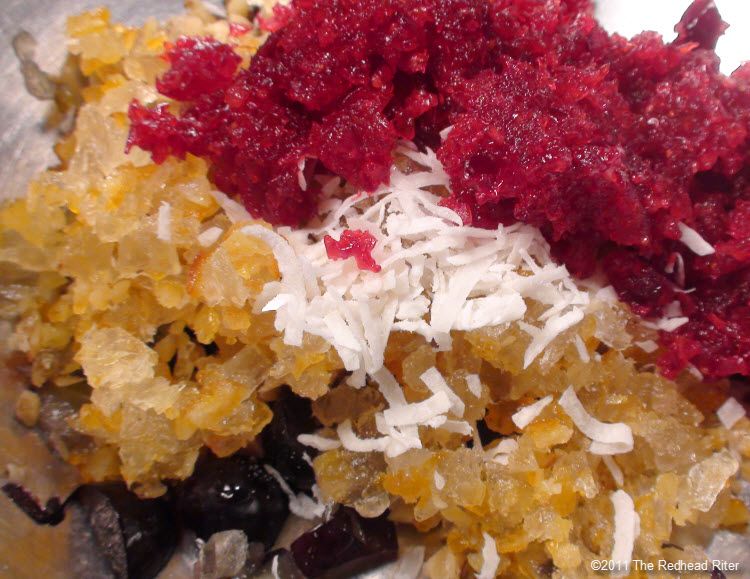 I love the striking contrast between the bright red cranberries
and the very white cream cheese.

With the back of a large spoon,
gently mash the ingredients into the cream cheese.
Just keep folding over the mixture
and mashing over and over again.
Eventually it will be well combined
and you can gently stir it.
Do not use a mixer or all the grapes will fall apart.
Just manually stir the mixture gently.

Now it is time for the tantalizing and teasing to begin.
Slather butter on some fresh bread that has been toasted and is piping hot.
Spread the No Bake Cranberry Walnut Fruit Spread on the toast.
Isn't it a happy pink color?
Imagine having this greet you at breakfast.
It is saying, "Good morning! You look lovely! It's going to be a great day!"
Of course your food talks to you!
Doesn't it?
Mine talks to me all the time.
Because you listened to me when I said "FINELY chop" everything,
each bite offers an assortment of flavors
that have blended to perfection.

It is very hard to take pictures since it is screaming for me to eat it.
I'm going to oblige.
(look of satisfaction on my face)
This is so yummy.
I'm not selfish.
Would you like a bite?

No Bake Cranberry Walnut Fruit Spread
Ingredients:
1/4 cup white granulated sugar
1 cup fresh cranberries, chopped super fine
1 tablespoon butter
8 ounces cream cheese, room temperature
1/4 cup coarsely chopped black, seedless grapes
1/4 cup toasted walnuts, finely chopped
1/4 cup candied/dried pineapple, chopped fine
1/4 cup candied/dried orange peel, chopped fine
1/8 cup coconut, shredded

Directions:
Slowly heat cranberries, sugar and butter until sugar dissolves and all moisture is cooked away. When finished, set aside to cool.
In a medium bowl combine cream cheese, grapes, walnuts, pineapple, orange peel and coconut with cooled cranberry mixture by mashing them together with the back of a spoon. After mostly incorporated, stir by hand to ensure mixture is completely combined. Do not use mixer or the grapes will fall apart.
Easy to spread at room temperature or thoroughly chilled. This recipe is fantastic on warm toast, bagels or homemade rolls and served at any meal. The spread is smooth, creamy and tastes absolutely divine.