Monet.
One word is all I need to say and immediately an image appears in your brain. Well, at least that is what happens to me.
I've loved the paintings of Monet even before I knew they were created by a man named Monet. So in case you don't know anything or even not much about Monet, hopefully by the time you finish reading this delightful post, you will be enlightened.
And for the record, yes, I called my own post delightful. I couldn't help myself. Sometimes the feelings just burst through and take control of my fingers as I type. Let the words and images feed your mind and soul as you enjoy this post and if you don't enjoy it, read it until you do. That's called brainwashing. (smile) In this case, it will be good for you!
Monet – 43 Interesting and Fun Facts About Claude Monet
Claude Monet was born on November 14, 1840 and died December 5, 1926.
Claude Monet was born on the 5th floor of 45 Rue Laffitte (the name of the street) in Paris.
This wonderful artist was baptized in Notre-Dame-de-Lorette, the local parish church.
Monet was baptized as Oscar-Claude, but his parents called him simply Oscar. Strange that we all call him Claude.
Claude Monet was the second son of Claude Adolphe Monet and Louise Justine Aubrée Monet. His parents were second-generation Parisians.
Monet wanted to become an artist, but his father wanted him to go into the family grocery business.
On April 1, 1851, Monet entered Le Havre secondary school of the arts.
While attending Le Havre secondary school of the arts, the locals knew Monet well for his charcoal caricatures.
On January 28, 1857, when Monet was only sixteen, his mother died.
After his mother died, Monet left school and went to live with Marie-Jeanne Lecadre, his widowed childless aunt.
Monet painted Impression, Sunrise (Impression, soleil levant) in 1872. It depicted a Le Havre port landscape. In 1874 it hung in the first Impressionist exhibition. When art critic Louis Leroy read the painting's titled, he coined the term "Impressionism". Leroy meant his assessment to be negative, but the Impressionists at the time approved of description and it stuck.
Impression, Sunrise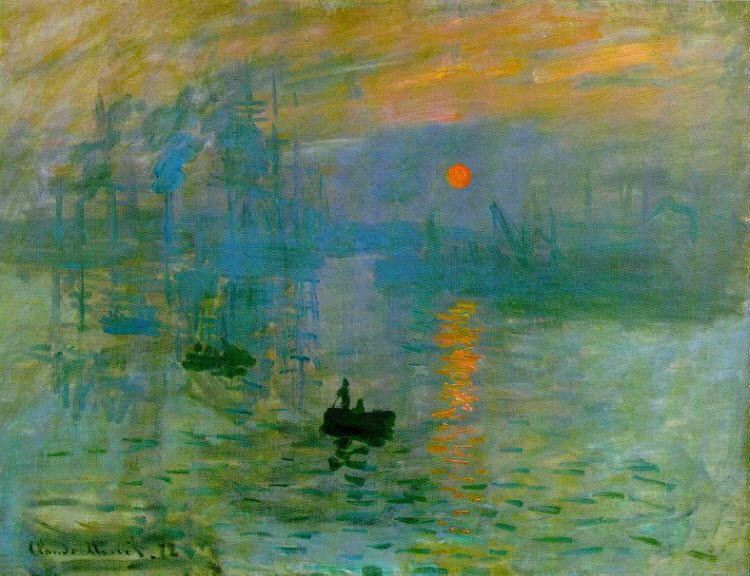 View At Rouelles, Le Havre 1858, Private collection

In June 1861, Monet joined the First Regiment of African Light Cavalry in Algeria for a seven-year commitment. However, after two years later, he had contracted typhoid fever. The army agreed to release him from his service commitment at the pleas from his aunt, but only if he agreed to complete an art course at an art school.
In 1862, Monet met Pierre-Auguste Renoir, Frédéric Bazille and Alfred Sisley while he was a student of Charles Gleyre in Paris. They discussed the effects of light with broken color and rapid brushstrokes which is the mark of Impressionism.
Jacques-François Ochard gave Claude Monet his first drawing lessons.
Eugène Boudin, an artist and Monet's mentor, taught him to use oil paints and techniques.
The Woman in the Green Dress (La femme à la robe verte) was painted in 1866. This painting brought him recognition and was one of many works featuring his first wife, Camille Doncieux.
Jardin à Sainte-Adresse, 1867, Metropolitan Museum of Art, New York City

Camille Doncieux was the model for the figures in Women in the Garden and On the Bank of the Seine, Bennecourt which were painted in 1868.
Women in a Garden, 1866–1867, Musée d'Orsay, Paris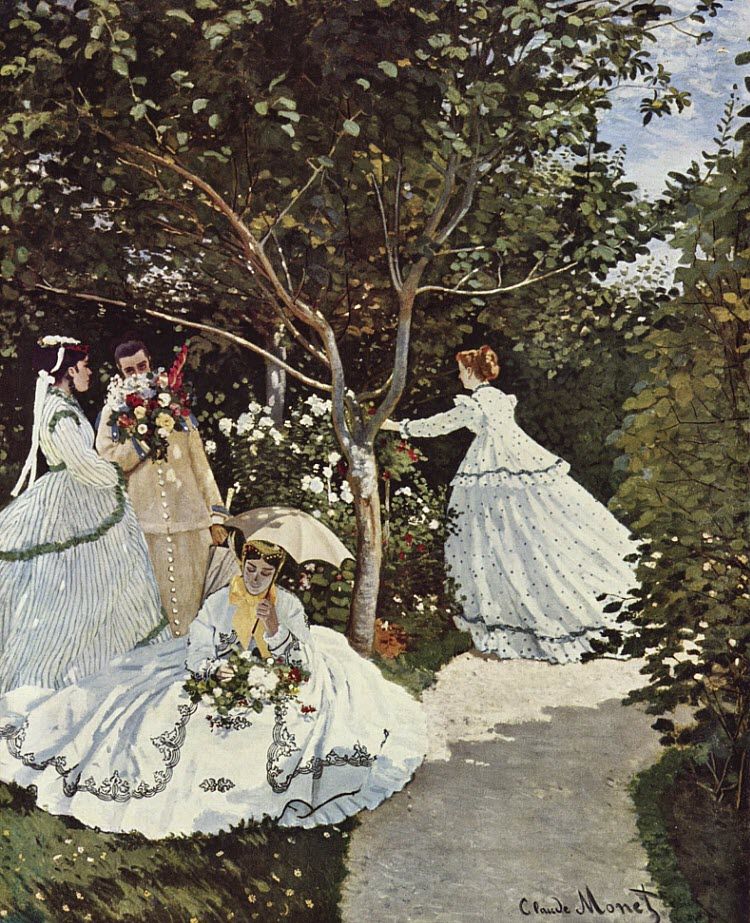 The Magpie, 1868–1869. Musée d'Orsay, Paris.

At the young age of thirty-two, Monet's wife, Camille Monet, died of tuberculosis. Even while on her deathbed, Monet took the opportunity to paint his wife.
The Artist's house at Argenteuil, 1873, The Art Institute of Chicago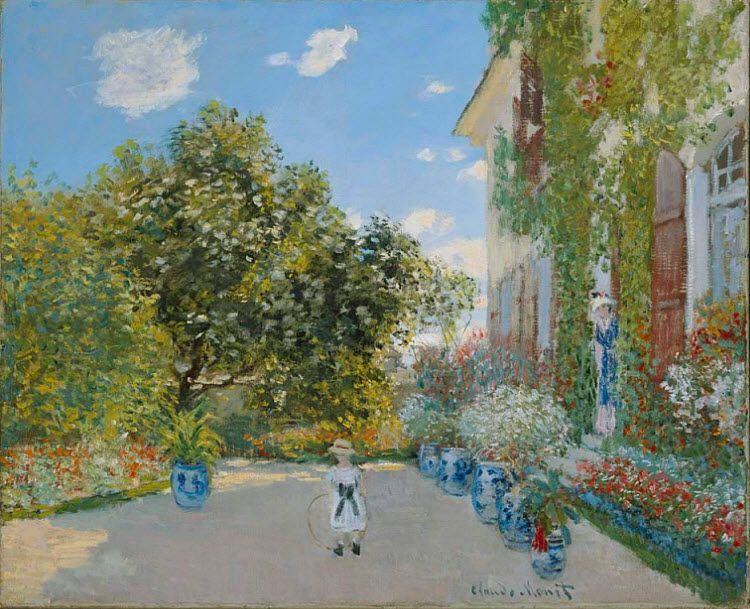 Woman with a Parasol, (Camille and Jean Monet), 1875, National Gallery of Art, Washington, DC.

Argenteuil, 1875, Musée de l'Orangerie, Paris.

In 1878, Claude Monet's second child, Michel Monet, was born.
In May 1883, Monet rented a farm house located between Vernon and Gasny at Giverny. He used the barn as a painting studio. The property also had orchards and a small garden.
In 1890, Monet purchased the house and land outright. After becoming the owner, he created the gardens which he would spend the rest of his life painting.
Monet also created several series of paintings which included: Rouen Cathedral, Poplars, the Parliament, Mornings on the Seine, and the Water Lilies.
Houses of Parliament

Houses of Parliament, London, 1900-1901, The Art Institute of Chicago

Trouée de soleil dans le brouillard, Houses of Parliament, London, Sun Breaking Through the Fog, 1904, Musée d'Orsay, Paris

Houses of Parliament, London, Musée Marmottan Monet c.1904

Houses of Parliament, stormy sky, 1904, Palace of Fine-Arts, Lille, France

Monet wrote designs and layouts for plantings for his gardener. Even though Monet eventually hired seven gardeners, he still remained the architect.
In 1892, Claude Monet married Alice Hoschedé.
After Camille Monet's bout with tuberculosis in 1876, she became pregnant with her second child, Michel Monet who was born in March 1878.
Alice Hoschedé helped Monet to raise his two sons, Jean and Michel, by taking them to Paris to live alongside her own six children.
Water lilies, 1897-1899, Galleria Nazionale d'Arte Moderna

Water Lilies, 1907, Bridgestone Museum of Art, Tokyo

In 1911, Monet's second wife, Alice, died.
In 1914, Monet's oldest son Jean, died in 1914.
After his wife died, Alice's daughter, Blanche, cared for Monet even as he developed the first signs of cataracts
On December 5, 1926, Monet died at the age of 86 and is buried in the Giverny church cemetery.
Monet had insisted that the occasion be simple; thus only about fifty people attended the ceremony
His home, garden and waterlily pond were bequeathed by his son Michel, his only heir, to the French Academy of Fine Arts (part of the Institut de France) in 1966.
Monet, right, in his garden at Giverny, 1922.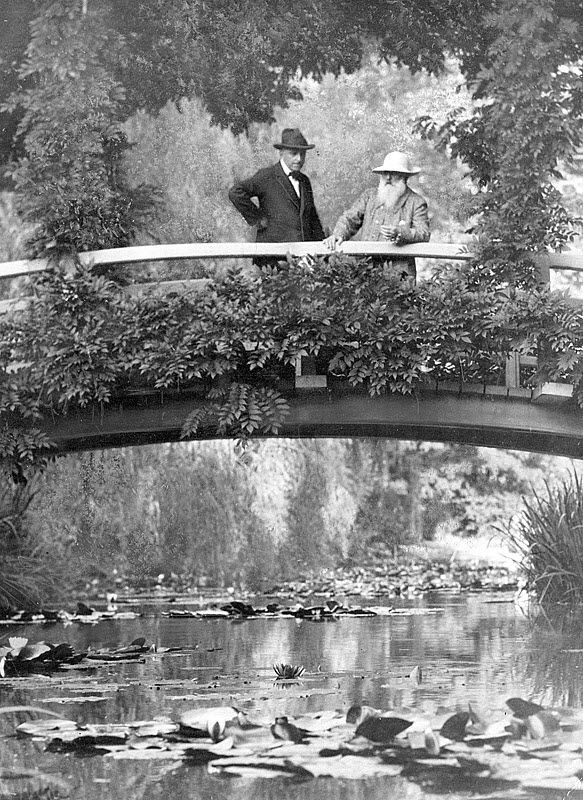 Through the funding of the foundation of Claude Monet, the house and gardens were opened for visitors in 1980.
Monet's "series" paintings depicted the subject in varying light and weather conditions.
Haystacks was Monet's first series exhibited. The haystacks were painted from different points of view and at different times of the day.
People from all over the world visit the in Givery and is one of the main attractions.
In 2004, London, the Parliament, Effects of Sun in the Fog (1904), sold for $20.1 million USD.
Falaises près de Dieppe (Cliffs near Dieppe) has been stolon twice. Once in 1998 by the museum's curator and most in August 2007. Monet's painting was recovered in June 2008.
Monet's 1873 painting, Le Pont du chemin de fer à Argenteuil, a railway bridge spanning the Seine near Paris, was purchased by an anonymous telephone bidder. This painting sold for $41.4 million dollars at Christie's auction in New York on May 6, 2008.
On June 24, 2008, Le bassin aux nymphéas sold at Christie's for $71,892,376.34. With Fees it ending up being auctioned for $80,451,178 .
Monet was seen as a rebel at school. He would draw caricatures of his teachers and friends instead of doing his work.
Monet painted until his death and would sometimes repaint some of his canvasses.
Monet tried to kill himself by drowning in the Seine because his financial burdens were upsetting him so badly.
Obviously, Claude Monet had extraordinary talent, but he was also a regular guy who wanted to live a happy life. The one thing that made him a success is that Monet persevered and never gave up. I think we all can take that lesson away with us. Monet is a wonderful example of having a passion for his own talent and believing in himself.
"Continuous effort –
not strength or intelligence –
is the key to unlocking our potential."
~ Winston S. Churchill ~