Since you read my post the other day, you now know where Grave's Mountain is located, what happens each October on Grave's Mountain and why I love being on Grave's Mountain. Yes, I do love saying Grave's Mountain because just saying it makes me feel peaceful and happy.
The weather was so perfect that day. As we explored the dirt roads, getting lost and making lots of u-turns, I was reminded that not being able to follow a map is often the best way to find treasured hideaways.
We made a wrong turn and found a country store that was closed, but in the side yard of the place were some very exciting animals!
There was a really Fat Turkey that I fear is probably going to be someone's Thanksgiving dinner.
The Fat Turkey definitely wouldn't hold his head still. I just kept snapping photos trying to catch all his cuteness. The top of his head reminded me of brains with all the folds. Okay, maybe I've watched too many medical documentaries. Of course, I loved the contrast of the red head and white feathers of the Fat Turkey.
The neck on this turkey was saggy, baggy and wobbled. Fat Turkey had a long beard, but as hard as I tried, it was impossible to actually take a good picture of it!
Friendliness was definitely a trait of Fat Turkey and I loved all the sounds he made while strutting around the caged area.
White Duck seemed like he wasn't paying any attention to me at all while cleaning under his feathers.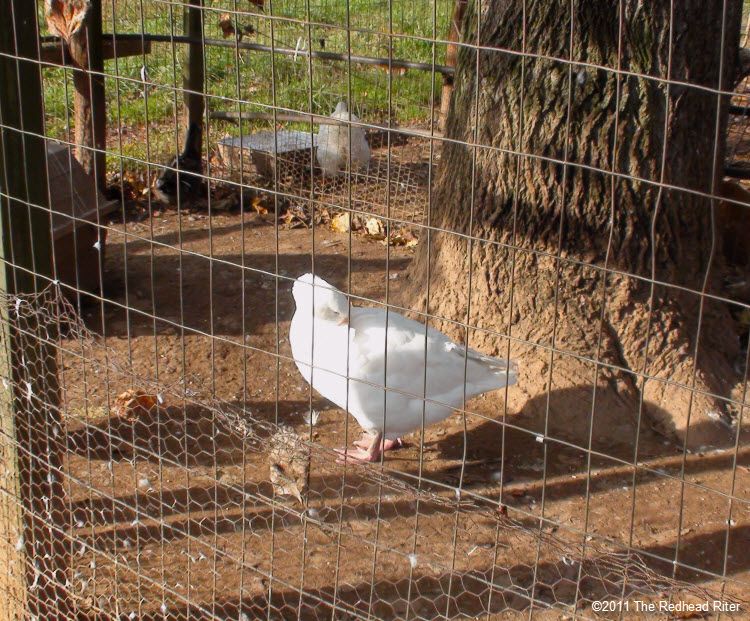 However, he looked up, saw me and then turned tail and walked away.
I named one fancy looking bird Polka Dot. She slowly walked around like June Cleaver. I almost could here her say, "Beaver, your father will be home soon."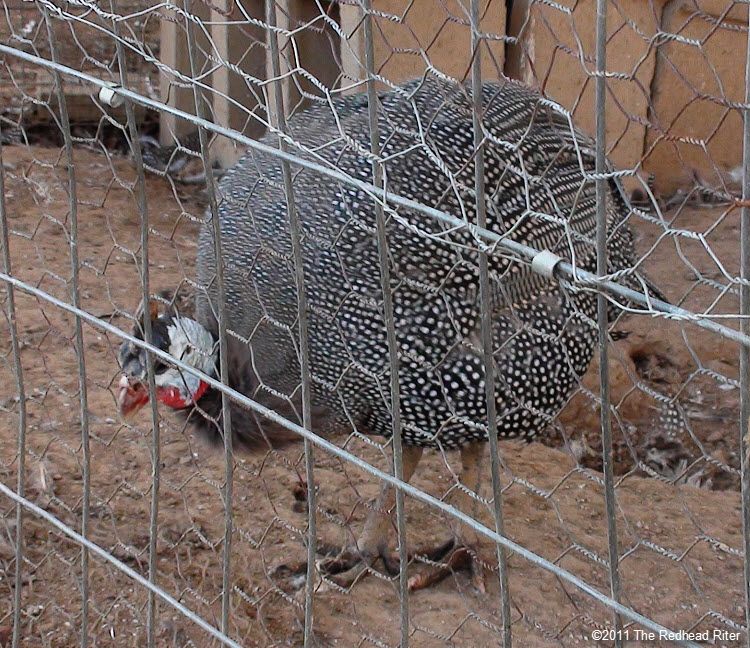 As much as I hate to admit it, the black and white hen with the big feathers sticking off her head reminded me of the Queen of England. I can't help it! All those proper English ladies wearing fascinators (a fancy British term for hats and headpieces) at the Royal Wedding are indelibly etched in my memory.
The Paisley Hen was quiet and didn't venture off on her own. Maybe she knows that paisleys aren't as popular as they used to be and she wants to hide.
Maybe I should be called the Hen Whisperer.
But wait!
A feather fascinator on a redheaded hen!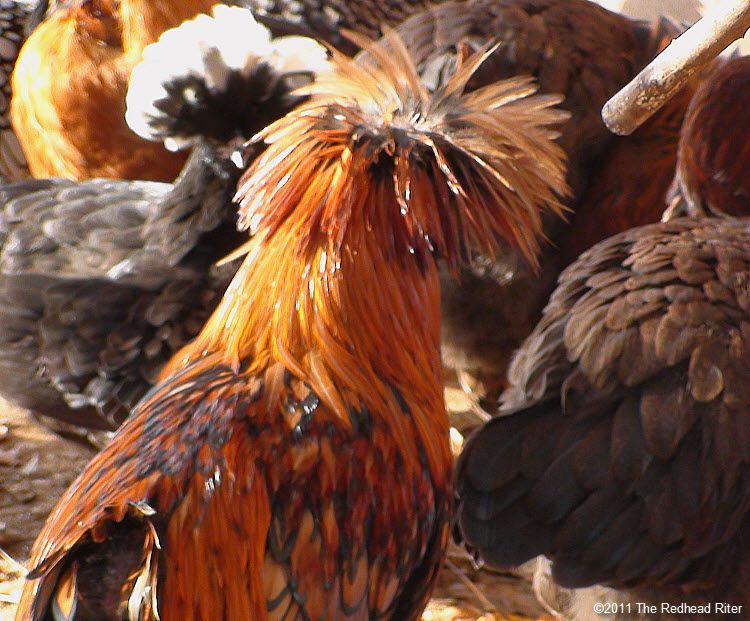 Honestly, I felt like I was looking at myself right after I wake up in the morning. My hair sometimes is all over the place, so now I know I look like a hen with a fascinator.
I wonder if that makes me fascinating. (wink)
"What?! No way! Don't take my picture to just make fun of me!" the redheaded fascinator hen said as she ran to the other side of the cage.
Then I saw her…
I found The Little Red Hen.
She was beautiful and her feathers are an exact match to my hair.
The Little Red Hen on Grave's Mountain stood at the wire mesh and stared at me. Naturally, I talked to her because I always talk to animals.
"Hi Little Red Hen. We are the same color. "
The Little Red Hen didn't say anything, but she turned her head a little bit.
"I like you, Little Red Hen. You make me think of my childhood and my mother reading to me each night. You also make me think of love-filled Sunday afternoons spent with Mama Minnie and Daddy Cecil on their farm. They had lots of chickens."
Now The Little Red Hen leaned against the fence and watched me with one of her beautiful eyes.
That's when it happened…
The turkey had moved closer, spread out his wings and flapped. That probably wouldn't have been too big of a deal for most people, but I'm actually allergic to birds if I hang around them too much. When the turkey flapped his wings, all the dusty stuff from the dirt floor of the caged area filled the air and got in my eyes.
It wasn't painful…then.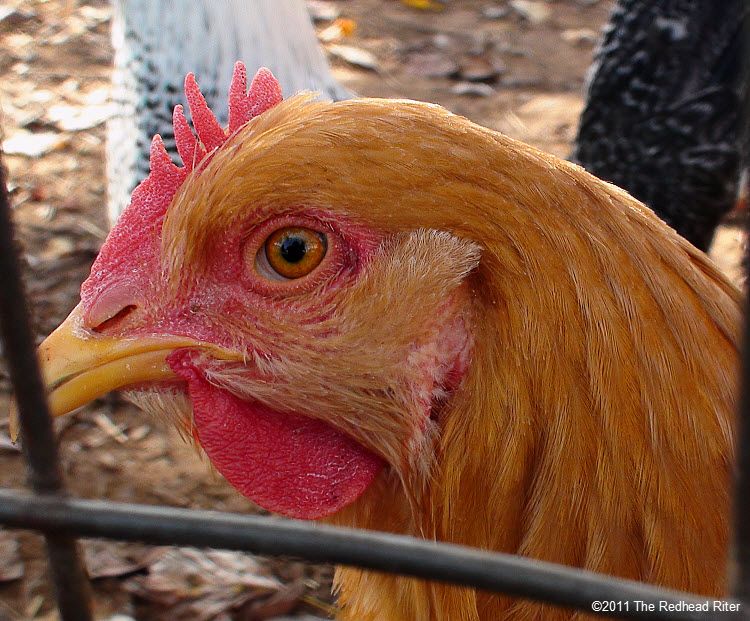 When I stood up, The Little Red Hen walked over to be with her other hen friends. I wanted to take her home. I really want chickens!
"Mom!" Alyssa called to me. "Come here and look at the bunny!"
So I walked over to where she stood. Sure enough! There was a cute little bunny rabbit just sitting in the middle of the open dirt.
Awwwwww.
Unfortunately, I have suffered with a terrible eye infection this week because of the chicken-turkey-duck-bunny stuff that got in my eyes because of Fat Turkey flapping his wings.
Sitting with the Optometrist yesterday, I had to tell him what I "thought" was going on with my eyes. After a few drops of blue dye that burned my eyes like fire, the doctor looked in them and said, "Yep. Your whole eye is inflamed."
Lovely.
Well, he wrote me a prescription for another kind of burning drops and I have been putting them in my eyes every two hours. Thankfully, tonight my eyes actually are feeling better and not hurting at all!
The Optometrist asked, "Was the visit to the animals worth it?"
I didn't even hesitate with my answer. With thoughts of The Little Red Hen on Grave's Mountain still in my mind, I said, "Yes, totally!"
Hmm…I guess that proves I really am a country girl.
Cluck, cluck.