Dulce de leche, when translated into English, means "sweet from milk". The sweet milk is prepared slowly to caramelize the sugar to create a delicious sticky and thick product used as a sauce, spread or as a basic ingredient in another recipe.
When the Dulce de leche is prepared super thick, it is more like a piece of caramel and can be used as such. With a less thick Dulce de leche, it can be used in or on many food preparations such as:
ice cream
cake
cookies
pancakes
toast
icing
flan
crepes
brownies
puff pastry
pie
rolls
cheesecake
fruit
waffles
bread
Yes, it is a decadent taste with a wide variety of uses. Supposedly it was discovered by accident, when a woman forgot about the sweetened milk she was heating on the stove and it thickened into what we now call Dulce de leche. A lovely accident indeed!
Pronounce Dulce de leche something like "DOOL-se de LE-che." If you have a dormant Southern accent like me, it may prove impossible to say Dulce de leche correctly because the overpowering twang seems to always take over when I try too hard.
So let me show you how to make Dulce de leche and I promise not to make you ever hear me actually say it.
Maybe.
Then again…maybe not.
Dulce de Leche
There are several ways to make this
Dulce de leche
,
but I think this is the easiest and safest.

The one and only ingredient for
Dulce de leche
is a can of Sweetened Condensed Milk.
No, I didn't say it was calorie, fat or carbohydrate free.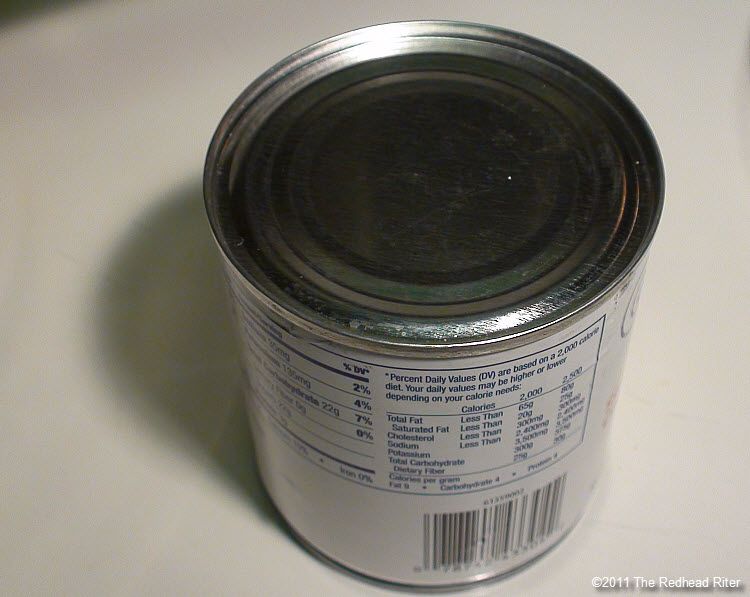 Take off the label and poke two holes in the top of the can.
If you don't take the label off, it will become a gooey mess.
It is best to make the holes on opposite sides and not too big.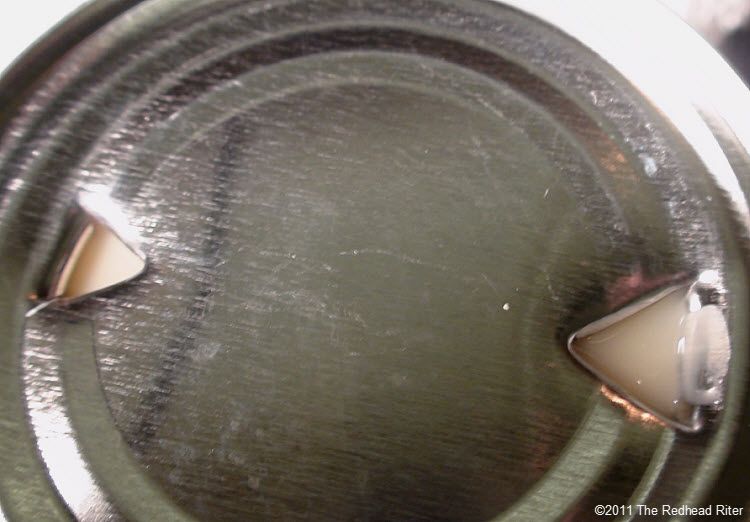 Put the can in a pot on the stove and fill it with water covering 3/4 of the can.
Don't let the water get too high or it will get in the can and that's not good.

If you let the water boil too rapidly,
the milk will come out of the holes in the top.
This is not a desirable thing to do!
Well, there is an exception to that statement.
It is fun to boil it through the holes in order to take the photo
and to sneak a taste while it is cooking.
Set the timer for 60 minutes.
When the timer goes off, add more water to the pot.
Don't let the water boil away,
so you may have to add more water before 60 minutes.
An hour has passed and you've added more water.
Set the timer for 60 more minutes.

When the timer goes off, add more water to the pot.
Two hours have passed and you've added more water.
Set the timer for 60 more minutes.

When the timer goes off, add more water to the pot.
Three hours have passed.
Are you getting the distinct feeling that this is similar to watching grass grow?
Yes?
You're right.
Since the milk is cooking in the can,
you can't see anything that's happening!
But the Dulce de leche isn't done yet.
Add more water.
Set the timer for 60 more minutes.
Four hours have passed.
Now it is time to make a decision.
Really thick or just thick?

If you want it just thick, remove the can from the water with tongs.
Let it set until you can handle with ease,
then open the can and use.

When the product is thinner,
there will be a thicker layer on the bottom of the can.
Pour the liquid in a bowl and whisk it until the thicker part is incorporated.
Of course, you can also eat it out of the can.
It is so creamy and rich.
Beautiful color don't you think?
Maybe you don't want it just thick.
Do you want it to be thicker like caramel?
If so, add more water to the pan
and set the timer to 60 more minutes.
When it is finished cooking,
it will have a much deeper color and will be much thicker.
Gorgeous coloring and so smooth!
Are you wondering how I used the Dulce de leche that I cooked?
Hmm…I guess you'll have to visit again next week to find out!