I'm pretty sure that coloring in my Pink Panther or Tom & Jerry coloring books can even compare to the beautiful paper sculptures designed and created by Canadian artist, Calvin Nicholls.
Since 1986, Calvin has created his works of art from his studio with a pencil, sheets of paper, a very sharp scalpel and a little glue. When he has finished a piece, it will be about 1 1/2 feet wide by 2 feet long in size and take anywhere between four weeks to two years to complete.
In the Follett Library near Chicago, Illinois, a collection of over seventy-five art sculptures by Calvin Nicholls are displayed. However, since he started the paper art sculptures, he has produced over five hundred pieces.
After thirty years of honing his art form, Calvin has mastered the paper techniques used to create amazingly realistic pieces that bring such creatures as frogs, hummingbirds, zebras, squirrels, ferrets and lions to life.
Besides enjoying the art, I want you to remember something that Calvin Nicholls said…
"I developed my art to the point where I blended many of my passions – wildlife, the natural world, photography, design, model making, sculpture, light and shadow and have managed to indulge all of them…When I started out in the early 1980's I didn't see this being my job nearly thirty years later."
The future is always open to possibilities beyond our wildest imaginations.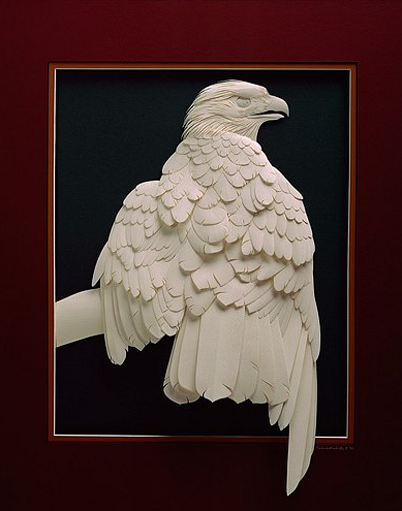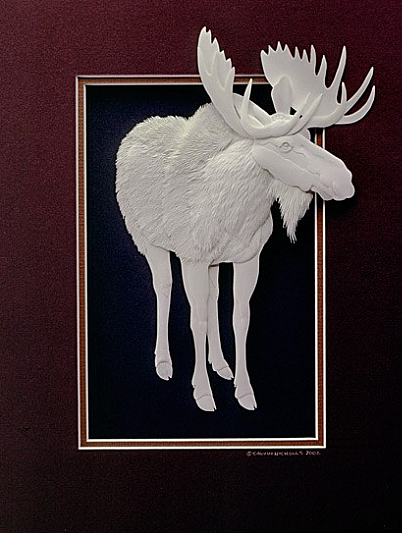 Of course, I'm sure you remember why the last picture is the moose
.