This is yet another post that will make you drool all over my blog, but that's okay because hopefully you are learning some great information. After I discussed how eating mushrooms daily has proven benefits, I made a point to incorporate them more often in our meals. When I baked Healthy Crab Stuffed Mushrooms Without Bread Crumbs, my daughter, Alyssa, decided to give mushrooms another try.
After biting into one of the moist and delicious mushrooms filled with crab, Ayssa still didn't like the mushrooms.
Salad is one food that Alyssa has eaten since she was a very young child. We have eaten a wide variety of salads throughout the years. I always knew that there were many health benefits of eating salad, so keeping the salads original and interesting remained my goal.
Last night I decided to cook some mushrooms and add them to a big salad for our dinner. As the onions, garlic and mushrooms cooked down, the aroma filled the air. After all the ingredients were cleaned and cut, I put my salad together with all the ingredients and fixed Alyssa's with everything except the mushrooms.
"Mom, I think I am going to try the mushrooms to see if I like them yet," Alyssa said as she walked into the kitchen.
She reached into the pan, grabbed a slice of mushroom between her fingers and popped it into her mouth.
"Eww, yuck. I still hate mushrooms, Mom. Sorry."
I was just happy that Alyssa was still willing try the mushrooms again just in case her tastes had changed. I will keep on creating new mushroom recipes until I finally make one that will tantalize her taste buds too.
For the rest of us who already love mushrooms, I have a very delicious salad to show you.
Grilled Chicken Mushroom Salad
Wash 16 ounces of mushrooms unless you are brave enough to just wipe off the "stuff,"
but I wash them with cold running water.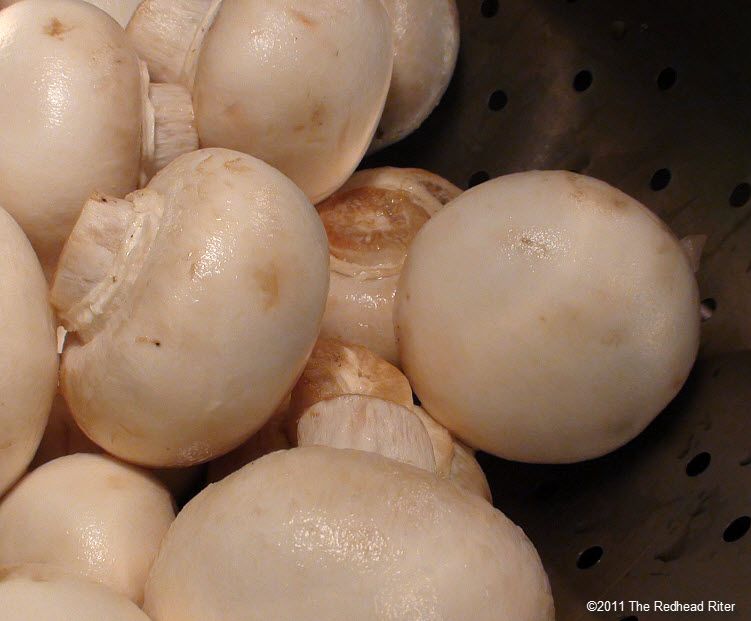 Slice 1 onion and try not to cry about it.
This was a mild onion, so no tears for me this time!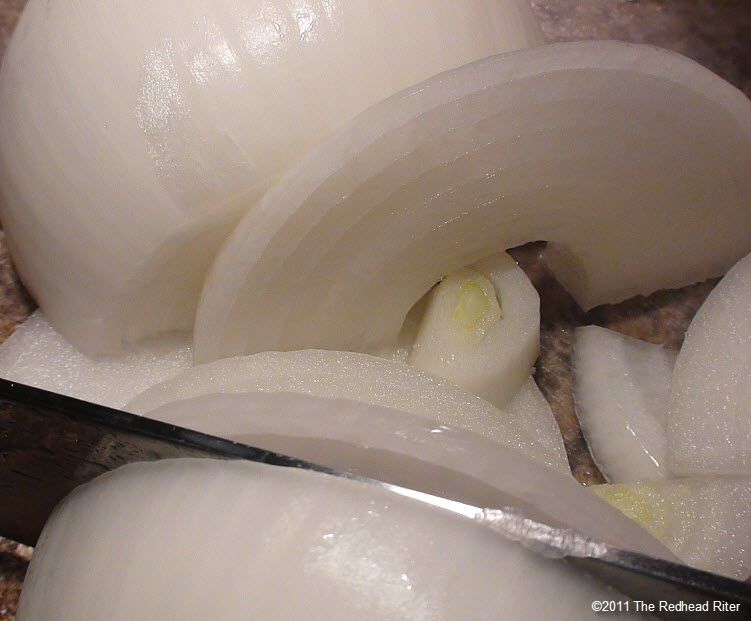 Peel and chop at least 5 cloves of fresh garlic.
I love the way garlic smells.
Add 1 tablespoon olive oil to the pan.
Layer the onions, mushrooms and garlic to allow them to cook down and caramelize.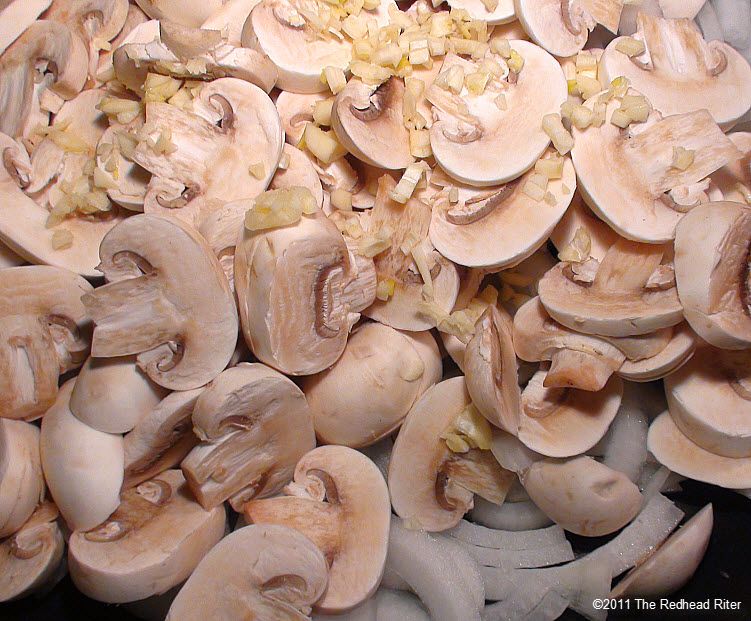 Add 1 tablespoon dried parsley.
Add 2 pinches of oregano after rubbing it between your fingers
to make it more of a "dust" than pieces.
After everything is cooked, add Worcestershire Sauce
and cook a minute longer.
Slice 1 red bell pepper, removing the stem and seeds.
Peel and slice 1 cucumber.
I usually take the seeds out, but Alyssa likes to eat them, so I left them in this time.
Separate, wash and dry the lettuce leaves with a salad spinner or towel.
I use 3 artichoke hearts packed in olive oil and
5 pickled jalapeno peppers with the seeds to add heat to the salad.
Finely chop the artichoke hearts and jalapeno peppers.
Add Kalamata olives and capers.
Finely grate 1/4 cup Parmesan cheese and sprinkle it all over the salad.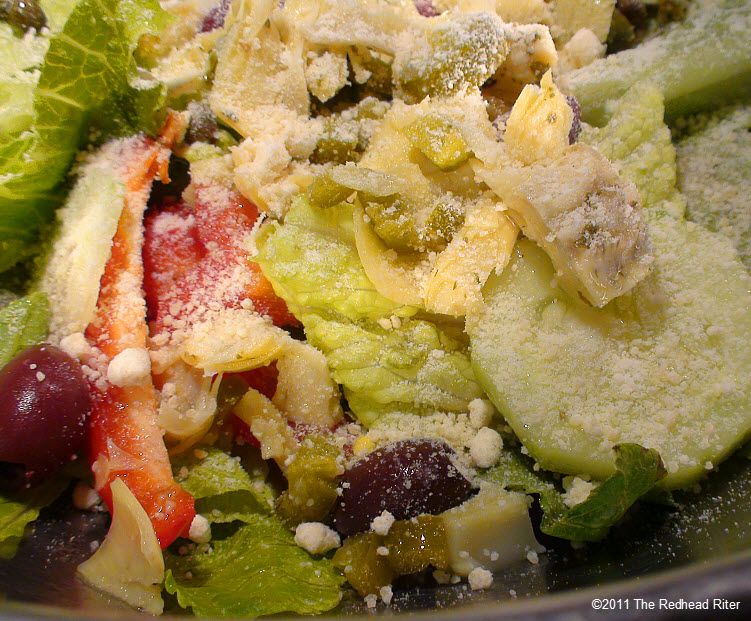 Add 1 pound of chopped grilled chicken.
While the cooked mushrooms are still warm, add them to the salad.
Toss all the ingredients in the bowl with tongs or large forks.
The warm mushrooms and grilled chicken will slightly melt the Parmesan cheese.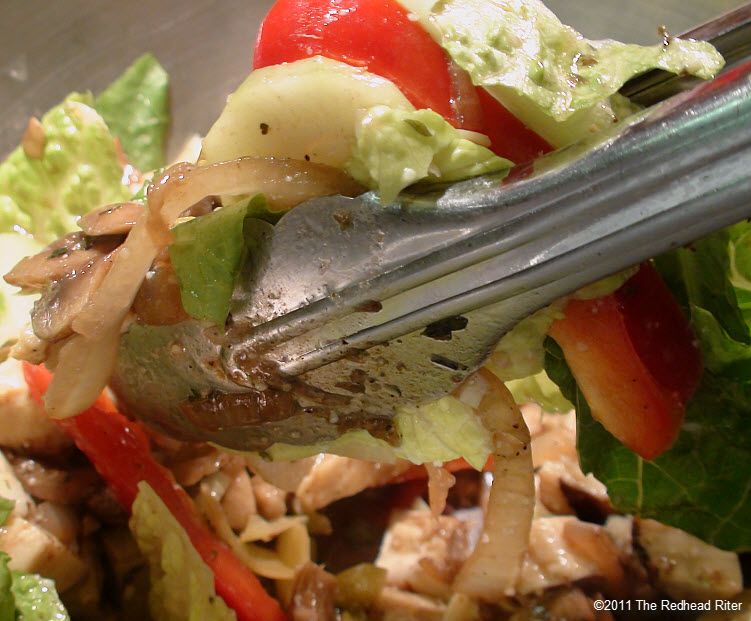 Add a few tablespoons of Caesar Dressing and toss until…
everything is wet.
The only thing left to do is grab a fork and feast on the delicious Grilled Chicken Mushroom Salad!
Maybe you're thinking that some of the ingredients I added to the salad aren't foods you enjoy. Well, that is okay because substitutions are totally allowed!
To help get your creative salad juices flowing, the following is a list of some ingredients you might want to incorporate in a salad. Not all of them at once, of course.
avocado
asparagus
snap peas
hard boiled egg
blueberries
nuts, especially almonds and walnuts
strawberries
mushrooms
salmon
cheese
shrimp
carrots
crab
cucumbers
chicken
bell peppers – red, yellow, green
steak
onion – white, yellow
apples
chives
oranges
broccoli
grapes
cauliflower
jalapeno
dried cranberries
pickled beets
raisins
pickles
lettuce
pears
grapes
spinach
tomatoes
lettuce – Romaine, Red Leaf, Arugula
beans – kidney, garbanzo, black, lima
artichoke hearts
corn
sprouts
olives
cabbage
celery
edamame
fennel
water chestnuts
bamboo shoots
grapefruit
kiwi
pomegranate
leek
shallot
banana peppers – Peperoncinis
Obviously, there is no reason to have a boring salad.
What are your favorite salad ingredients?