This meal is absolutely delicious. If you don't eat too many spaghetti noodles, the Shrimp Tomato Pepper Spaghetti is also digested quickly and won't add extra stuff to your hips, tummy and tush. It is nice to have different sauces on the pasta to add variety to mealtime. This is definitely a recipe that I can do over and over again without tiring of it. The fact that it is quick and easy is a bonus.
Shrimp Tomato Pepper Spaghetti
The very first thing to do is start boiling the water for the spaghetti..
Now, thinly slice the bell peppers into short strips.
For a regular bell pepper, each strip should be cut into thirds.
Slice the onions the same length and width as the bell peppers.
The goal is to have everything bite size so that when the fork is loaded,
each bite is perfect.
Yes, I like things even and symmetrical.
Chop the garlic into little pieces.
I like leaving them a little bigger
so that they are big enough to see after being cooked.
Place the olive oil,
onions and bell betters
in a medium hot pan.
The goal is to let everything sweat and get soft.
A couple minutes before it is finished,
add the garlic.
If you add the garlic too soon,
it will turn too brown or even burn.
While all that sweating is going on,
I get all my other ingredients measured out.
I put the stewed tomatoes in a bowl
and then add all the spices to it.
Add ground celery seed,
red pepper flakes,
salt,
ground black pepper,
dried leaf thyme,
and parsley.
Also, keep checking the spaghetti noodles for doneness.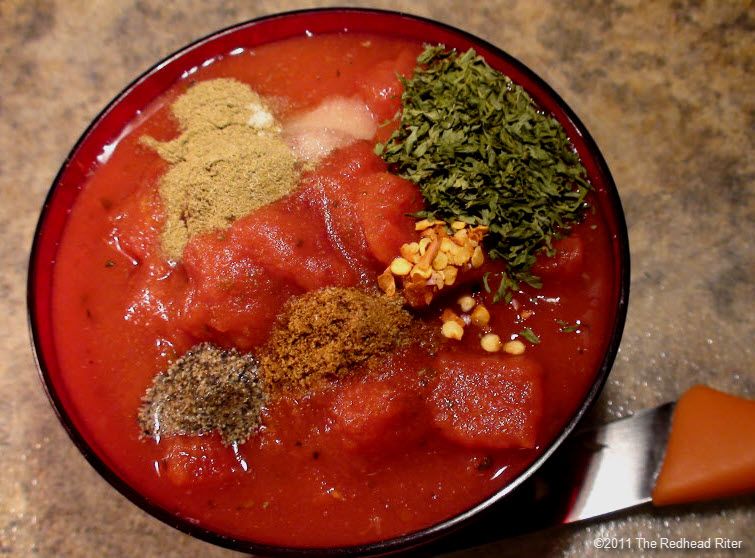 Now that the onion mixture is soft,
add the tomato mixture.
To the pan, add red wine vinegar and
Tabasco sauce.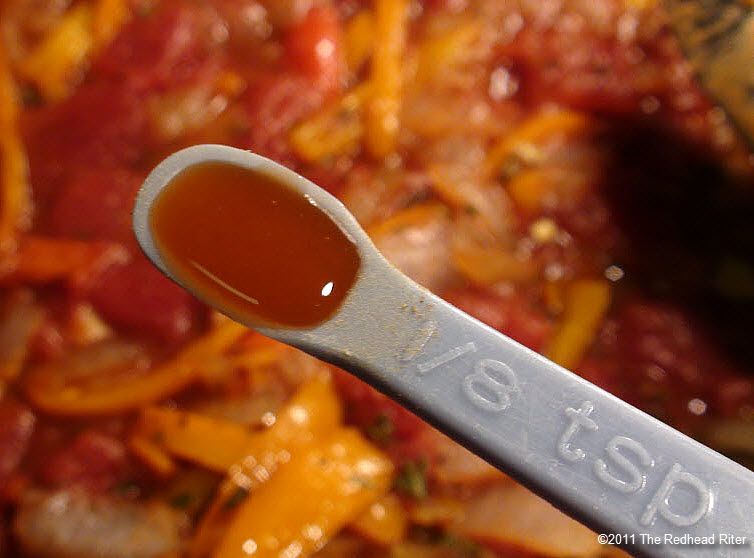 Put the spaghetti noodles in the pan of water to cook.
Let the tomato mixture simmer in the skillet.
Now you have time to clean the shrimp.
Shell and devein the shrimp.
You can also take off the tails,
but I didn't feel like the extra work so I left them attached.
After the shrimp are cooked,
it is very easy to remove the tails before serving.
I actually served them with the tails.
It gives me more of an opportunity to play with my food.
(wink)
Now add the prepared shrimp to the sauce mixture and
stir it all up really good.
The shrimp will cook quickly and turn a
soft whitish-pink color.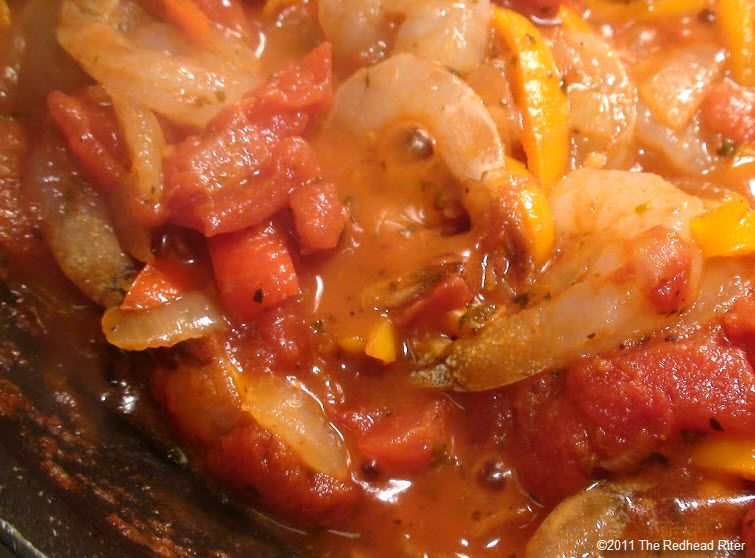 Drain the spaghetti, but do not rinse it.
Alyssa doesn't like wheat spaghetti,
so this time we had the
"Lots of Carbs White Spaghetti Noodles."
(laughing out loud)
Plate or bowl the spaghetti.
I like using a bowl so that I don't have to chase noodles around my plate.
Scoop some of the shrimp mixture on top of the spaghetti.
On top of all the noodles and shrimp,
add finely grated fresh Parmesan cheese.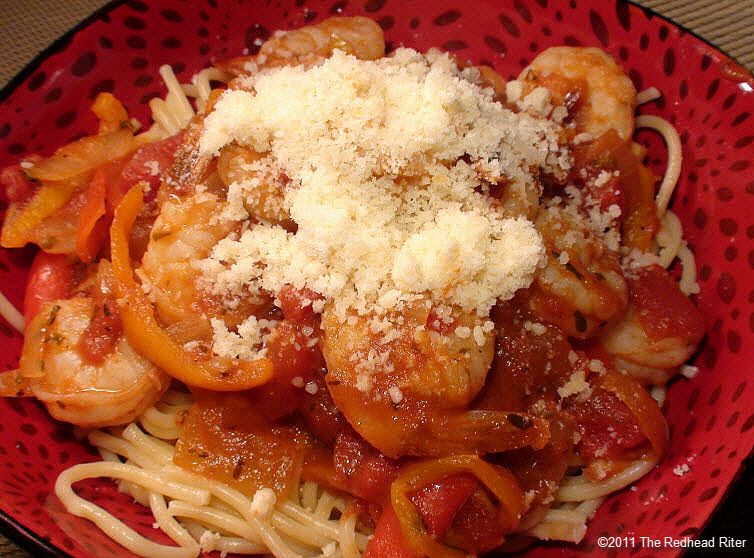 Make sure you add lots of Parmesan cheese
because it is so delicious when it starts melting on everything.
Yum.
See how fast the Parmesan cheese melted
and it is all mixed in between the veggies and the noodles.
This is an evenly loaded bite.
There's a little tomato,
bell pepper,
onion
shrimp,
spaghetti,
Parmesan cheese
and sauce.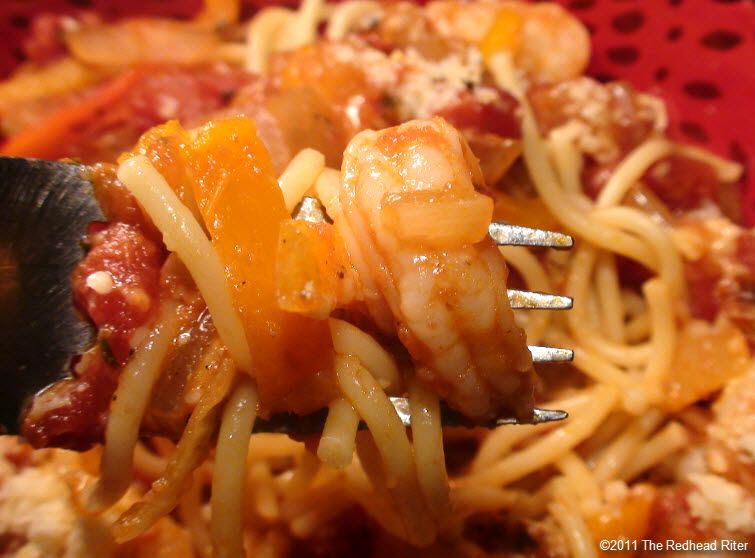 My hand is quivering with excitement,
so I can't take any more pictures for you.
I wish you were here to share it,
but since you're not,
I'll have be sure to enjoy it enough for the both of us.
Shrimp Tomato Pepper Spaghetti
Ingredients:
2 tablespoons olive oil
1 cup onion, chopped coarsely
1 bell pepper, thinly sliced
2 large clove garlic, minced
1 1/2 – 2 cans stewed tomatoes, (14.5 oz)
1/4 tsp ground celery seed
1/8 teaspoon red pepper flakes
1/2 teaspoon salt
1/4 teaspoon ground black pepper
teaspoon dried leaf thyme
1 teaspoon parsley
1/4 teaspoon red wine vinegar
1/4 teaspoon Tabasco sauce
14 oz shrimp, shelled & deveined
Spaghetti noodles
Grated Parmesan cheese
Directions:
In a large skillet add the olive oil. Sauté onion and bell pepper until tender, adding the garlic a couple minutes before it is finished. Add tomatoes, spices, red wine vinegar and Tabasco sauce. Simmer over low heat, stirring occasionally, for 15-20 minutes. Add shrimp and cook until shrimp are pink, about 5 to 10 minutes depending on size of shrimp. Do not over cook shrimp or they will be tough.
Serve over spaghetti.
Serving size: 2 really hungry people