Moist banana bread can melt in your mouth and this recipe proves it. This is my mother's recipe with a few tweaks here and there to make it mine. My daughter told me years ago that it is perfect, so I know that I've hit the nail on the head.
The batter is thick and it smells good.
I love thick batter.
Licking the batter from the sides of the bowl is so yummy and fun.
Really! Oh, and I love to lick the mixing paddle. I get every little bit of the batter, but I have to hide from my daughter because she starts preaching to me about the raw eggs.
"You're going to die all because of banana bread batter, Mo-om! Put it in the sink and stop it!"
She gets so worked up over a little batter.
That's why I bake the banana bread when she is on a date or at work.
I call it "strategic cooking."
Oh! Don't lick the raw batter because if you get sick eating raw eggs, my daughter will blame it all on me and I can't have the guilt of making thousands of people sick.
Moist Banana Bread
Let's begin this fantastic recipe!
Start by adding the softened butter to the mixing bowl.
Don't waste the butter wrapper.
Using the wax paper wrap of the butter,
coat the bread pan well.
You probably won't even need more butter
than the amount that was left behind on the paper.
When you are finished covering all the surfaces,
set it aside while you make the batter.
Add the sugar to the butter and…
Whip it good!
When it has lightened in color,
add the eggs one at a time.
Mixing well between each addition.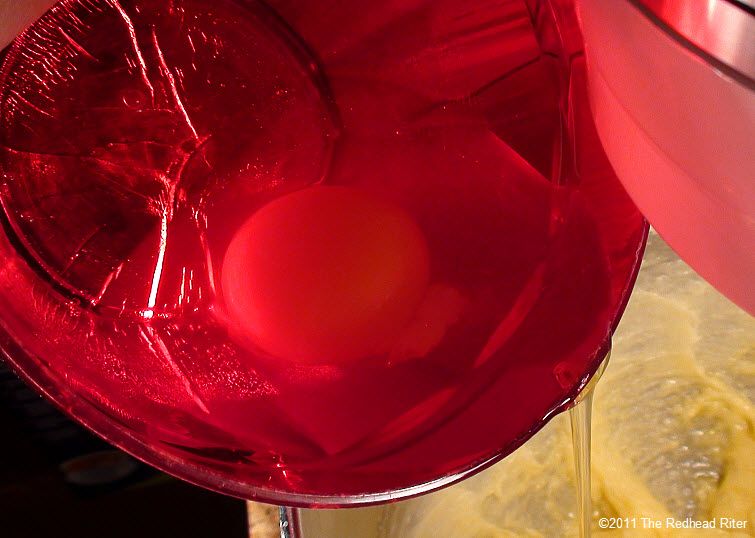 Add the vanilla to the batter and mix.

In a separate bowl, sift the flour and
baking soda and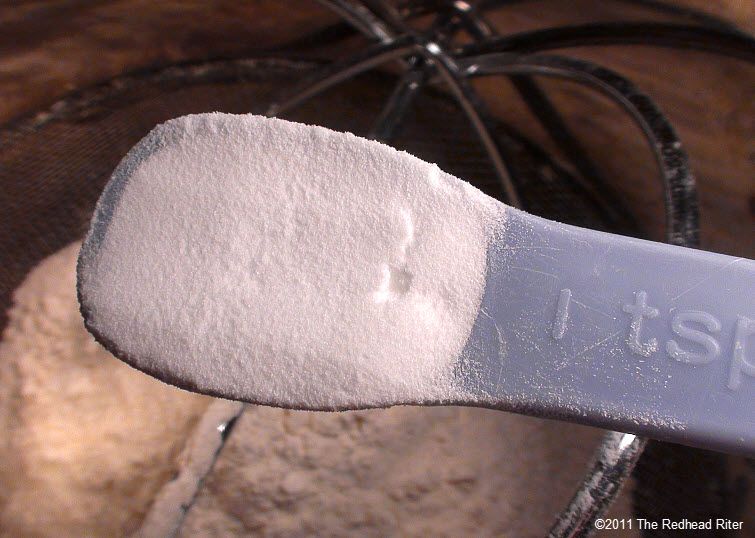 salt together.
Isn't it pretty?
I love flour.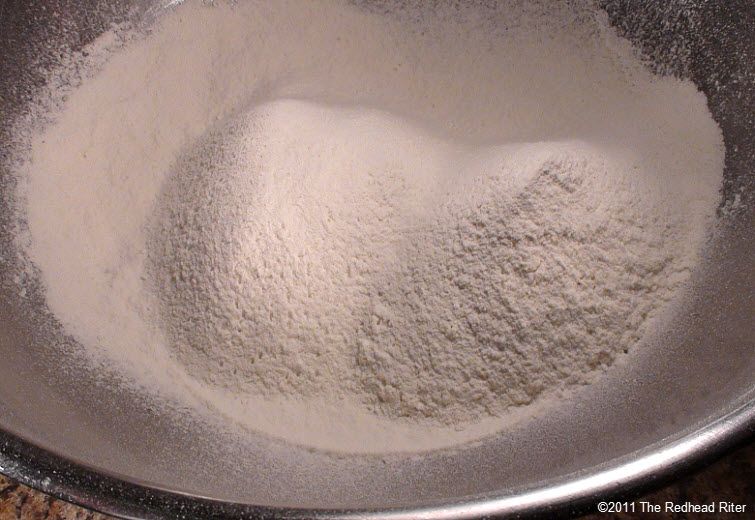 Add the flour mixture in thirds to the wet ingredients,
mixing between each addition.
Honestly, I really want to eat the batter at this point.
I'm a die hard batter licker.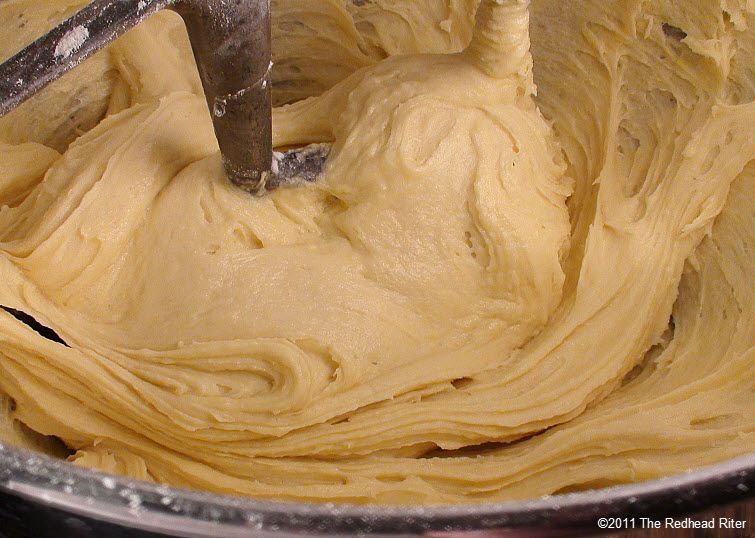 After you have smooshed the bananas
to a liquidy state…
"Smooshed" and "liquidy" are words LOL
Measure out the appropriate amount of banana
and mix it into the batter.

Time to add the sour cream
so that this bread will be super moist.
Don't forget to add the nuts!
I still want to lick the batter.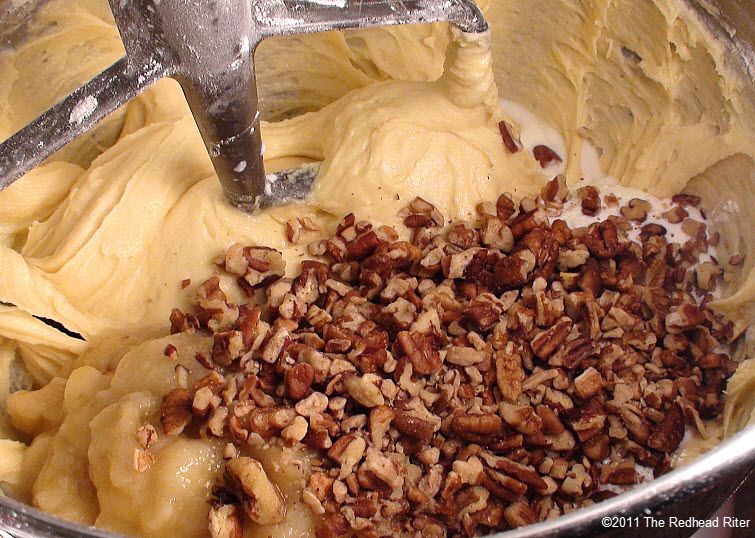 Since you have mixed all the other ingredients well,
it will only take a minute to mix in the
sour cream and nuts.
Remember that buttered pan?
Well, add a little flour and swish it all around
to completely cover the pan.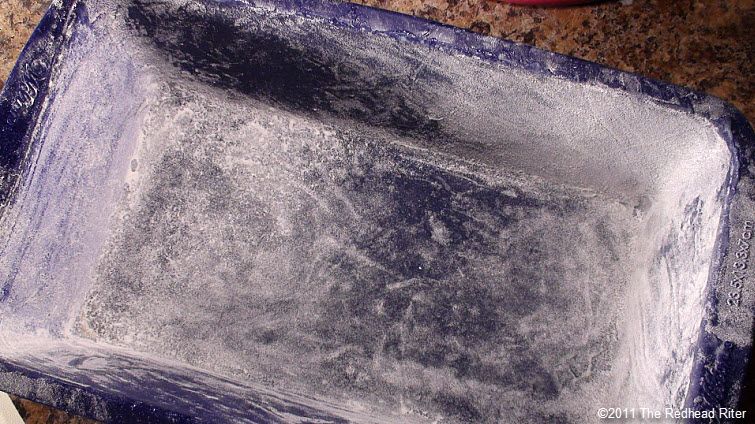 Now pour the batter in the pan.
Enjoy licking the batter while the bread bakes.
Did I say "lick the batter" again?
(smile)
When it is completely done,
it will be a nice golden brown all over.
I usually check for doneness by taking a very skinny,
sharp knife and sticking it all the way through the bread.
If it comes out clean, it is done.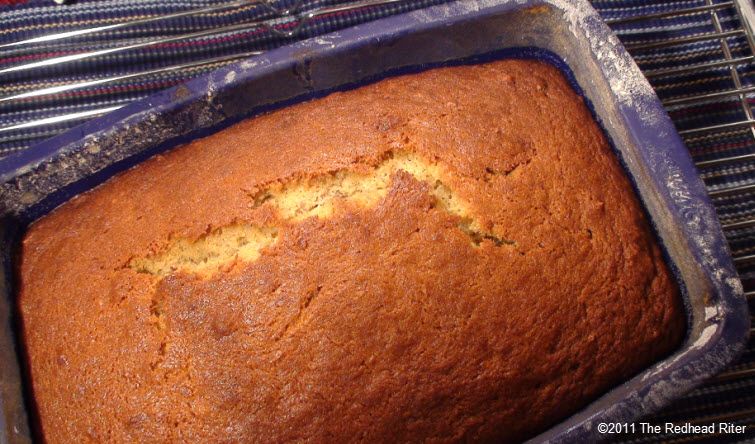 I love the split in the top.
It looks elegant and seems to say,
"Look what lies beneath the golden brown outside layer."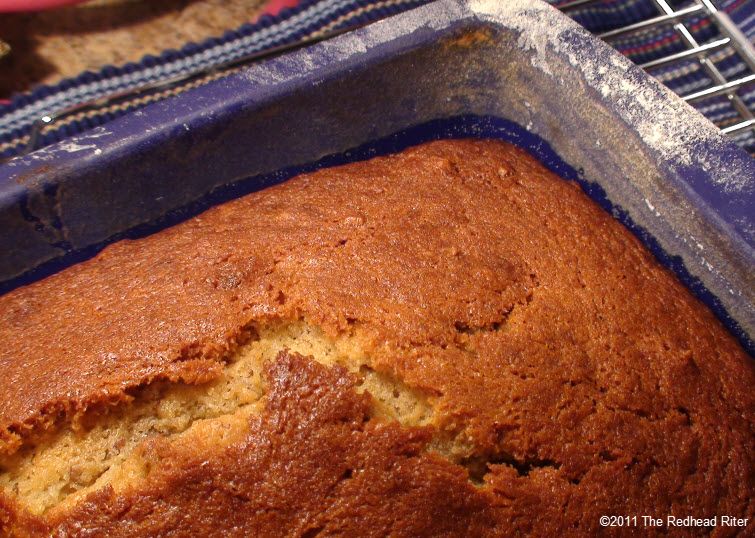 Obviously, I can't wait for it to cool.
If you have that much self-control,
more power to you.
So I carefully cut a slice,
enjoying the hot aroma of bananas
that have been baked to perfection.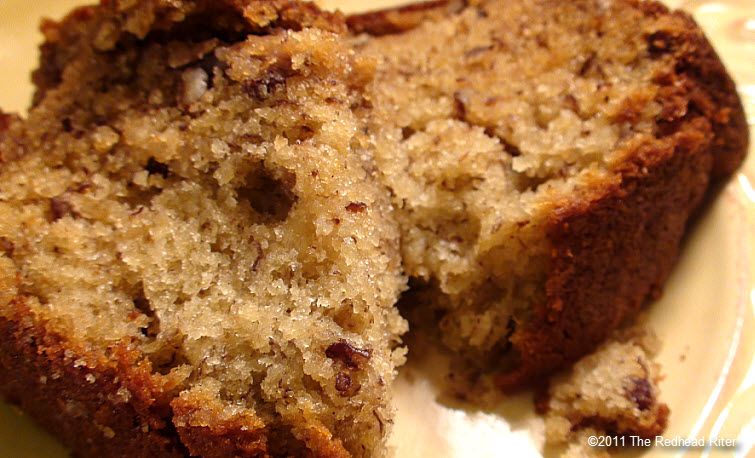 So I add a little butter to the bread
and as it melts,
I take a picture for you
while trying to keep my hands steady.
I can't wait any longer, so I take a bite.
Yes…..
Moist…soft….delectable.
I gotta go.
There is a whole loaf of
Moist Banana Bread
that is calling my name!
Moist Banana Bread
Ingredients:

1/2 cup butter, softened
1 cup sugar, white
3 eggs, room temperature
1 teaspoon vanilla extract
1 2/3 cup all purpose flour, sifted
1 teaspoon baking soda
1/2 teaspoon salt
1 cup mashed bananas
1/2 cup sour cream
1/2 cup pecans, chopped

Directions:

Combine butter and sugar until creamy. Add eggs one at a time. Add vanilla and mix well.
In a separate bowl, sift together flour, soda and salt. Add dry ingredients to the wet ingredients and mix well. Add banana, sour cream and nuts. Mix until combined.
Bake in a pre-heated 350 degree Fahrenheit oven for 1 to 1 1/2 hours. Cool in the pan on a wired rack.
Yield: 1 9″ loaf