What Is A Cookie?
A cookie, grammatically speaking, is a noun and pronounced ?ku?-k?
The first definition of cookie that comes to my mind is a small, flat or slightly raised cake, usually sweet and eaten as dessert unless the person has very little self-control and eats cookies before meals or in lieu of a meal. Not that I know anyone like that, but I thought I would just throw it out there (smile)
Moving right on to the next definition. Cookie can also be a guy or person such as, "The high school valedictorian is one smart cookie and already started his own computer programming company." Cookie can also mean an attractive woman. We could use it in a sentence like, "Gina Lollobrigida, a buxom Italian cookie, was an iconic sex symbol in the 1950's. Gina co-starred with Yul Brynner in Solomon and Sheba in 1959."
However, there is a third definition of cookie that I wanted to tell you about today. If you use the internet, chances are you have heard of cookies in the context of your computer usage. This type of cookie is also known as an HTTP cookie, web cookie, or browser cookie. A cookie is a small file or part of a file containing personal information and is stored on the computer. This cookie is read by the browser and can be used to:
identify how a user initially got to the website

record the website pages visited

identification of a user session

to keep a user's customized preferences in order to show relevant content in the future

store shopping cart contents

authenticate the user

anything else that is accomplished by storing text data
So when you shop online or visit a site with advertising banners, cookies about your visit are sent to the original site (the company that owns the banners). They use this information to determine how often their banner is seen or products are viewed. Those are just a couple of examples of when cookies are collected.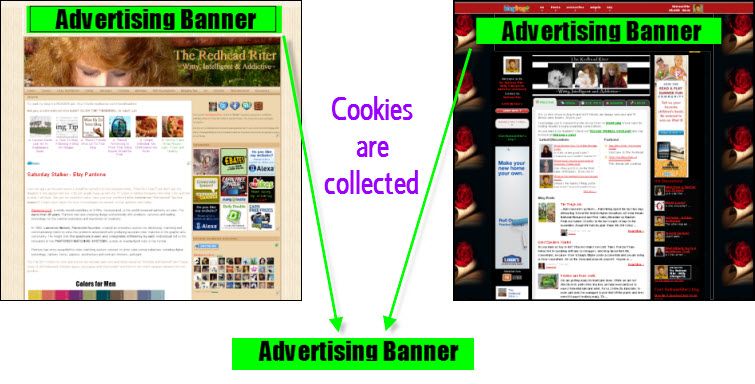 Now that Web browser cookies are no longer a mystery, I am going to enjoy one of those flat, sweet dessert type of cookies. I will think of you while I enjoy them.
Fleeting thoughts count.