We all know that supposedly the way to a man's heart is through his stomach while women are dazzled with roses, chocolate and diamonds. If those were the only facts to base gender upon, I would be a man and you know I am not a man. Well, you do not "know" that I am a woman, but you are just going to have to take my word for it because I am not exposing any body parts on my blog.
I do love food…
I love cooking food.
I love touching food.
I love eating food.
I love smelling food.
I prefer healthy food and I do not overeat because I do not like that too full feeling. I am not super picky about my food either, so I am rather easy to please. Actually, as I have gotten older, I am rather easy to please with just about everything. I don't require that much to make me happy.
There is one food that will immediately make me happy and your best friend, humble servant, doting caretaker, window washer or anything else you want me to be!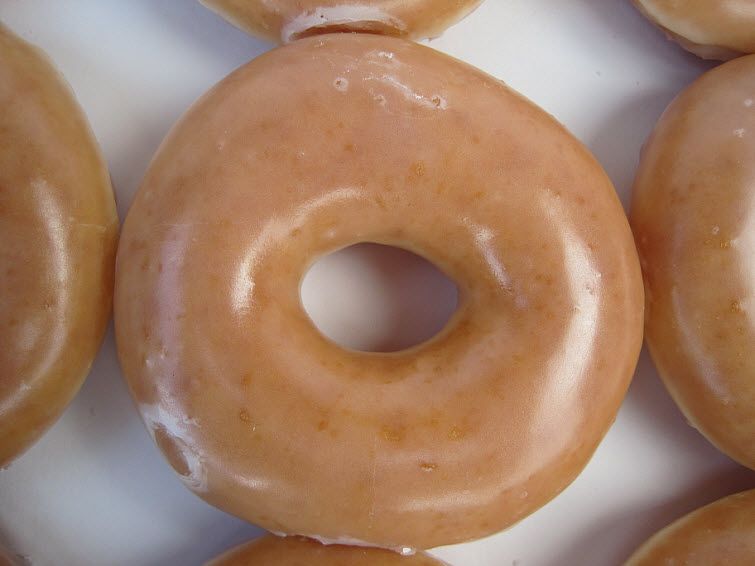 Yes, Krispy Kreme original glazed doughnuts are my ultimate weakness.
At any given moment, I am ready to eat a Krispy Kreme doughnut. Just typing the words now have my senses so aware that I think I smell Krispy Kreme doughnuts which is impossible because the store is thirty minutes away.
I am sure you have seen cartoons where the Devil is sitting on one shoulder and an angel is sitting on the other shoulder of a person that is trying to make a choice. It is a visual representation of the battle between good and evil. Both cartoons are trying to sway the person to make a choice and the options are completely opposite in nature.
I think when a Krispy Kreme doughnut is placed before me, the Devil on my shoulder throws the angel in a bag and locks it in a trunk in the basement. There is just no way I will refuse a doughnut.
The strong craving for Krispy Kreme doughnuts must be inherited because my daughter feels it too. When we both just can't stand being deprived one more moment, we drive all the way to the store. Of course, we have to wait until after 11:00 pm because that is when the new, fresh doughnuts come off the line.
Krispy Kreme makes it very easy to satisfy the craving because they also installed a drive-thru window. So we pull up to the little microphone and it goes something like this:
"I would like 1 dozen glazed, 1 dozen chocolate glazed, a carton of milk and a water. That's all."
Alyssa and I can barely speak because we are trembling with anticipation and our mouths have started salivating ten times as much as usual.
"Please pull forward to the window," the Krispy Kreme cashier says.
Alyssa drives up to the window.
I hand her the money to give the Krispy Kreme worker.
They take the money, give us change and hand us the drinks.
Then the Krispy Kreme worker hands Alyssa two boxes of HOT doughnuts, a straw and napkins.
Alyssa drives the car into a parking space.
She proceeds to eat about 3 or 4 Krispy Kreme chocolate glazed doughnuts.
Meanwhile, my hands are trembling so badly that I can't hardly get the box open, but when I do, the sweet aroma fills the car. I feel like I have won millions of dollars in the lottery.
I pick up a Krispy Kreme original glazed doughnut and it sags because it is so fresh and hot. Each bite of the doughnut melts into an explosion of happiness in my mouth. Sugar is on my lips and I barely have time to lick them before I begin eating another doughnut. After my eighth Krispy Kreme original glazed doughnut (don't judge me), I begin to feel very drowsy. Although I have consumed far too much sugar, I am euphoric and I drift into a peaceful slumber while Alyssa drives us back home.
Between the optimist and the pessimist,
the difference is droll.
The optimist sees the doughnut;
the pessimist the hole!
~Oscar Wilde~
That, my dear friends, is how someone acts when they are obsessed. Can you blame me? Look at the doughnut below…Do you see the way the sugar dents where the two doughnuts are touching?
It is beautiful!
Krispy Kreme glazed doughnuts are the best tasting food ever created.
Why, oh why does Alyssa have to already be asleep in the bed!!!!
I am going to have to go to sleep with visions of doughnuts dancing in my head!
How evil would I be if I "accidentally on purpose" woke up my child from a sound sleep so that we could make a run to Krispy Kreme?
She would not forgive me.