Fresh, light, fluffy, delicious, quick and preservative-free is the only batter I want to use when I cook a pancake. I am the complete opposite of my mother when it comes to taste, texture and fluff factor of a pancake. Mom always makes FLAT pancakes that are more like crepes (sorry Mom) because she likes them that way. She also uses the boxed pancake mix.
My recipe is from scratch, but I am sure you can make these pancakes almost as quickly as you could if you used a boxed mix. The recipe is the "white flour" version which is my daughter's favorite. The next time I will make a "wheat flour" version that has all kinds of nutrition packed in every bite. Alyssa prefers less nutrition in her pancakes…Yes, I am laughing.
Shall we begin?
Wash your hands, put on your apron and let's get the pancakes cooking!
Basic Fluffy Pancake Recipe – Delicious, Old-Fashioned Pancakes
Start by cracking a beautiful golden yolked egg in a bowl.
Add milk.
Add vanilla.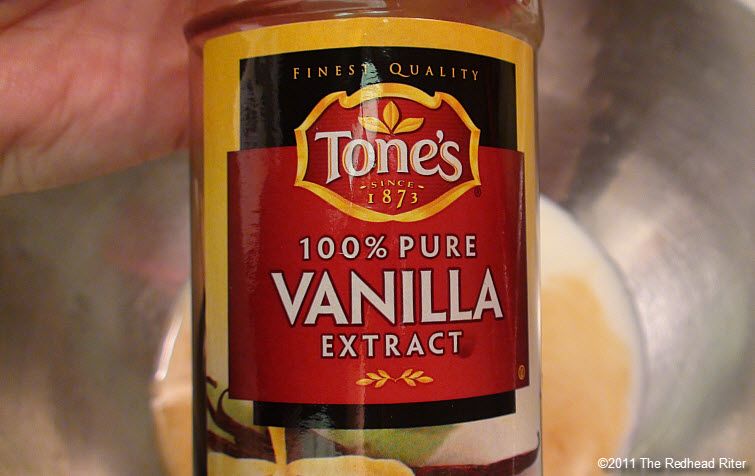 Stir until it is a light yellow liquid.

I love the bubbles. They remind me of happy childhood moments.

My mother is crazy about bubbles.
Add flour to liquid in the mixing bowl.
Put the sugar on top of the flour in the bowl.
Sprinkle the baking powder on top of the flour.

You could mix all the dry ingredients in another bowl

before adding to the liquid mixture,

but if you sprinkle the baking powder,

it is not really necessary.

Obviously, I sprinkle.


Salt.

Just a little bit.
Stir.

It will still be lumpy and that is perfect.
Add sour cream.

By the way, if you put the sour cream in the back of the refrigerator

and have the temperature too low,

it will freeze.

That is why my sour cream looks so thick,

but nothing deters me once I get this far into a recipe.

Besides, I was starving.
Mix well.

It will be thick and still a little lumpy.
Turn the pan on medium.

At this point, you can do several things to ensure

the pancakes do not stick to the pan.

Since I am a country girl that gave up my lard-in-everything-cooking,

I do not use "fat" that often.

However, pancakes need bacon flavoring,

so I use a little of the drippings from the bacon.

Did you notice that I did not add "oil" to the batter?

Yeah, so this little bit of fat is not bad

and packs a huge punch on the flavor.

Anyway, when the bacon drippings start to smoke a little,

you know the pan is hot enough to add the batter.
I use a gravy ladle to scoop the perfect size pancake.

It is not too big to flip and it is small enough

that you do not have to waste any pancake.

Two huge pancakes is always too much for Alyssa,

but two or three of this size is perfect.

Plus, they stack well.

Do not flip it over too fast or you will have a mess.

Wait until the batter loses most of the shine

and has lots of little bubbles —

That is when you need to flip the pancake.
Ahhh, perfect.

Crunchy edge and fluffy pancake center.
At this point, the sky is the limit when it comes to toppings.

Traditional pancakes have butter and maple syrup.

I do not want to add fat (butter) and

maple syrup is too sugary for me.

I opt for fresh fruit and today,

it is fresh strawberries and blueberries.

I smooshed the strawberries, added

just a little sugar and let them sit while I cooked the pancakes.

That brought out some of the juice of the berry,

so I was able to pour it on my pancakes

and let it soak the fluffiness.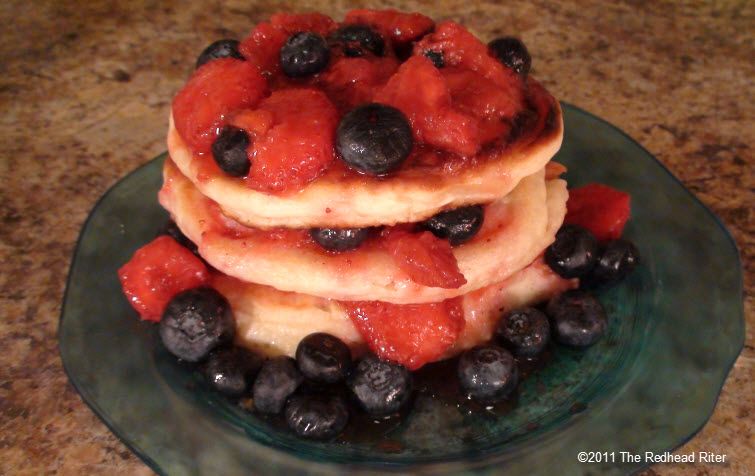 Obviously, you can see the pancakes are fluffy.
The pancakes are also very delicious.
Do you want a bite of my

basic, fluffy, delicious, old-fashioned pancakes

smothered with strawberries and blueberries?
Basic Fluffy Pancake Recipe – Delicious, Old-Fashioned Pancakes


Yield: 7 pancakes – Recipe EASILY doubled or tripled
Ingredients
1 egg

3/4 cup milk

1 teaspoon vanilla

1 cup flour

1 tablespoon sugar

3 teaspoons baking powder

1/2 teaspoon salt

1/4 cup sour cream
Directions



Mix egg, flour and vanilla in a bowl.
In a separate bowl, sift flour, sugar, baking powder and salt. Add to the liquid mixture. Stir well. Batter will still be lumpy.
Add sour cream and stir well, but batter will remain slightly lumpy.
Cook in non-stick, oiled pan on medium heat until both sides are browned.
Serve hot with your favorite topping.