Rich.
Chocolate.
Devil.
Cupcakes.
I was talking to my mother when I got home from work tonight. While on the phone, I told her that I was about to put something in the oven.
"Oh, for your blog?" she asked.
I said, "Yes, and I am not going to tell you what it is, but you can have some tomorrow."
Can you believe she had the nerve to say, "Well, first I will see what you are cooking."
Mom does not like "garlic" all that much, so when I throw a bunch of garlic in a recipe, it ruins the dish for her.
Needless to say, when she discovers that I have cooked her favorite cupcakes, she may send her husband over to pick them up at midnight tonight!

Rich Chocolate Devil Cupcakes
First, we begin with silky flour.
In the same bowl, add baking powder and

beautiful, white, granular sugar!
Do not forget to also add the salt and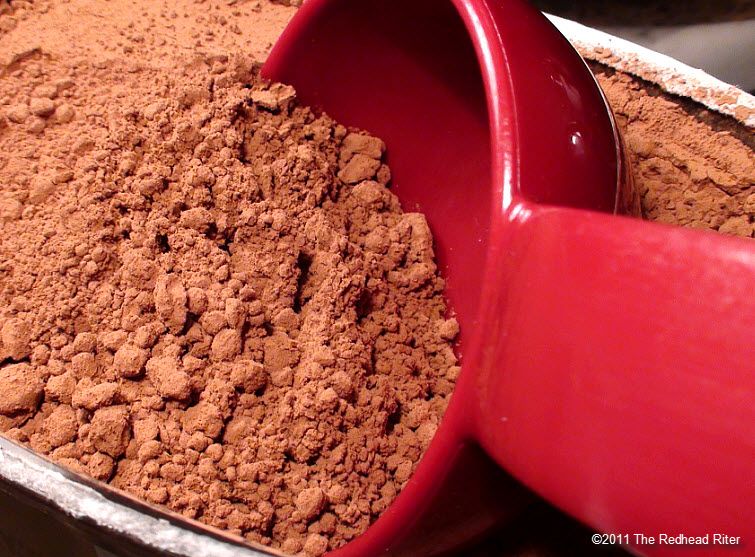 and then mix it all up together.
In another bowl, add vanilla.
I love the smell of vanilla.
I added water to what looked like the full cup,
however, it is necessary to get eye level
when measuring liquids because as you can see,
it really was not a full cup.
Finally, add the oil.
Pour the wet ingredients into the dry ingredients and mix well.
This is not a thick batter, but it will create very moist cupcakes.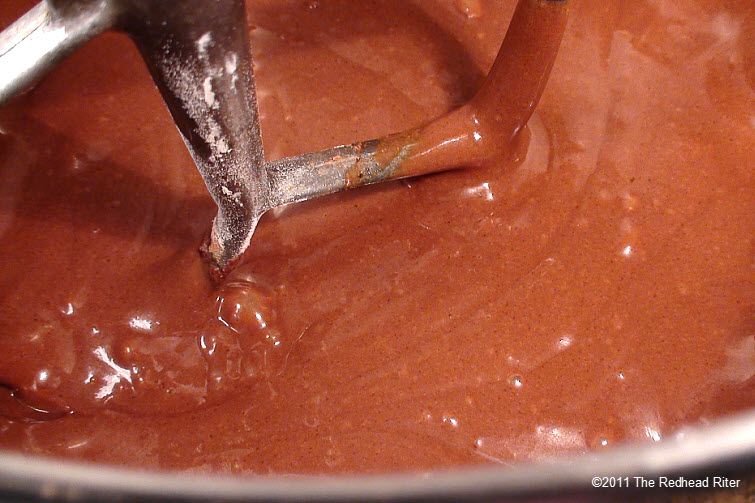 Now it is time to add the mixture to the muffin cups.
Fill the cupcake liners about 1/3 full of batter.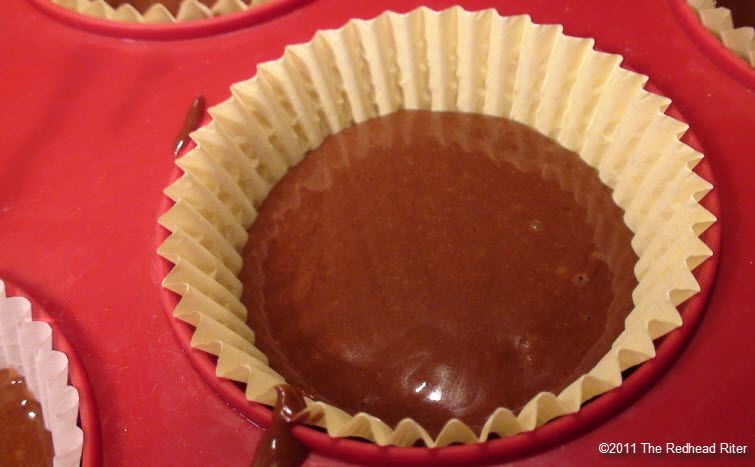 Make sure you use a spatula to get all the goodness off the sides of the bowl.
Of course I used the spatula.
No way did I lick that much batter.
No really!
I washed and dried the bowl so that I could prepare the filling.
Now add the softened cream cheese.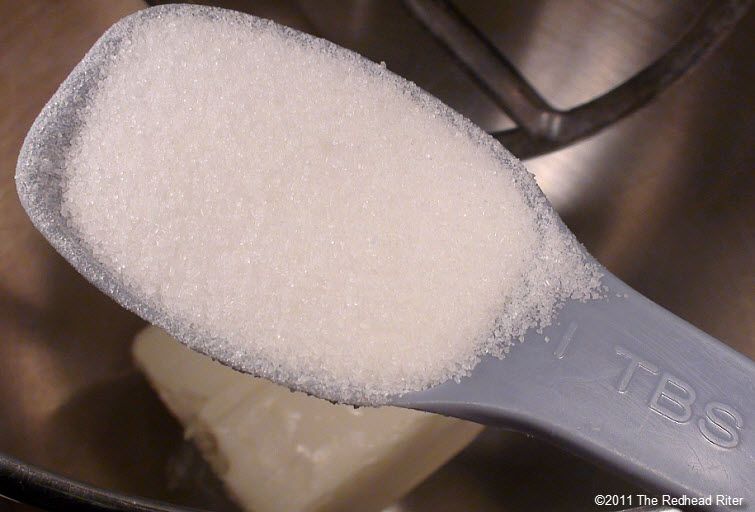 Crack one egg and beat the heck out of it in a little bowl,
so that you can add part of the egg to the mixture.

Finally add the chocolate chips and mix it well.
Mix it fast enough to make some of the chips break up a little bit.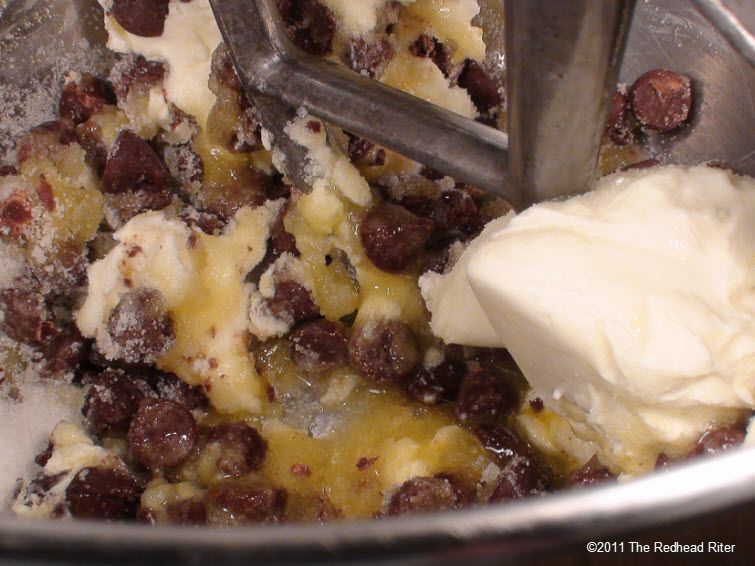 Plop a glob of the cream cheese mixture in the middle of the cupcake mixture
.
Now it is time to cook them!
Obviously, they look beautiful when they are finished!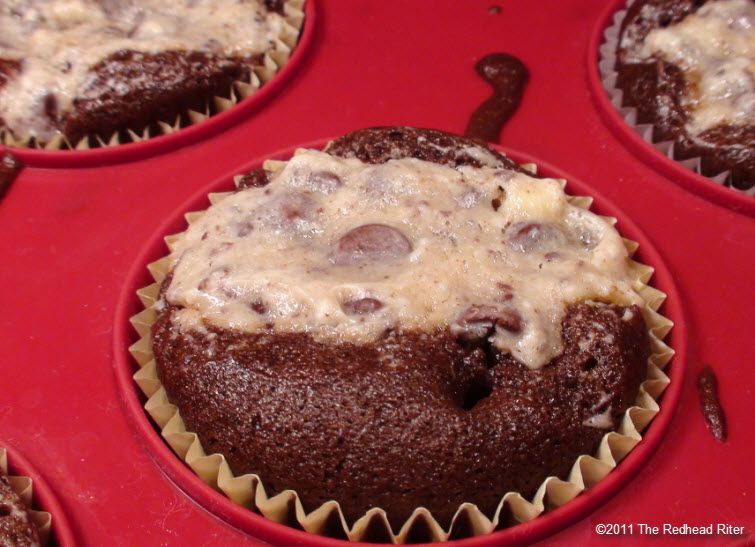 Did I ever tell you that I really love cream cheese?
No?
Well I do and I made some Cream Cheese Frosting
to plop on top of the hot cupcake.
All the heat from the cupcake started melting the icing
and it oozed and dripped
over the rich, chocolate goodness.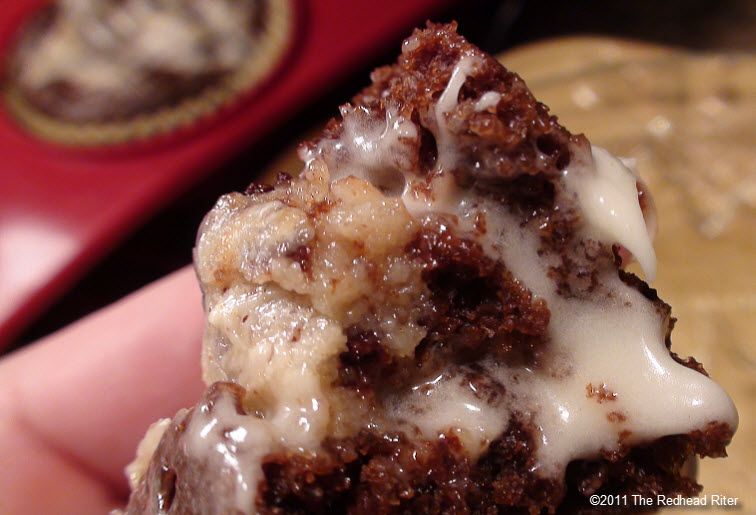 I told you it was delicious.

Rich Chocolate Devil Cupcakes
Ingredients:
Cupcakes (16)
1 1/2 cups all purpose flour
1/2 teaspoon baking powder
1/2 teaspoon baking soda
1 cup granulated sugar
1/2 teaspoon salt
1/4 cup + 1 teaspoon cocoa powder
2 teaspoons vanilla extract
1 cup water
6 tablespoons canola oil
Filling
4 ounces cream cheese, softened – DO NOT microwave
2 tablespoons egg, beaten very well
6 tablespoons sugar
3/4 cups semi-sweet chocolate chips
Directions:
In a mixing bowl, combine flour, baking powder, baking soda, sugar, salt and cocoa powder. In a separate bowl, mix the vanilla, water and oil. Pour the liquid ingredients into the dry ingredients. Mix well.
Line muffin tins with cupcake liners. Fill each cup about 1/3 full.
For the filling, in a large mixing bowl, combine cream cheese, egg, sugar and chocolate chips. Mix well allowing the chocolate chips to break apart slightly. Spoon about 1 tablespoon filling into the center of each cup.

Bake at 350 degree oven for approximately 20 minutes. Toothpick will come out clean from the batter portion of the cupcake when done. Cool on rack. If using silicone cupcake pans, you can cool while still in the cupcake pan. Ice with a glob (yes, glob) of cream cheese frosting if desired.
You will not be able to just eat one…