The moment I hear the word "sand," I am immediately walking under the moon with my feet wading through the water at the ocean's edge with the sand squishing between my toes.
Instant relaxation.
I love a moonlit beach. It exudes romance, sexiness, happiness and peace.
However, if you put the word "sand" with "tart" I get a totally different picture in my head. Suddenly I am thrown back in time and I am in the kitchen with my mother as she rolls tiny cookies with her tiny hands. Yes, I am like the Jolly Green Giant next to my mother. It was always, "Will you reach up there and pass me that box" or "I don't want to stand on the step stool, will you reach up there for me?"
Anyway, Mom made Sand Tarts all the time and we couldn't ever get enough no matter how often she baked them. That's how it is now too in my own home. Almost the moment they are rolled in sugar, it is like a disappearing act….the cookies are gone.
I love this recipe because it has no eggs in it which means we can eat the dough without feeling guilty!!!
Sand Tart Cookies
Combine sugar and butter.


Mix until creamy.
Add water.
Add vanilla.
Beat until mixed well and creamy.
Add flour.
Add nuts!
Beat until creamy.
Whole lot of beating going on here.
You need to roll the the batter into small balls.
If you roll the ball all the way around your palm once,
it will be round after a couple rolls around your palm.
Obviously Alyssa had to help with the photography.
Place the dough/batter under the index finger.
Roll around to the pinkie.
Around and down to the bottom of the palm.
Back up to the spot under the index finger.
Now you have a perfect ball with very little rolling.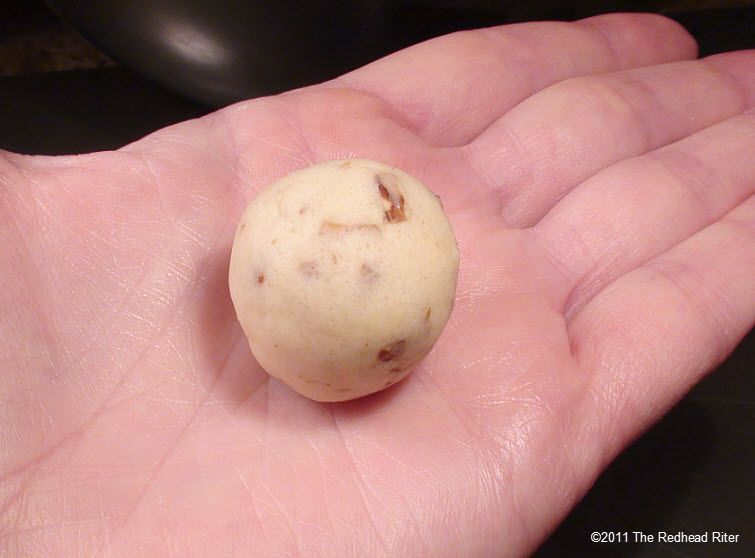 Place on a baking sheet and press lightly with a fork once.
So pretty already!
Now bake and when they are golden brown,
place them on a paper towel covered wire rack to cool slightly.
They are not large cookies.
It is important that they cool because the heat will melt the sugar coating if the cookie is too hot.
While you wait, I will show you my recipe card.
I made everyone in my family a recipe box filled with the family recipes.
It was a total surprise to them and quite a hit.
Each card was decorated differently.
This one definitely needed the cookie monster
because it is IMPOSSIBLE to resist eating these cookies.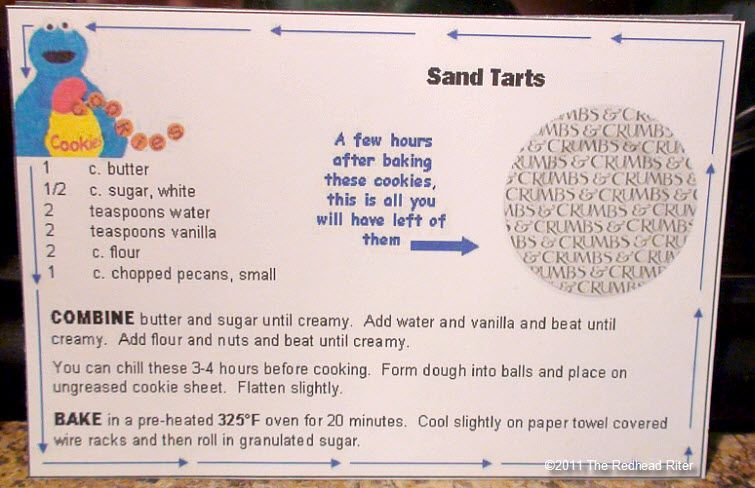 Now the cookies are cooled enough.
Let them have a bath in sugar.
First one side.
Flip it over and swish it around to coat the bottom and sides.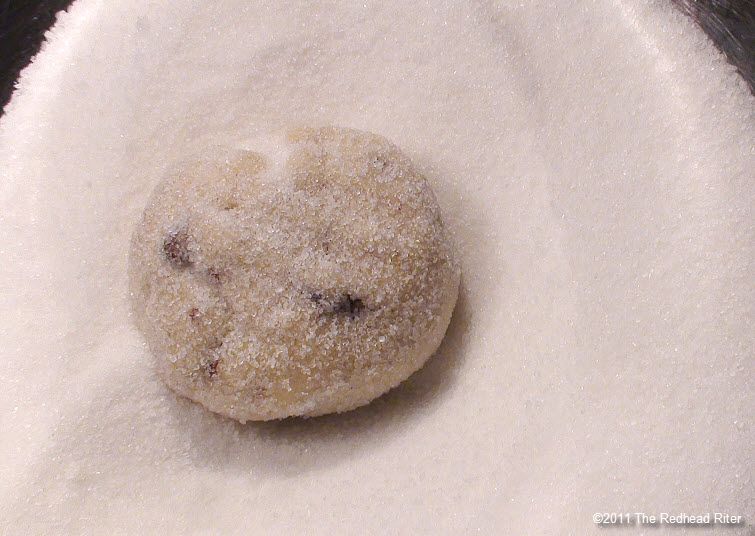 Beautiful and rich.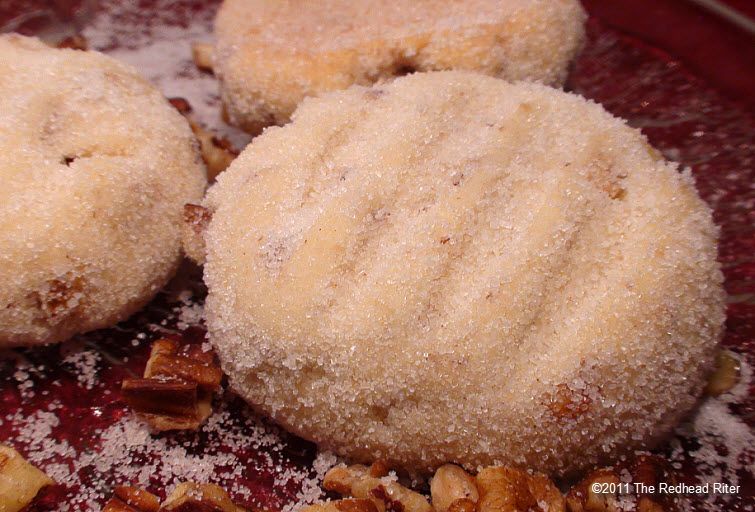 The first bite almost dissolves into a crunchy creaminess.
It is very hard to explain the deliciousness of this cookie.
The Sand Tart Cookie truly is in a class by itself.
I imagine it is the cookie for Kings and Queens.
It took less than a minute to eat those three cookies.
I have no self-control.

Sand Tart Cookies
Ingredients:
1 cup butter
1/2 cup sugar, white
2 teaspoons water
2 teaspoons vanilla
2 cups flour
1 cup pecans, chopped small

Directions:
Combine butter and sugar until creamy. Add water and vanilla and beat until creamy. Add flour and nuts and beat until creamy.
You can chill this batter 3-4 hours before cooking if necessary. Form dough into balls and place on ungreased cookie sheet. Flatten lightly with fork.
Bake in a pre-heated 325 degree Fahrenheit oven for 20 minutes. Cool slightly on paper towel covered wire racks and then roll in granulated sugar.
Yield: approximately 70 cookies