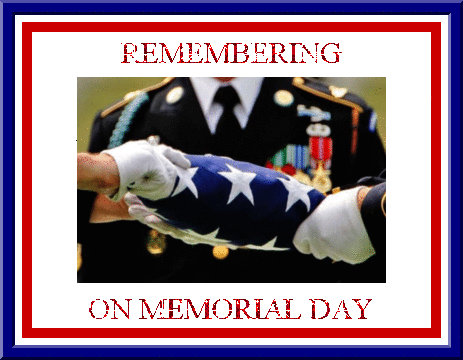 Memorial Day is the day set aside to recognize, remember and honor those United States Military Service Members who have died while protecting our democracy and freedom.
Whether it is one day, one week, one month or even one year, there is really no way to thank someone enough for sacrificing their life to maintain the freedom we all enjoy in this country. They leave family and the comforts of home to work night and day so that you and I can enjoy our homes, time with our families and the freedom to choose everything – food, clothing style, religion, place of education, cars, employment and the list could go on and on.
I'm very thankful for people who protect me because I surely can't protect myself from terrorists, corrupt leaders and evil governments that want to enslave us to destroy our freedoms.
Let me say, "Thank you," to all those that have died, all those who serve now in the military and all their families who sacrifice so much in order for their loved ones to protect us. May we never take our freedom or their sacrifice for granted.
To continue with the thankfulness theme…this is the weekly post where I spotlight my Rockin' Friends who are the Top Nine active participants and loyal followers in my community! If you want to be mentioned here next week, then all it takes is to come in and start chatting with everyone in my community.
This week we once again enjoyed friendship and camaraderie. We still have a very active thread in The Redhead Riter's, Witty, Intelligent and Addictive Community where you can enter alone and just talk to yourself. I think everyone is getting better and better at this skill – It is a skill! I actually find it comforting to go in and start chatting because eventually someone will jump into the conversation.
With a big, heartfelt thank you for their participation and friendship, here are the Rockin' Friends this week in order of most participation. I am also posting the number of comments they made, so that you can see how dedicated and devoted they are to each other and the community.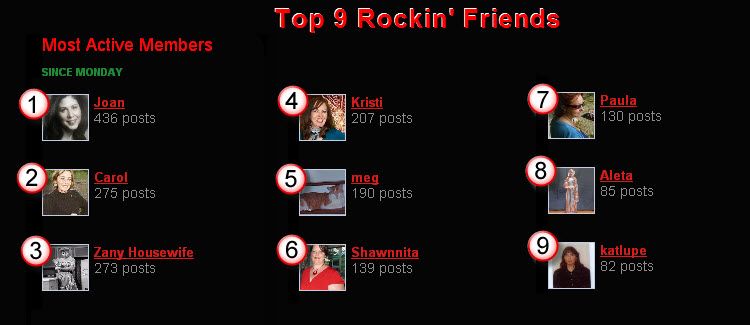 Meg doesn't have a blog…yet (wink)
I'm so glad that I've been able to become friends with these wonderful people who are so active in my community. I encourage you to add their blogs to your blogroll, but also come over and chat with us in my community.
For everyone mentioned in the top nine this week, feel free to grab the Rockin' Friend badge below (Yeah, we do crazy poses like that too because we are so stylish) and thank you for your participation!!


Until next week…Kiss your family, hug your friends and don't forget to be the friend you would like to have around.