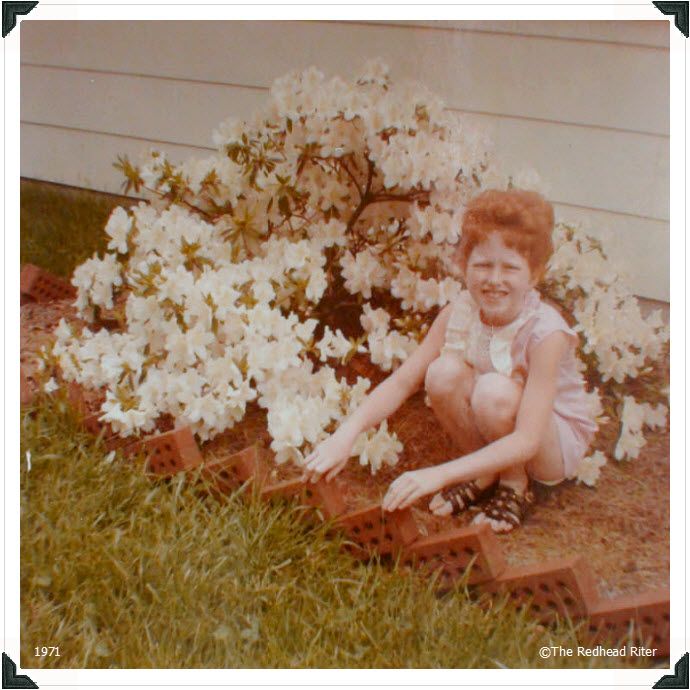 In 1971, digital cameras did not exist. Instead, my parents had a camera called a Brownie which was more like a black square box. Film from the camera was taken to a photo developing shop and it cost a bundle to have the photos developed which meant taking pictures was not an every day event.
My memories are quite vivid and include the smells, sounds and the things I felt at that moment in time. While I looking for the perfect picture to go with my Mother's Day message, I ran across a photo from 1971 when I was only eight years old. Everything came flooding back…
I was going to pose in the flower bed so that a picture could be taken of me. I wasn't really a ham – that gene waited for my sister and then quadrupled in my niece and daughter.
As I squatted down carefully, I barely held the bricks that Dad had put down for a flowerbed border because they were rough and I didn't want to get my hands dirty. I was quite a prissy child. The sun was so bright and with my eyes squinting as usual, I tried not to think about the piece of the pine straw sticking in my leg. In the back of my mind, I was worried that an ant might crawl on my feet or a bumble bee would ignore the blooming white azalea flowers and sting me. All the while, I kept trying to smile for the picture.
My parents were young and all day long, Mom was only a heartbeat away. She talked to me with such love and I felt it while we played, sang and did chores. So with this adoration I felt for Mom and Dad, I tried desperately to pose well for their picture taking moment.
The longer I look at the photo, the more I realize that I'm that same girl inside. Time hasn't really changed me that much at all. I would feel the exact same way if I was squatting in the flower bed today. The older that I become, the more compassionate I feel for myself.
Why have I been so critical of imperfections?
Why did I let my insecurities deprive me of wonderful experiences?
Can I use the memorable moments of my past to guide me towards developing a better self?
"Life is not measured by
the number of breaths we take,
but by the moments that
take our breath away."
How To Create The Best Memorable Moments
I can't go back to that moment in time when life was sweet…eight years old, both parents living and married, no responsibilities and the innocence of youth. However, I can continue to create memorable moments each day by making a little extra effort to live in the moment and make time stand still.
If remembering now is important to you, there are a few things you can do to preserve the moment:
Take pictures

– We now live in the digital camera era, so take advantage of technology by snapping photographs all the time. Take pictures that are not posed and are of normal, mundane tasks. What may feel unimportant now could prove to be some of the best moments of your life when you look back on them.
Write it down

– There are so many ways to record the events of life such as journals, blogs and online diaries. Be sure to write about your feelings, smells and sounds of the moment. Record enough information that it can take you back to that moment. Make it a memorable moment.
Record videos

– You may not like to look at yourself in a moving picture, but some day it will be fun to relive the moment with siblings, children, grandchildren or friends. Look at the bright side…you're not getting any younger, so get that pretty or handsome face on video to prove that you were once young and unwrinkled!
Live it

– Be in the moment. Live it, don't just exist in it. Enjoy all the sensations that this moment has to offer. Don't write the grocery list or repair the car instead of smelling the flowers as you walk to the mailbox. Live now. Live this moment. Feel.
Be yourself

– Do you really want to be a phoney all your life? It is so much easier to just be who you are all the time. People that don't like the real you won't add value to your life. Being someone else is not only a whole bunch of work, but it is hard to keep up the mask. You have value. Learn to like yourself by being authentic. Be the author of your life story.
Laugh

– Not only is

laughter a healthy practice for mind, body and soul

, but deeply emotional memorable moments are created during times of humor, sincerity and love. Laugh often and hard enough to make your sides ache and tears roll down your cheeks. Feel the lightness of spirit that happy laughter causes and let it imprint a memorable moment on your soul.
Slow it down

– Stop scurrying from task to task without breathing. If your life is so packed with events and duties that you can't hardly take a breath, not only are you wearing yourself into exhaustion, but life is flying by at such a speed that you're missing it! Take it one step at a time, but don't cram so much into each day.
I didn't know it back then and neither did my parents, but they created a memorable moment when time stood still for an eight year old girl with flaming red hair as she squatted in the flower bed in front of their home. I thought life was beautiful and the possibilities for happiness were endless. I'm lucky enough to remember it all…the hot breeze, the smell of the azalea blossoms, gritty bricks rough against my small fingers, bright sunshine in my eyes, my feet sweating on the bottom of my sandals and a heart full of love for Mom and Dad.
I still can't believe Mom piled my curls on top my head like a bouffant! That is definitely a memorable moment that is forever etched in time.