I used to hate asparagus. I thought it not only tasted horrible, but smelled terrible too. Now I know that the reason I didn't like asparagus was because so many people don't cook asparagus correctly. They cook all the flavor out by boiling it submerged in water until the asparagus stalks are totally limp.
Ewwww…gag.
Asparagus is full of flavor if cooked correctly!!!
If you want to taste asparagus the way it was meant to taste, follow my delicious directions below.
How To Cook Asparagus and Garlic Clove Sauce
Wash one bundle of asparagus under cold water.
I like the thin stalks because they cook more evenly
since the top and bottom are the same width.
They are also not stringy.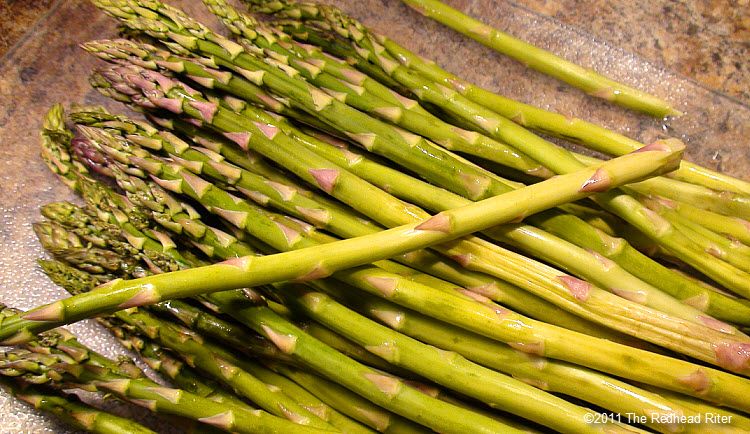 Cut off the bottom third of the asparagus stalks.
I don't have time to "snap" each stalk at it's natural
breaking point, so I cut the same amount off of each stalk.
If any of the stalks look hollow, throw them out.
It means they are a little too old and will be stringy.
Boil about 2 inches of water in the
bottom of a basket strainer/steaming pot.
Stand the stalks in the basket strainer and
add a fat slice of lemon to the pot.
Cover with the lid and cook for 8-10 minutes.
While the asparagus is cooking,
put about 10-20 rough chopped garlic cloves
and 1/8 cup olive oil in a frying pan.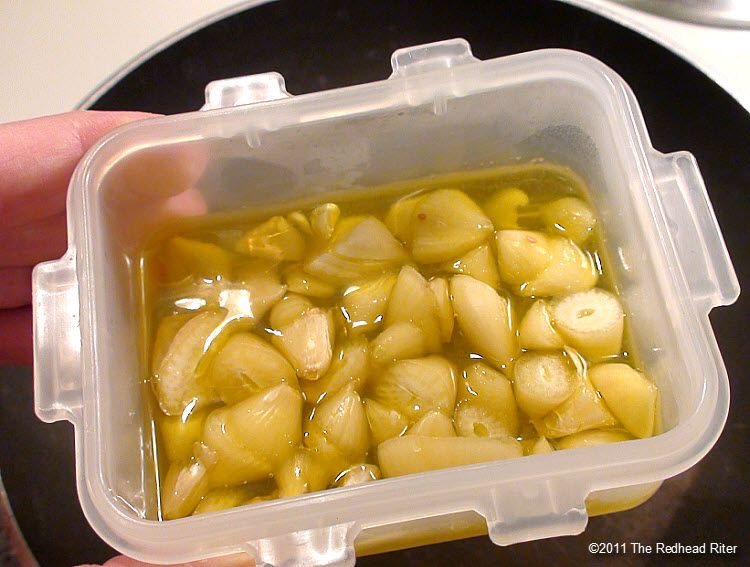 Roughly chop 1/2 a lemon, skin included.
Add the lemon to the garlic in the pan.
Sprinkle with pepper.
Add 1/8 teaspoon of salt.
All the garlic skins that you might have missed peeling from the cloves will pop off.
Remove them from the pan.
Add 1 heaping tablespoon sour cream.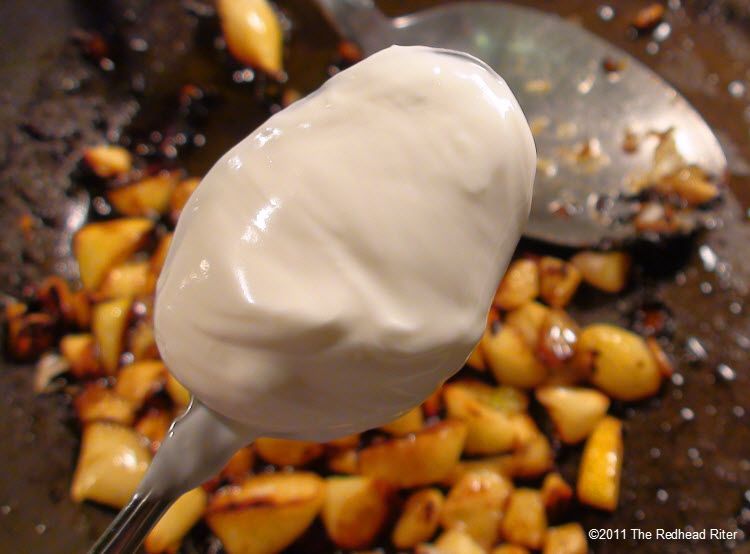 Add 1 heaping tablespoon mayonnaise.
Stir together and simmer until well incorporated.
Place garlic clove sauce on top of cooked asparagus.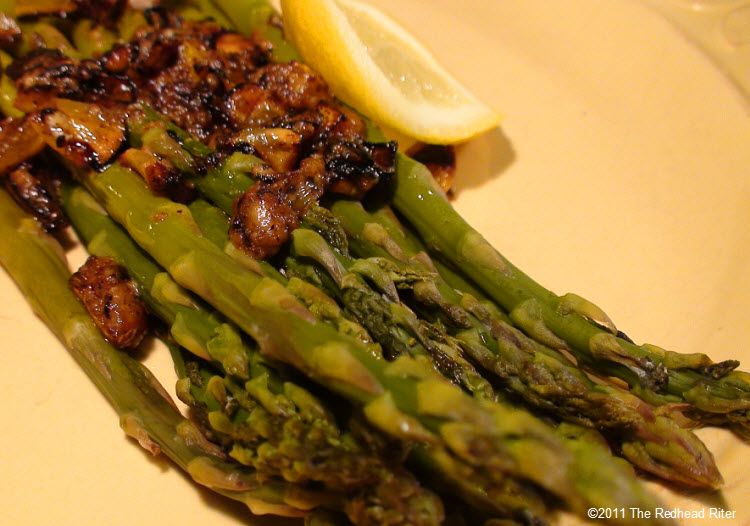 Yum, yum, yum, yummy.
Actually, 4 or 5 stalks is a serving, but half the bundle seems better to me.
This is a very flavorful and healthy dish.
Obviously, asparagus is not that hard to cook.
Adding the caramelized lemon and garlic topping
makes the asparagus absolutely irresistible.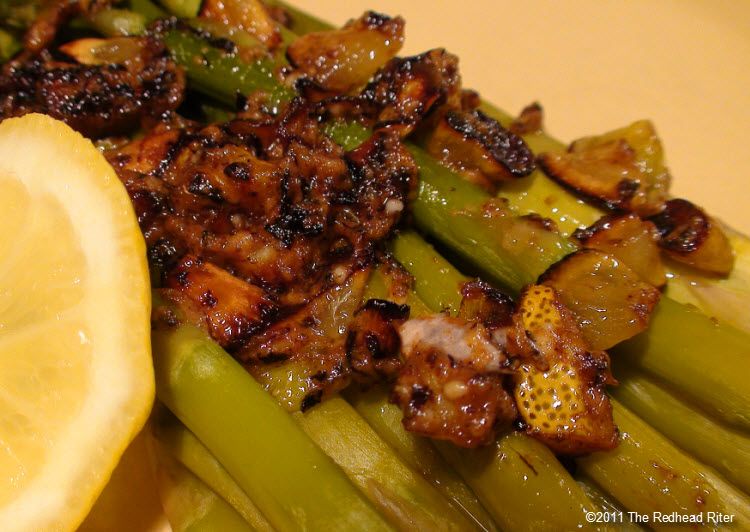 Asparagus and Garlic Clove Sauce

Ingredients:
1 bundle of asparagus
1 fat slice of lemon
10-20 garlic cloves
1/8 cup olive oil
1/2 lemon
pepper to taste
1/8 teaspoon salt
1 heaping tablespoon sour cream
1 heaping tablespoon mayonnaise

Directions:
In a basket steamer pan, bring 2-3 inches of water to a boil.
Rinse asparagus stalks under cold running water. Cut off the bottom 1/3 of the stalks. Add to boiling water with fat slice of lemon. Cover and cook for 8-10 minutes.
In a separate pan, add roughly chopped garlic cloves, olive oil and 1/2 a lemon with the skin on and roughly chopped. Add pepper and salt. Simmer until brown.

Add sour cream and mayonnaise, stirring constantly until thoroughly incorporated.

When asparagus is cooked, remove from pot and cover with garlic clove sauce. Serve hot.

Do you eat asparagus? If so, what is your topping of choice?